Bobby Crane worked in construction for almost 30 years and didn't plan to become a restaurateur, but fans of great crabcakes should be glad he changed professions a decade ago. That's when he became the sole owner of Petie Greens, an authentic Chesapeake Western Shore brick roadhouse that sits about 500 feet from Rockhold Creek in Deale, Maryland. In my opinion, they have the best crabcakes in the region; thick with fresh jumbo lump meat and nearly no filler, sautéed to golden perfection. According to Crane, two-time Daytona 500 winner Dale Earnhardt Jr. shares my passion—two dozen are shipped to the NASCAR star once a month.
The original owner of the restaurant, which opened in 2003, was a man named Samuel "Petie" Petro. After Hurricane Isabel hit later that year, the Petro family closed the restaurant. "Another gentleman and myself decided to give it another try," says Crane. His partner bailed after two weeks and it has belonged to Crane ever since.
Naturally, I wondered whether he would reveal the secret of his delicious crabcakes, but no. The only hint: "no filler, jumbo lump, some mayo and Old Bay, and a couple of other secret ingredients," says Crane. The story of how he chose the recipe dates back to the first days as the owner. "We got 18 of us together, family and friends, and we came here, had 20 pounds of fresh crab meat, and we just started mixing. We made crabcakes and voted on each one." The winner is the recipe Petie Greens serves to this day.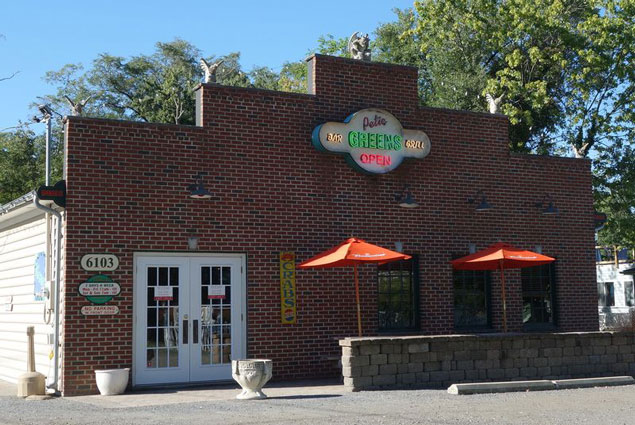 The crab meat Crane uses is largely from Alabama and the Carolinas. In the winter he imports from Venezuela. "Most of our Maryland meat goes straight to New York," he says. The steamed hard-shell crabs he serves, however, come right off the boats directly behind the restaurant. The soft-shells also come from Maryland. Overall, Crane says the local crab harvest this year has been slow due to the long, cold winter. "They are still struggling," he says. "I wouldn't want to be a waterman right now."
Petie Greens is open every day of the week, with breakfast on weekends. The ambience is laid-back, the service friendly, and the cocktail generous. Because it's Maryland, Keno and lottery tickets add to the fun. Televisions ring the room, broadcasting horse racing, car races, and other betting-man's sports events.
If, like Earnhardt, you want crabcakes to go, Crane ships fresh ones in addition to catering and takeout. In the restaurant a dinner runs $28 for two four-ounce crabcakes and two sides—a gentler price than most you find in the city. Be sure to get the tangy slaw.
Petie Greens. 6103 Drum Point Rd.; 410-867-6436. Open Monday through Thursday 11 to 9:30, Friday 11 to 10, Saturday 8 to 10, and Sunday 8 to 9. Crabcake dinner, $28 for two and sides; five-ounce crabcake sandwich, $14.95.