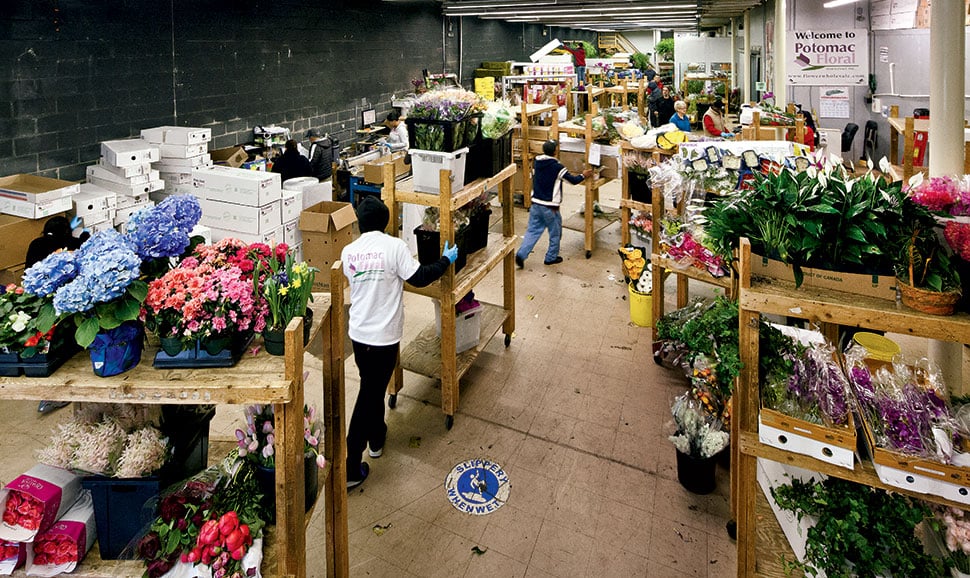 It's never a drab day at Potomac Floral Wholesale, the transit point for roses, tulips, peonies, lilies, orchids, and some 2,400 other varieties of fresh flowers and plants that move daily through the 16-year-old company's Silver Spring warehouse, to be distributed to retailers, farmers markets, churches, and event planners across Washington. Time is critical for the fragile blooms—which come from as close by as southern Maryland and as far away as Holland, Israel, and South America—and Potomac Floral's staff of 90 is in a constant state of hustle as they crisscross the warehouse.
Dodging one another and wooden carts mounded with flowers, they move from a cooler the size of a basketball court to the area where orders are organized and double-checked for accuracy. After being wrapped or boxed, large orders—sometimes up to 6,000 stems—head to the loading dock to be put onto trucks.
Potomac Floral considers weddings its specialty, meaning June is one of the biggest months, but even this time of year the firm can't wilt on its year-round schedule of everything from small gatherings to state occasions and exclusive galas. It's a job that never stops—but hey, you can still smell the roses.
This article appears in the June 2014 issue of Washingtonian.