Cat Taylor, a registered dietitian with DC's Vida Fitness, grew up in Northern Virginia in a family of food connoisseurs and runners. She studied dietetics and gerontology at James Madison University, where she discovered her love of helping others improve their lives through nutrition. Cat believes in a total-diet approach to healthy eating based on the principles of balance, adequacy, moderation, variety, and portion control. "There is no 'one size fits all' in nutrition," she says, and her job at Vida is to help her clients find strategies that work for them and that they can maintain.
To keep herself fit, Cat relies on running, biking (both indoor and outdoor), and high-intensity interval training classes, interspersed with weight-training sessions and yoga and barre classes. "Since I started lifting, I spend a lot more time on stretching and mobilization exercises," she says. She's also training for the Nation's Triathlon, coming up in September in DC.
Read on to find out how Cat plans a balanced diet that keeps her energized.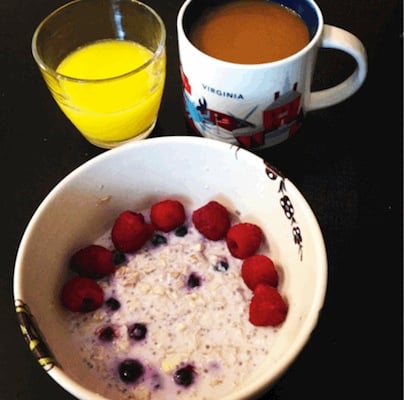 Breakfast: Overnight oats (1⁄3 cup old-fashioned oats, ¼ cup plain Greek yogurt, 1⁄3 cup Lactaid skim milk, ¼ cup frozen blueberries, ¼ cup chopped walnuts, 1 tablespoon chia seeds, a dash of cinnamon, and fresh raspberries), orange juice, and coffee with skim milk. "I prep the oatmeal quickly the night before, throw it into a Tupperware in the morning, and I'm on my way. An orange would be better than orange juice, but they're messy and time-consuming; I make sure to keep the portion small."
Snack (not pictured): Fruyo fat-free Greek yogurt by Fage topped with ½ ounce raw almonds and about ¼ cup Go Lean Original cereal by Kashi. "If yogurt isn't part of my lunch, it's almost always a snack. I like to spread my protein intake out over the day, as I recommend to my clients for optimal utilization by the body."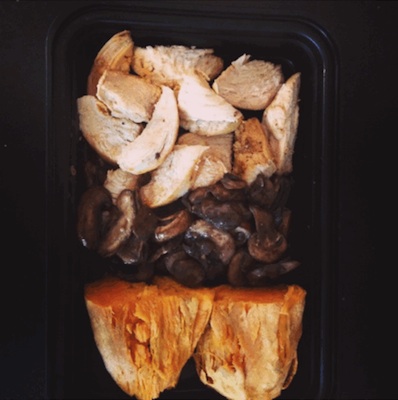 Lunch: Four ounces of grilled chicken marinated in Annie's Organic barbecue sauce, a medium sweet potato, and Baby Bella mushrooms sautéed in olive oil. "I absolutely love sweet potatoes as a starch—they fuel me so well, my workouts are noticeably more powerful! Mushrooms are easy to sauté without too many added fats, because they produce their own juice when cooked. I could use a green vegetable in this meal, but hey, we can't always get it perfect. I aim for a lean protein, a healthy carb, and a small amount of healthy fat with each of my meals."
Post-workout snack (not pictured): From Vida's Fuel Bar, either a Strawberries Gone Bananas smoothie (strawberries, banana, unsweetened almond milk, and vanilla whey protein powder) or a peach-mango smoothie (peaches, mango, unsweetened almond milk, and vanilla protein powder).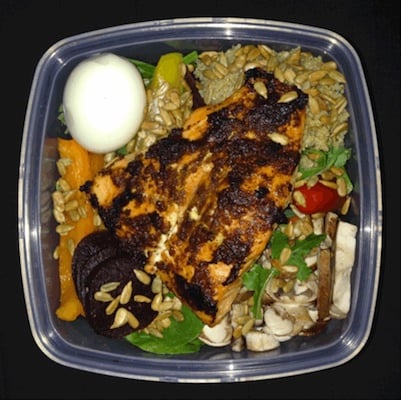 Dinner: Nature's Promise organic spring and herb mix topped with sliced orange and yellow bell peppers, grape tomatoes, raw baby portobello mushrooms, beets, 1⁄3 cup quinoa, a hardboiled egg, two tablespoons of sunflower seeds, and four ounces of baked salmon topped with homemade sundried-tomato pesto, with balsamic vinegar as dressing. "I love loading up on veggies at night, and when I slice the veggies ahead of time this is a very quick dinner to throw together. It offers a balanced blend of non-starchy vegetables, portion-controlled healthy grain, lean protein from the salmon, and fats from the egg yolk and sunflower seeds."
Disclaimer: The Food Diaries series is intended to be inspirational and is not an endorsement of each individual's diet.
Are you a local health, nutrition, or fitness expert with a love of food? Keep a food diary for us! E-mail wellbeing@washingtonian.com for details.