1. Clinton Yates
Left Field
The Post columnist and media-softball-league star is valued for his mitt and his mouth. "He's the guy you want to make the other team mad—with his play and his talk," a league vet says.
2. Abby Livingston
Third Base
The CQ Roll Call reporter has led the press team in the Congressional Women's Softball Game. Best skill: finding "sneaky ways to scout the opposition," says a congresswoman.
3. Cheri Bustos
Shortstop
You put your best athlete at short. We've got Representative Bustos—inducted into the Illinois College Sports Hall of Fame in 1994.
4. Kirsten Gillibrand
Center Field
The New York senator's versatile play is backed up by hard-nosed "chicken" taunting when opponents issue an intentional walk.
5. Kasie Hunt
Second Base
A politician describes the NBC News reporter as diving at line drives "like a hot political story." But as good as she is at scoops, her bat's better.
6. James Horn
Right Field
The wine-and-service director for Mike Isabella's restaurants is a great leadoff hitter, but more important, someone has to bring refreshments.
7. Cedric Richmond
Pitcher
The Louisiana congressman hurled a seven-inning gem in the Dems' 22-0 victory over the GOP in Roll Call's 2013 summer classic.
8. Leslie Barry
First Base
An associate at the law firm Dentons, this former college catcher is a star in the coed Metro Sports Leagues.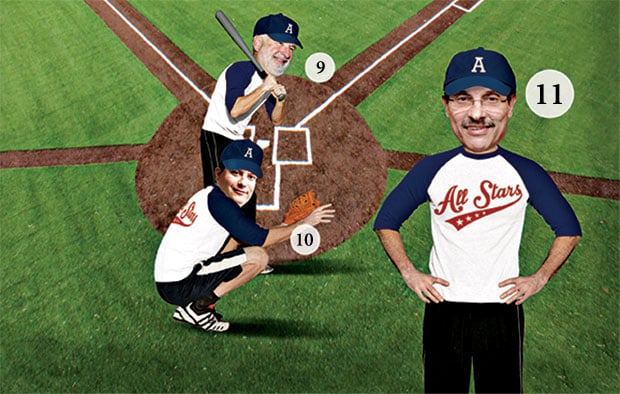 9. Tim Bishop
Designated Hitter
The New York representative has slowed a step, so we'll let the 12-year veteran of the annual Roll Call Congressional Baseball game speak with his bat.
10. Vince Gray
Manager
A manager in DC's Parks and Recreation league, the mayor and onetime invitee to major-league camps wears number 3 in honor of Senators legend Mickey Vernon.
11. Anthony Lombardo
Catcher
The chef at Georgetown's 1789 is used to playing field general—and like most catchers, he's not known for his speed.

This article appears in the July 2014 of Washingtonian.