Are you a local health, nutrition, or fitness expert with a love of food? Keep a food diary for us! E-mail wellbeing@washingtonian.com for details.
If you're a fan of NPR's food coverage, you're likely familiar with Allison Aubrey's work. The award-winning correspondent's stories about food and nutrition appear on Morning Edition and All Things Considered; she also hosts the video series Tiny Desk Kitchen, and she and her colleagues at The Salt won a 2012 James Beard Award for Best Food Blog.
Though Allison explores the food world for a living, she doesn't always have time to plan elaborate meals for herself. "Since I am feeding three kids—from toddler to teen—my day-to-day food choices tend to be more functional than frivolous," she admits. "Usually, my most exciting meal is lunch, which I eat out, at food trucks, media lunches, or the NPR Café." She also enjoys checking out new restaurants, occasionally stopping by for a drink and a snack from the bar menu on her way home from the office.
To keep herself fit, Allison is a fan of yoga, but she recently underwent surgery on her ACL, which she tore in a skiing accident earlier this year. She is building back up to her usual routine by taking a 30-minute class online in the mornings. "My surgeon Scott Faucett has also turned me on to the stationary bike, because I'm not cleared to run yet," she says. "And I love aqua-walking (walking in the lap lane) as a low-impact way to get a lot of resistance and build back strength."
To fit her demanding schedule, Allison relies on simple, make-ahead meals that can carry her and her family through the week. Read on for a look at her typical daily diet.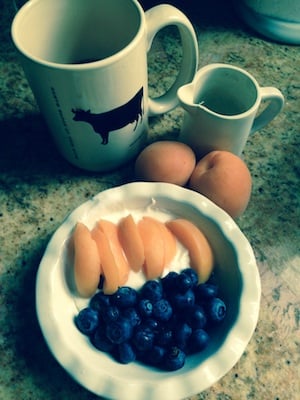 Breakfast: "A small bowl of steel-cuts oats—I make a big pot on Monday, and it lasts through much of the week—with apricots and blueberries from the Kensington farmers market, some full-fat plain yogurt (I'm not fat-phobic), and a little honey drizzled on top. I usually have a cup of coffee at home, and one perk of working at NPR is the free Peet's coffee."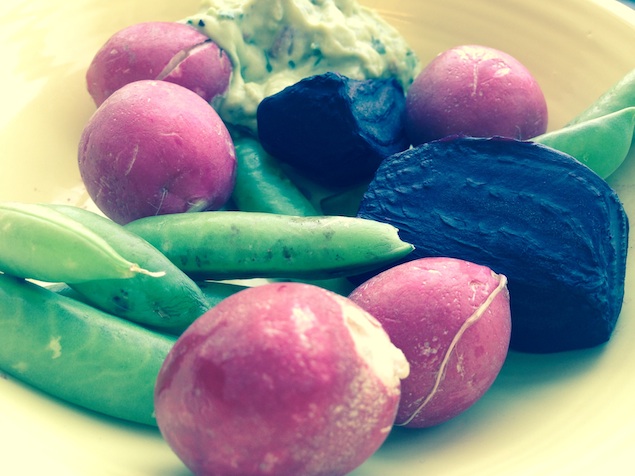 Snack: "Radishes, snap peas, and leftover roasted beets with a small serving of guacamole (not homemade; I'm fan of the individual-serving cups from Costco)."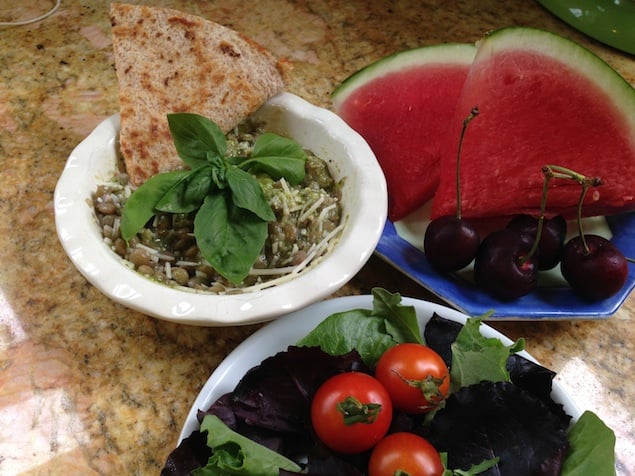 Lunch: "I took some leftover pesto and stirred it into cooked lentils, which we always keep on hand in refrigerator. I also had some fruit and a green salad with cherry tomatoes from my neighbor's rooftop garden. This all took about three minutes to put together."
Snack: (not pictured): "I shared an ice-cream sandwich with my daughter at the pool. Nothing fancy—snack-bar fare."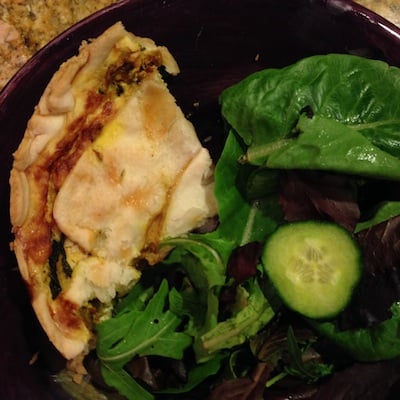 Dinner: "Leftover squash-and-ricotta galette, from a recipe I got from Cooking Light, and a simple green salad with fig balsamic vinegar and olive oil. Mom trick: I drizzle the fig glaze on lots of vegetables. It makes them slightly sweet, and my daughter is much more likely to eat them."
Disclaimer: The Food Diaries series is intended to be inspirational and is not an endorsement of each individual's diet.