Representative Thomas Massie readily admits his amendment gutting DC's gun laws, which is attached to an appropriations bill the House approved Wednesday, has no chance of becoming actual law. The Kentucky Republican is counting on Senate Majority Leader Harry Reid and the upper chamber's Democratic majority to ignore his tack-on when they take up the bill. But Massie's putting up his fight to put more guns on District streets because he doesn't want it to go unsaid that he didn't stick his neck out for the Second Amendment every chance he got.
"I am universally for gun rights," he said. "Universally I'm for freedom and I'm for freedom across the country. I don't want this to be a referendum on home rule."
Curious, then, that these comments came minutes after he crashed a press conference staged Thursday by Delegate Eleanor Holmes Norton, DC Mayor Vince Gray, and Assistant Metropolitan Police Department Chief Alfred Durham to condemn what city officials see as yet another Capitol Hill incursion into how the District governs itself. As they see it, Massie's amendment, which would stop DC from spending any money to enforce its gun laws, is very much an attempt to trample on home rule.
Norton, with Massie standing politely among a gaggle of reporters, led off by mocking him for writing legislation that affects the District instead of his own constituents.
"Guess what I've just done for the people of Kentucky?" said Norton, doing her best Massie impersonation. Norton also said she spoke with a "high-ranking" White House official about working with Reid to make sure nothing similar to Massie's amendment hits the Senate. Massie's fellow Kentuckian, Senator Rand Paul, made his own attempt to overturn DC gun laws snuffed out last week, although he might not be done trying to futz with the District's firearm regulations. DC's gun laws, which allow people to own handguns and rifles as long as the guns stay inside their owners' homes, are frequently cited as the strictest in the nation.
Durham said Massie's amendment creates a "clear and present danger" to city residents. "It's just ludicrous," he said.
Norton and Gray said that even with Massie's congressional trolling headed toward a likely parliamentary death, they're not letting their guard down.
Upon leaving Norton's press conference to head to the floor for votes, Massie insisted there's a direct link between expanded gun rights and reduced crime rates. His evidence: the fact that violent crime is down since 2008, when the Supreme Court overturned the city's longstanding ban on handgun ownership in District of Columbia v. Heller.
Aside from the supposed correlation, Massie offered no evidence that the Heller ruling actually made DC safer. Durham shrugged it off, saying that "crime is down because of the efforts of the Metropolitan Police Department."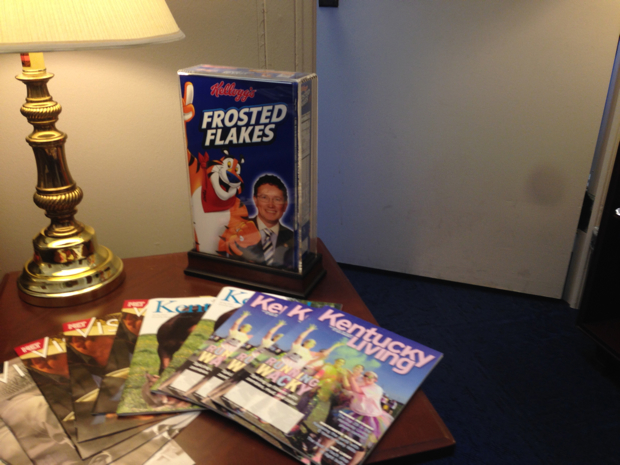 Massie wouldn't budge on his claim, though. "I have a spreadsheet I can give you," he said in his office, where a carton of Frosted Flakes with his photograph next to stripey breakfast mascot Tony the Tiger is given pride of place in a glass box in the foyer. But when asked for more proof, he dismissed the gaggle, announcing it was time to drive home to Kentucky for the weekend.
Massie's office later supplied the spreadsheet (by Twitter) with MPD stats showing a drop violent crime between 2007 and 2011, but neither he nor his staff offered any contextual relationship between the numbers and Heller.