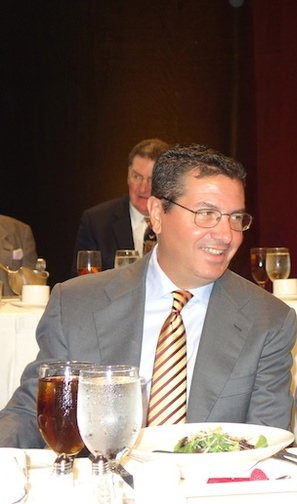 A Native American tribe in Arizona met earlier this week with representatives from a foundation run by the Washington NFL team, which came in with an open-ended offer to finance a skate park for the tribe's youths. But the Fort Yuma Quechan community turned down the blank check, not because it doesn't need the money, but because tribal members would rather not get help from Dan Snyder.
According to the Arizona Republic, Quechan leaders met Wednesday with the Original Americans Foundation, a charity Snyder launched in March with two purposes: to provide economic assistance to distressed Native American communities, and to distract the general public from the fact that his team's name is widely considered to be a racial slur against indigenous peoples. A statement released by the Quechan tribe appears to be aware of the latter.
"We will not align ourselves with an organization to ­simply become a statistic in their fight for name acceptance in ­Native communities," the statement reads. "We know bribe money when we see it."
Kenrick Escalanti, a Quechan businessman whose company is trying to build the $250,000 skate park, says in a press release that the meeting with the Original Americans Foundation turned sketchy when the charity's director, Gary Edwards, referred to himself as a "redskin" in a roomful of tribal leaders. Edwards also reportedly presented a rendering showing a skate park decked out in burgundy and gold, but told Quechan officials they could publicly omit the Washington team's involvement.
The team says the Original Americans Foundation has contributed to 145 projects across 40 tribes.
The skate park is also meant to serve as a memorial to Native American youths who commit suicide, which the federal Indian Health Service estimates affects Native youths three-and-a-half times as often as the population at-large.