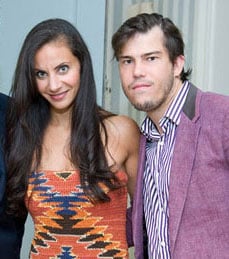 The son of Washington's most prominent media couple is getting divorced from the yoga instructor he married four years ago.
Quinn Bradlee, the son of legendary Washington Post editor Ben Bradlee and hostess and writer Sally Quinn, married Pari Williamson at the National Cathedral in 2010. According to Politics Daily, the couple met in 2009 through one of Pari's yoga students, New York Times columnist Maureen Dowd.
From the start, the couple was thrust into the spotlight. Sally Quinn triggered an uproar when she used her Post column to deflect rumors that she had deliberately rescheduled Quinn and Pari's wedding to conflict with the wedding of Ben Bradlee's granddaughter by an earlier marriage. (After the item ran, the Post stripped Quinn of her column in print editions, according to the Washington City Paper.)
At age 14, Quinn was diagnosed with velo-cardio-facial syndrome, a rare condition that triggers a range of neurological and physical anomalies. In 2009, he published a memoir titled A Different Life: Growing Up Learning Disabled and Other Adventures, and he was an associate producer of the 2010 HBO documentary I Can't Do This But I Can Do That: A Film for Families about Learning Differences.
Although the legal paperwork has not been filed, Sally Quinn confirmed the divorce to Washingtonian, but she refused to answer questions regarding the circumstances of the split. "Quinn and Pari remain very close friends," Sally says. "We love Pari very much and we still consider her a member of our family."
In a voicemail message, Pari declined to comment.
Find Luke Mullins on Twitter at @lmullinsdc, and find Carol Ross Joynt at @caroljoynt.