Just how excited should you be for the opening of the Silver Line on Saturday? According to Metro's latest ad for the new train route, residents of newly serviced areas will be tossing out their car keys, doing backflips out their front doors, and dancing to the nearest turnstile.
The commercial, set to Australian indie-poppers Architecture in Helsinki's "Escapee," features 30 actors and 15 Metro employees dancing their way to the Wiehle-Reston East station at the far end of the Silver Line in Fairfax County. The opening of a new Metro line is so jubilant, even the guy who gets stranded on the platform at the end keeps jamming as the train pulls out.
The ad will start airing on television on Saturday afternoon when the Silver Line goes into service. Will people be dancing their way onto the first trains? Probably not; Metro's rules ask customers to refrain from running and horsing around on station platforms. Besides, it might be far more excitement than this dude and his cat could handle.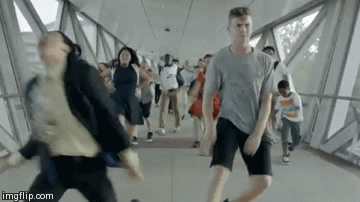 Find Benjamin Freed on Twitter at @brfreed.