The newest addition to DC's outdoor drinking scene debuts today with the opening of Sauf Haus Bier Hall. The two-story watering hole includes both an indoor bar and an open rooftop, with a Germanic theme throughout. Here's what you need to know.
The vibe: Oktoberfest in July. While any bar serving beer outside can call itself a beer garden, owner Edwin Villegas (who also owns neighboring Public) wanted to take the concept back to its Bavarian roots. Both the indoor and outdoor spaces boast long wooden picnic benches and German regalia, plus a foosball table where patrons can act out World Cup fantasies in miniature.
The beer: Deutschland is also the focus when it comes to brews. The 16 taps are devoted solely to German beers, such as liters and half-liters of Warsteiner Dunkel, Hofbrau Hefeweizen, and the refreshing Schöfferhofer Grapefruit. A smaller beer and can list includes craft domestics, which are tasty to drink but less fun to pronounce.
The other drinks: Did we mention beer is main theme? House cocktails come in the form of beer-tails, such as a mix of grapefruit, hefeweizen, and house-infused vanilla vodka. A full bar is available, but you'll only find a single brand of liquor per spirit, such as Tito's vodka and Patrón tequila.
The food: Soft pretzels. There's no kitchen to speak of, so you'll have to head downstairs to Shake Shack for something more substantial during the opening weeks. Once the bar is up and running, you'll find a cart on the top floor turning out Fells Point Meats brats and franks, and freshly shucked oysters.
The happy hour: Weekly specials include $2 off all drinks from 4 to 7 Monday through Friday.
The entertainment: A few flat-screen televisions on both floors. And occasionally, an accordionist in lederhosen.
On the horizon: Unlike seasonal beer gardens such as Dacha and Garden District, Sauf Haus will be open year-round. Plans include a retractable roof for the deck and warming drinks such as mulled wine for when the weather turns chilly.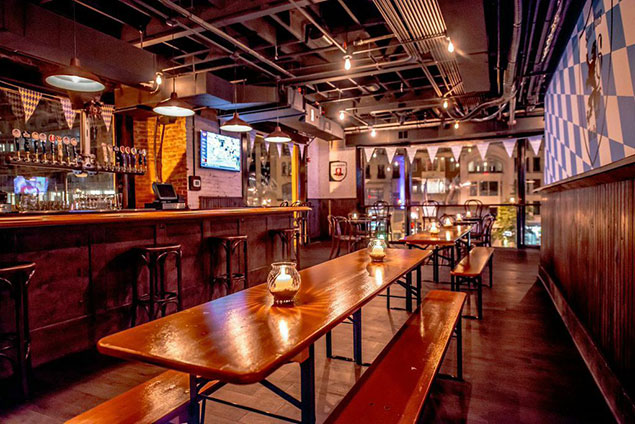 Sauf Haus Bier Hall. 1216-A 18th St., NW; 202-466-3355. Doors open at 4.