In the dog days of summer, a heavy dinner is about as appealing as finding yourself in the hot car on Metro. For a light meal that's still packed with flavor and nutrition, registered dietitian Cheryl Harris loves this chilled quinoa salad. It's easy to whip together, offers plenty of fiber and protein, and relies on seasonal ingredients—tomatoes, lemon, and mint—for a bright taste.
"It's a perfect lunch pack-along, and since it's gluten-free and vegan, it's a great dish for sharing with friends at picnics or potlucks," says Harris.
Lemony Mint Quinoa
Serves 2
Nutritional information: 383 calories, 7 grams fat, 64 grams carbohydrates, 8 grams fiber, 19 grams protein.
Ingredients
1 cup quinoa, toasted
2¼ cups vegetable broth
Juice of ½ lemon
15 mint leaves, coarsely torn
2 cups halved grape tomatoes
Salt and pepper, to taste
Directions
1) Toast the quinoa in a large skillet over medium heat until it smells toasty and browns a bit, about 10 to 15 minutes. This can be done in advance or skipped altogether, but toasting gives the quinoa a deeper flavor.
2) Add the broth to the skillet, bring to a boil, and simmer for another 10 to 15 minutes, or until liquid is absorbed. Stir halfway through and add half of the mint leaves. Add lemon juice, then season with salt and pepper to taste.
3) Let cool completely. Add tomatoes and the rest of the mint, and serve.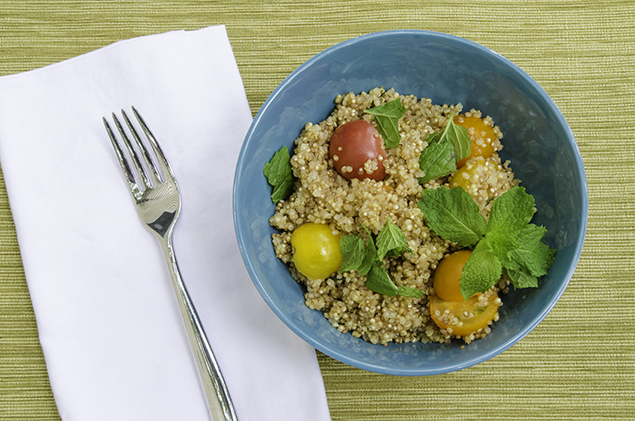 Have a healthy recipe to share? E-mail us at wellbeing@washingtonian.com.
Find Chris Campbell on Twitter at @campbler.