For bookish types, August—not April—is the cruelest month, as it usually means few new releases and less book chatter than usual. I often counsel readers to save a big fat novel for these literary doldrums, like The Goldfinch by Donna Tartt. However, if you've been there, done that or (blasphemy!) decided to skip the Pulitzer-anointed third Tartt novel, I've got a great list of books out this month—and they're nearly all by Washington area writers. When you're tired of reading (more blasphemy!), you can check your local literary calendars and come out for readings and signings by these authors.
As usual, by "Top 10" I don't mean that I've read all the books and deemed this group The Best; I mean that I've read a lot of the books and these are excellent and well worth your time. If you know of a book you believe should be on this list and isn't, please tell us in the comments, or email me at bpatrick@washingtonian.com. I hope your August is filled with lots of reading time.
FICTION
Small Blessings by Martha Woodroof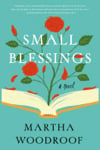 Woodroof's debut is one of those books you might easily pass by in the bookstore, with its humble title and simple (though vibrant) jacket art. Do not pass Go; pick up Small Blessings and prepare for a delight. When Tom, a small-town academic, experiences two lifechanging events in two days, one of which involves a new ward who arrives with a money-stuffed backpack, things start to happen in his sleepy environs—including some odd adventures told with great mordant wit.
The Great Glass Sea by Josh Weil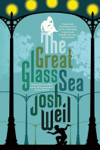 In the Russian city of Petroplavilsk, night and day are eradicated by growth-enhancing "space mirrors." Are you still with me? Never fear, new novelist Weil quickly involves you in his near-future vision, where the citizens of Petroplavilsk become "ceaselessy productive," including twin brothers Yarik and Dima. One man will become disenchanted with the 24/7 status quo; the other will grab a billionaire's brass ring. Seeing their fates unspool is a timeless trope made fresh by Weil's excellent writing.
All We Had by Annie Weatherwax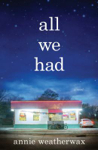 Rita Carmichael and her 13-year-old daughter Ruthie wind up in small Pennsylvania town after their car breaks down en route from California to Boston. Rita has big dreams: She wants Ruthie to wind up at Harvard, and so she gamely engages with life in Fat River, taking a waitress job and making friends. This isn't a Gilmore Girls tale, however; Weatherwax (an accomplished visual artist) throws bombs in her characters' paths, bombs that flash and illuminate the lives of today's working poor. A must read.
Bluff City Pawn by Stephen Schottenfeld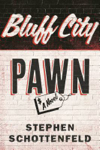 Huddy Marr, proprietor of the Bluff City Pawn shop in Memphis, wants to move to a better part of town (although he believes his shop should remain on the "seedy side"). He sees a big opportunity when a widow offers to sell her husband's gun collection—but to take advantage of it, he needs help from a family member. Before long, another relative is involved, and chaos ensues. The method in Schottenfeld's madness is to use this chaos to talk about social class, property, and the nature of value.
When the World Was Young by Elizabeth Gaffney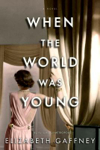 Elizabeth Gaffney's second novel is all about place, World-War-II-through-Korean-War Brooklyn, to be exact. Nine-year-old Wally Baker lives in Brooklyn Heights with her mother, and her maternal grandparents, although she is closest to her family's African-American maid, Loretta, and Loretta's son Ham. Wally's father is fighting in WWII, and when a male boarder moves in and takes a kindly paternal interest in her, Wally doesn't realize what else this might portend.
NONFICTION
The Vanishing Neighbor: The Transformation of American Community by Marc Dunkelman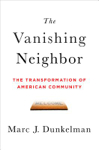 We know that our social lives have changed with the rise of social media—but have we considered how detrimental that change might be to our nationhood? Marc Dunkelman has, and even if his book could use more statistics in support of our diminishing "second circle" of community members, his points about how this can affect everything from innovation to eldercare have their merits. Losing touch with the people next door isn't just about losing bridge partners; it could change the fabric of our society and government.
The Invisble Bridge: The Fall of Nixon and the Rise of Reagan by Rick Perlstein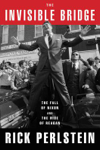 Rick Perlstein's The Invisible Bridge should be required reading; it's that big, that comprehensive, and that incisive. The title comes from a remark President Nixon made to Russian Premier Nikita Kruschev: "If the people believe there's an imaginary river out there, you don't tell them there's no river there. You build an imaginary bridge over the imaginary river." This saying explains something about conservative politics in the USA. Perlstein explains almost all of the rest; highly recommended.
XL Love: How the Obesity Crisis Is Threatening America's Love Life by Sarah Varney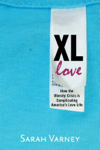 Burgeoning waistlines and thundering thighs affect more than our heart health and glucose levels; fat takes a toll on love and sex, too. Journalist Sarah Varney's XL Love is about much more serious stuff than plus-size lingerie; according to Varney, our country's obesity epidemic also takes a toll on our sex and love lives. Excess weight leads to everything from the horrific-sounding "buried penis syndrome" to early puberty in girls that can result in early sex and a host of physical and emotional consequences.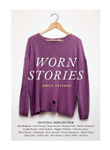 Spivack, who pens the Threaded blog for the Smithsonian, has collected short "sartorial memoirs" about clothing from figures like author Piper Kerman, artist Martina Abramovic, filmmaker Albert Maysles, and many others, creating a moving and visually arresting volume that will remind all readers of their own stories woven into various garments and accessories. The book also reminds us of how we create identity through costumes, whether simple (a father's shirt) or ceremonial (a Girl Scout sash).
Books that Cook: The Making of a Literary Meal by Jennifer Cognard-Black et al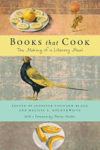 Cognard-Black and her co-authors Melissa Goldthwaite and Marion Nestle have concocted a delicious salmagundi in this combination of cookbook and literary tribute. The volume includes poems, stories, and essays, along with recipes, and some of each are original. There are beloved bits, too, from Laurie Colwin's classic piece on three repulsive meals to Maya Angelou's caramel cake. The perfect gift for your summer hostess who loves to read, cook, and consider.