Are you a local health, nutrition, or fitness expert with a love of food? Keep a food diary for us! E-mail wellbeing@washingtonian.com for details.
Kristin Brower is the director of the Neighborhood Farm Initiative (NFI), a nonprofit that aims to educate Washingtonians about how food is produced and help them learn the skills to grow their own. NFI, founded in 2008, has a community garden in Fort Totten at which it hosts programs such as Grow, Harvest, Eat! and Adult Urban Garden Education; the organization also donates the produce grown in its garden to area food bands and kitchens.
Given Kristin's occupation, it's no surprise she has a focus on healthy eating, with a diet that incorporates plenty of fruits and vegetables. Still, she admits it's not always easy to stay active during the day. "Every time I tell someone I work at a nonprofit that does urban garden education, they think I must never sit at a desk, but unfortunately, my job is fairly computer-heavy," she says. "I need the garden time to stay sane, so I usually go out two or three days a week to weed, harvest, or just help with our classes and volunteer days. My typical fitness routine usually depends on whether I've signed up for a race or triathlon. I've realized those help keep me really motivated. I'd say on average I run two or three times a week, bike almost daily for commuting and transporting veggies with my bike trailer, and take my dog for long walks."
Read on for a look at Kristin's daily diet.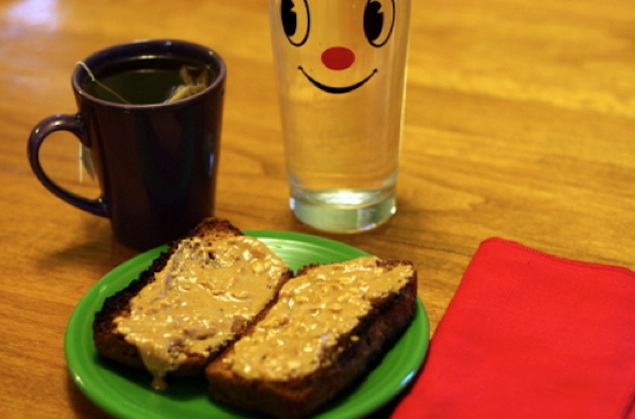 Breakfast: "I start out most of my weekday mornings having toast with peanut butter. I wanted to dedicate more time this year to breadmaking, so I pledged—via Facebook, so everyone would see—that I would make a new loaf of bread every month. This month it was a hearty, whole-wheat oatmeal loaf, which was delicious with the peanut butter. I also start every day with tea. A month ago it was coffee or black tea, but after an eight-year addiction, I decided to go cold-turkey with caffeine. Now my go-to is dandelion tea—it has the same bitter taste I love in the morning, but is great for your digestive system."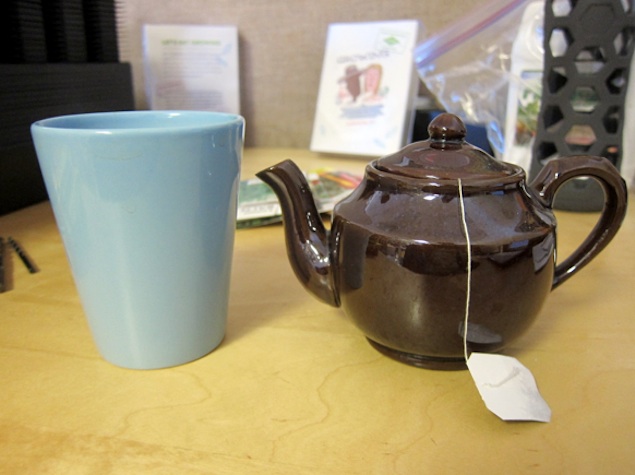 Drink: "I used to be a big snacker at work, but after I switched from the 9-to-5 gig and was on my feet most of the day, either in the garden or running around, I noticed that I stopped snacking. Now I usually just enjoy tea or a hot beverage during some downtime. This morning, it was peppermint tea to help perk up my brain."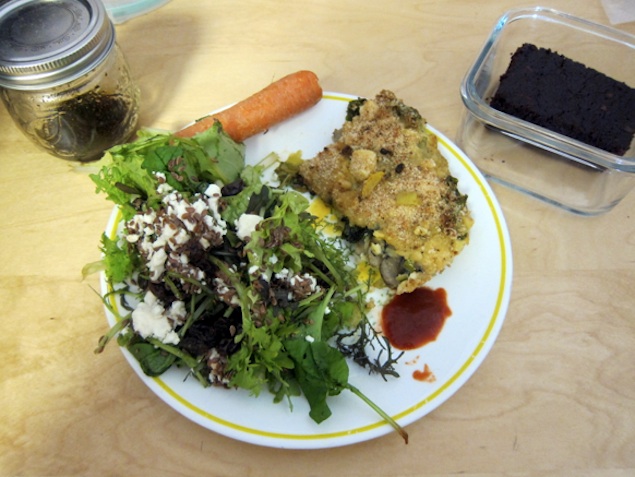 Lunch: "It makes me sad when I see someone eating a granola bar or something else probably unsatisfying for lunch. To me, it's a time in the day to take a step back and refocus, so a healthy lunch is my way to go. Today's special was leftovers from dinner, something my husband and I nicknamed 'Trasherole.' Two summers ago, we noticed we had so many greens from our garden and CSA that we just didn't know what to do with them all, so we came up with Trasherole. It's basically eight cups of greens or veggies, four eggs, some cheese, and any kind of spices you want, baked for about 30 minutes with bread crumbs on top—and voilà, dinner! I also got used to having salad at almost every meal besides breakfast, because of the amount of fresh greens we'd have at one given time. I love it when half my plate is full of salad. The red sauce is hot sauce made by NFI's garden manager last year with NFI-grown peppers. To end the meal, I brought in a beet brownie. I made these once when we had so many beets that I just couldn't down another one, so I found a way to make a dessert out of them, and I've never baked another kind of brownie again."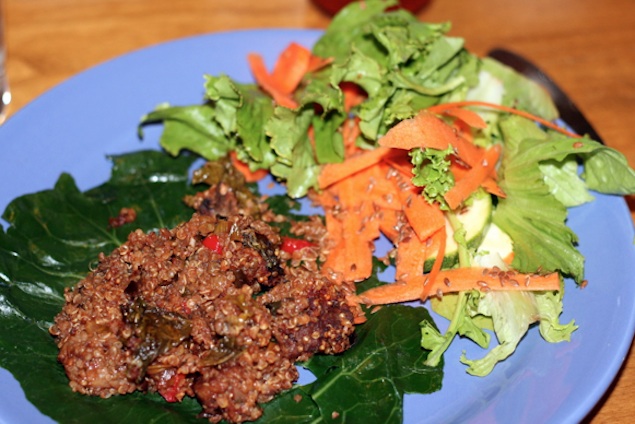 Dinner: "This is probably one of my favorite dinners: collard wraps! They are so easy and so delicious that I end up eating them a lot when collards are in season. The filling is a mix of 'soysage,' quinoa, onions, several spices, and kale. Of course, a salad is also part of the meal, topped with flaxseeds and carrots. Not pictured here (because I forgot) was a Heavy Seas IPA, also a great way to end the day."
The Food Diaries series is intended to be inspirational and is not an endorsement of each individual's diet. Find Tanya Pai on Twitter at @tanyapai.