In Chiharu Shiota's contribution to the Sackler's Perspectives series, on display starting August 30, the focus is on objects not always thought of as art: shoes. Shiota is known for installations involving everyday objects—the burnt shell of a piano, a wedding dress—transformed through web-like constructions of thread. Her work here comprises hundreds of discarded shoes with notes describing the former wearer or a memory attached to them and encased in a multitude of red threads, attached at a single point.
"Shoes are an intimate part of the body," says curator Carol Huh. "They're a prosthesis for the feet—they aren't really noticed much when they're active—but gain a different presence without the body in them. They take on a life of their own."
Huh sees a preoccupation with the body's presence and absence as a theme, a reflection of what Huh calls Shiota's "peripatetic life" and search for identity. The artist was born in Japan, where she trained in painting, drawing, and sculpture. She relocated to Germany in the mid-'90s and has studied under performance artists such as Marina Abramović and Rebecca Horn. The threads Shiota works with represent her emotions and sensations, forming structures with, in some cases, no discernible beginning or end. The colors—black, white, red—distill the body's machinery into elemental hues.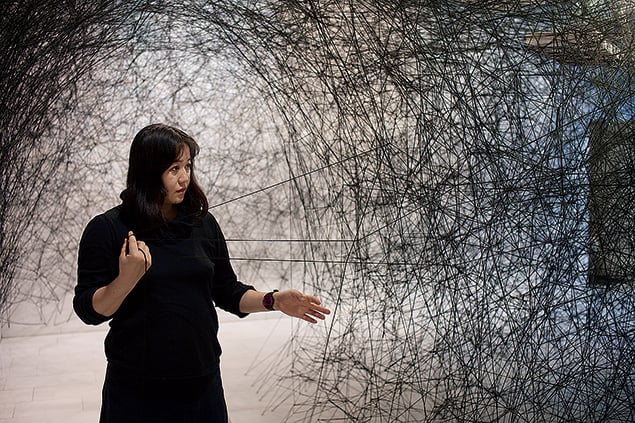 "You have the sense she's making the absence or emptiness present by filling it with connected objects and suggesting the way people and objects connect," Huh says. "There's also a sense of distance: Because the objects are wrapped in thread, they aren't as approachable."
Visitors can see the work come to life during a public installation period August 18 through 21. "We have incredible masterpieces and exhibit them very carefully; this is different in that it's evolving," Huh says. "It changes the dynamic of the museum when you realize there are individuals behind each object. They may have lived in the 15th or the 21st century, but the human connection becomes reinforced."
On display through June 7, 2015. For more information, visit Sackler's website.
This article appears in the August 2014 issue of Washingtonian. Find Tanya Pai on Twitter at @tanyapai.