One of the many issues at play in the unrest in Ferguson, Missouri after a police officer there shot and killed an unarmed black teenager is that the police department in the St. Louis suburb is 94 percent white in a town where two-thirds of the population is black. The disparity has exposed deep faults that can arise when a police force is not representative of the community it serves.
For all of the Metropolitan Police Department's faults, though, that doesn't appear to be one of them, according to an annual report made public Monday. Fifty-seven percent of the department's nearly 4,000 sworn officers are black, 33 percent are white, and seven percent are Hispanic. Two of the department's six assistant chiefs are black, as are six of the seven district commanders.
The Metropolitan Police Department investigated 35,499 crimes in 2013, about the same number as in 2012, according to an annual report made public Monday. Beneath that generally stable number, though, were sharp increases in homicides, sexual assaults, and rapes.
One hundred four people were murdered in DC last year, an 18 percent jump over the 88 who lost their lives in 2012. While the 104 slain last year includes the 12 victims of the September 16 massacre at Washington Navy Yard, it picks at a general uptick in the city's homicide rate after several years of decline. The District has recorded 73 murders so far in 2014, up from 57 at this point a year ago, or a jump of 28 percent.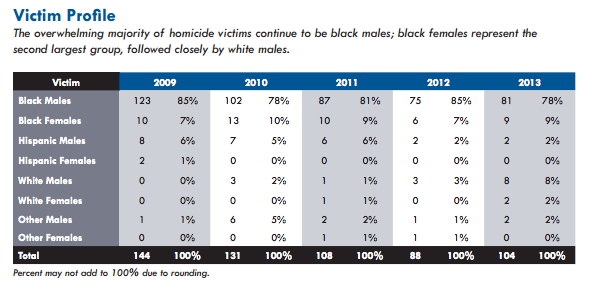 For yet another year, an overwhelming majority—78 percent—of DC's homicide victims were black men.
Police also report a 15 percent increase in the number of sexual assaults reported citywide, from 259 to 298. Meanwhile, the number of reported rapes leaped from 236 in 2012 to 393 last year. But MPP spokeswoman Gwendolyn Crump tells Washingtonian via e-mail that those figures cannot be accurately compared because last year's figure reflects a long overdue update in how the FBI's Uniform Crime Reporting system, which police departments use to record crime data, defines "forcible rape." The new definition covers any penetration, no matter how slight, without consent of the victim; the previous terminology, defining rape as "the carnal knowledge of a female forcibly and against her will," hadn't been changed since 1927. Crump says 27 percent of rapes reported last year fell under the new definition.
The 41,747 arrests MPD made last year is a slight drop from the 42,471 in 2012. Of the total arrests, 3,177 were of juveniles. What were the most common causes of arrest?
Simple assault: 6,720

Narcotics: 5,866

Traffic violations: 4,656

Warrant charges: 4,624

Other: 2,210

Disorderly conduct: 2,194
Arrest data is not broken down by race, but external reports in years past show deep racial divides among who gets arrested. More than eight out of ten people arrested in DC between 2009 and 2011 were black, according to a report issued last year by the Washington Lawyers' Committee for Civil Rights and Urban Affairs. The division is even more extreme for drug arrests, with blacks accounting for nearly 90 percent of marijuana-related arrests, according to a study by the American Civil Liberties Union. With a decriminalization law now in effect for possession of one ounce or less, the number of drug-related arrests could fall greatly in next year's MPD report.
The annual report also contains a few other fascinating statistics about the city's crime rate and the police department that patrols it.
Traffic fatalities:

There were 10 more deaths caused by motor vehicles in 2013 than the year before, including 12 pedestrians and two cyclists.
Use of force: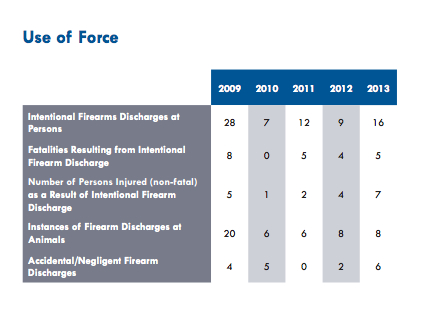 District police officers shot and killed five suspects last year, including Navy Yard gunman Aaron Alexis, who was taken down by Officer Dorian DeSantis. DeSantis and 55 other officers who responded to the massacre were given MPD's Medal of Valor in February.
Complaints:
There were 358 complaints lodged against police officers in 2013, but of those, only 66 were sustained upon review, while another 75 remain under investigation. Of the total number of complaints filed, 50 were for abuse of authority, 34 were for excessive use of force, and 53 were for rude and unprofessional behavior. There were also eight complaints of illegal searches. The report does not break down which complaints were dismissed and which were verified according to category.
Find Benjamin Freed on Twitter at @brfreed.