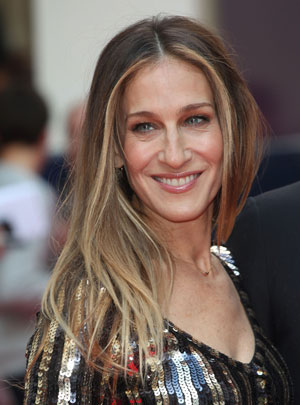 When Sarah Jessica Parker called last week with no assistant, no PR rep, and not even an agent on the phone, I knew right away she was involved with every aspect of her SJP Collection. She had the names and descriptions of every shoe down pat. Fabric types rolled off her tongue with ease. She used words like "sick" and "sweet" to describe some styles. As if I didn't already feel like I was chatting with an old friend rather than an A-list actress-turned-designer, I saw this video of her Wednesday getting doused in an ice-bucket for the ALS challenge and thought, she really is just like us—okay, not so much.
Aside from her other projects, SJP is also a member of the President's Committee on the Arts & Humanities. So she knows a thing or two about DC, and her new fall line, which hits shelves exclusively at Nordstrom Friday, will give you the chance to put your best foot forward, literally.
Customers can meet the lady of the hour herself between 5 and 6 PM at Nordstrom Tysons Corner Center, where she will be signing purchases, time permitting, from her fall 2014 Nordstrom-exclusive shoe and handbag collection. The made-in-Italy line will range in price from $350 for a pump to $695 for a knee-high boot. Handbag prices vary depending on style—crossbody bags cost $220, totes $495.
Before she arrives in DC, we asked her to recommend styles for various DC women.
What shoe would you recommend for the Washington woman, starting with a young professional on Capitol Hill?
Fawn and Lady are really popular. These styles are some of our best sellers I think because they suit such a variety of people. Fawn is our pointed-toe pump that we launched in a beautiful, bright teal color in suede and a black in nappa, nude in nappa, and we've started expanding on Fawn because it's been so popular. So those I think are really appropriate but they come in such fun colors so if you're younger, and you don't want to call attention to yourself, it's a super great shoe. Lady is also really nice because it's an almond-toe which is a different approach to the pump. We launched with a poppy and the whole shoe is a grosgrain so it bounces off a lot of light. They're both a good height so they're not crazy tall. They're great office shoes with a youthful approach to it.
The Virginia equestrian?
We have some really good boots like the Alyssa (named after my assistant). It's got a little bit of an open toe and is a nice shoe for the office too actually so it kind of covers a lot. I've been wearing it in the summer although I'm sure I'll use it in the fall too. It's a really soft leather with like 2 pieces of fabric draped around your foot. Lee is another great boot- both are strangely appropriate for an office but can also work into the nighttime too. They're a little edgier and they're nice for people who aren't uber feminine people; ladies who like a less obvious approach to a heel height. Coming up, we'll have more boots, higher ones, more equestrian styles, fashion, slouchy, editorial boots- you name it. This category specifically is growing a lot.
If you want to be literal about the equestrian girl though- then I'd say to go with the Kelly. It's a truly equestrian boot in a deep, rich bark color. Girls in our office have loved this boot.
The Georgetown girl?
Alyssa, again, is great for this category. There's also a shoe called Rachel that I would recommend for the "Georgetown Girl." Another style, Diana, would suit a preppy young girl too. It comes in a grey patent and nude nappa. If we're talking about an edgier Georgetown girl though I'd suggest Gina. This style comes in a mushroom-grey really gorgeous shade.
And the 14th Street trendy hipster?
The Pat boot is sick. There's another style, Serge, which comes in a grey suede or an olive green. Really beautiful. And they're both very strong.
How would you describe the FLOTUS style? If you were to dress Mrs. Obama in one of your shoes, which would it be and why?
In a way, I kind of think I'd put her in Carrie. It's a multi-strap shoe. All of our shoes are made in Italy, they're incredibly comfortable but this one in particular is also very sexy. There's a lot of coverage but it's gentle, and petit, and I think it would look amazing on the First Lady. She looks good in a variety of looks; she seems to enjoy different feelings. Some people feel very comfortable in one sort of idea and the First Lady really seems to like various designers that are radically different from one another. She can be incredibly sexy, and appropriate, and bold, and then also conservative. There's something also kind of naughty about Carrie. The silhouette is from the seventies- a period that I absolutely love in shoe design. It's a very influential period for me and my business partner George (Malkemus, also President of Manolo Blahnik). I think it's a great shoe for her. We have it in purple, in a beautiful red, black nappa, soon we'll also have it in cream and a crazy gorgeous metallic blue with a grosgrain on the back.

I would also suggest Daphne for the First Lady. It's a charcoal color grosgrain with just a strap right below the arch. It's got like 6 rhinestones across it. Love that shoe. That comes in a grey and a poppy.
Are you partial to one particular style from the collection?
I love Carrie, always will, but there's a shoe called Blythe that I'm really into right now. It's a single t-strap in a really cool bright, indigo color like an oregano almost. I love them all though especially all the new colors. They're not all for me, but I love 'em.
Describe your design process with George.
George and I come together and it's kind of hard to describe. It's unlike any other collaboration I've ever been a part of. It's crazy, crazy simple in a way because we have lots and lots of ideas, our points of references are really similar. We didn't realize but we have a short hand that's really fun. We basically think about feelings and themes and from there we work. We get to a place where we have enough information to send to Ricardo in Italy, he makes our shoes for us, and then Ricardo gives us feedback. It's an amazing three-way conversation. Then the samples come back and we tweak, tweak, tweak. We change the proportions, the elastic, we almost have a formula down now.

What are the biggest challenges of creating your own brand?
Any new business has countless challenges it's hard to even itemize them. How to make smart decisions about growing, how not to grow too fast, how not to be disappointed if a shoe doesn't sell the way you had hoped. Just smart choices about marketing. We don't really have a marketing or PR budget, I run the instagram page myself. We started with no followers at all, we've taken every picture ourselves. And by we I mean my assistant Alyssa and me. That's all been a challenge. To do it right and to tell the story the right way- to help get your message out, to capture people's interest. That sort of thing. Learning the customer is really challenging, when you're just starting out especially. When you don't have information yet from skews selling or not selling. The whole thing is a complete privilege though. There's occasions like on these tours when I get to hear the customers thoughts and their stories and I get to see the shoes on the actual customer. The challenges are eclipsed with pure euphoria like an endeavor like this.
What's the color story for fall?
Everybody has plenty of browns and blacks and we want to give people purples and olives and poppies and cabernets and daffodil and lots and lots of shades of blue.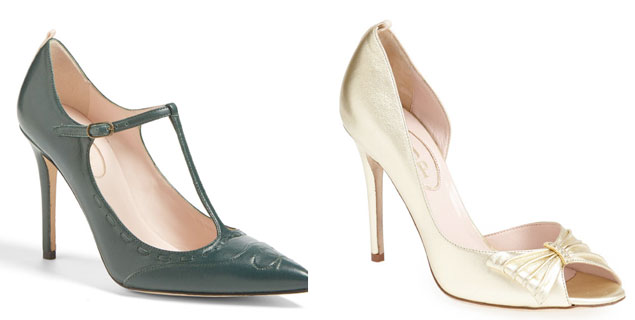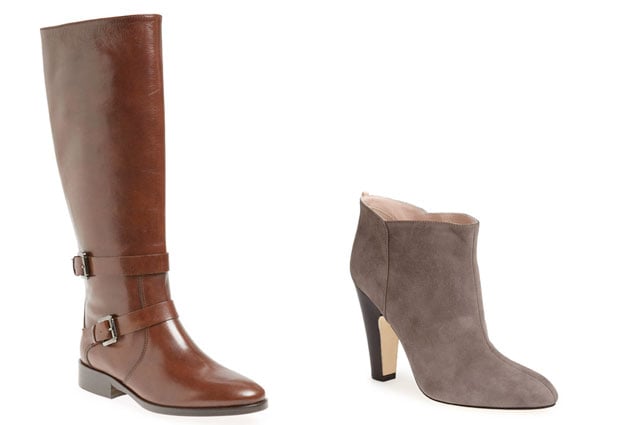 Find Valeria Boucas on Twitter at @valeriaboucas.