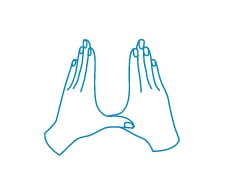 The group seeking to bring the 2024 Summer Olympics to Washington started upping its push today with the unveiling of a new website, new executive committee, and new, um, hand gesture.
Led by people such as Capitals and Wizards owner Ted Leonsis, Nationals boss Mark Lerner, former NFL Commissioner Paul Tagliabue, former DC Mayor Anthony Williams, and chef José Andrés, among others, the Olympic group wants to build support for a project that could cost local taxpayers billions of dollars by getting people to put photos of their hands on Instagram.
"Show your support for Washington 2024 and create the symbol of unity by overlaying your thumbs and making a 'U' with your hands," DC2024, as the Olympic bid is known, says on its flashy new website. The "U" apparently stands for "unity," as in attempting to build widespread, cross-jurisdictional support for construction of numerous sports facilities that, historically, don't get much use after the Olympics skip town. (For the latest example, look to Sochi, Russia, where a reported $50 billion in new construction resembles a Black Sea ghost town just six months after this year's Winter Olympics ended.)
The Olympics boosters also want those photos to run with the hashtags #DC2024 and #unity. A quick Instagram seach conducted about noon reveals that so far, the only person contributing to the viral campaign is the person running DC2024's Instagram account.
But there could be some confusion with the proscribed hand sign. Long before being co-opted by an Olympic bid, the gesture of pressing one's thumbs together and holding one's hands in a "u"- or "w"-shaped formation was popular with fans of either the University of Miami or the Wu-Tang Clan.
It's early days, though. Washington made a four-city short list to be the US Olympic Committee's candidate for the 2024 Summer Olympics in June, along with Boston, Los Angeles, and San Francisco. The USOC is expected to make its pick until early 2015, while the International Olympic Committee won't award the 2024 games until 2017. In the mean time, go 'Canes.
Find Benjamin Freed on Twitter at @brfreed.