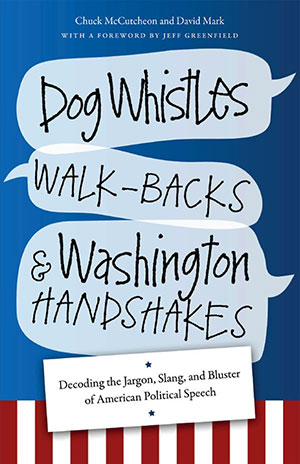 Chuck McCutcheon's new book, Dog Whistles, Walk-Backs & Washington Handshakes, started with a single word: "disingenuous." After nearly two decades covering Capitol Hill, says McCutcheon, he realized that the term had a different meaning in politics than it does in the real world.
"It's the polite way to call someone a liar," McCutcheon, co-author of National Journal's Almanac of American Politics, said at a book signing at Politics and Prose last Saturday. "Not just a liar, but an especially clueless and out-of-touch liar."
The realization led him to team up with former Politico senior editor David Mark, now editor-in-chief of the website Politix, on a translation guide for a political jargon that can feel a lot like a foreign language. "It took about four months of interviewing dozens of people for their favorite terms and definitions," says McCutcheon.
As Washington-speak evolves, McCutcheon and Mark will continue to add to their collection of terms and phrases via their website and on Twitter (@ChuckMcCutcheon). In the meantime, here are some of our favorites, excerpted* from the book:
I'm just raising the question: A way of bringing up negative, even conspiratorial, information about an opponent without looking like the bad guy.
I'm sorry if I offended anyone: A classic non-apology apology that makes it clear the public figure is sorry for being caught, not for what he or she actually said.
I want to spend more time with my family: One of the most pervasive euphemisms in the government and business worlds, it's the lame excuse when someone doesn't want to provide the real reason for departing a job.
Grownups: The description of serious legislators who would rather accomplish something than gain publicity.
Wing nut: A lawmaker or activist known more for his or her proclivity for making outrageous statements than for accomplishing much legislatively.
Nontroversy: A conflation of "non" and "controversy" to describe an incident or utterance that's seen as wholly undeserving of any fuss.
Not in a position to: A willfully ignorant phrase by a media spinner to deny knowledge on a subject they could reasonably be expected to discuss. It's a press secretary's way of painting him/herself as a cog in a larger machine, to deflect giving a straightforward answer.
*Excerpted from Dog Whistles, Walk-Backs & Washington Handshakes: Decoding the Jargon, Slang, and Bluster of America Political Speech by Chuck McCutcheon and David Mark. Published by ForeEdge, an imprint of University Press of New England.