A few years ago, your quick-lunch choices boiled down to "soup, sandwich, or salad?" Now, thanks to Washington's booming food-truck scene (there are about 200 on the streets), your noontime prospects are far more exciting. Whether you're in the mood for jackfruit barbecue or a terrific rack of ribs, here are 25 trucks you shouldn't let pass by.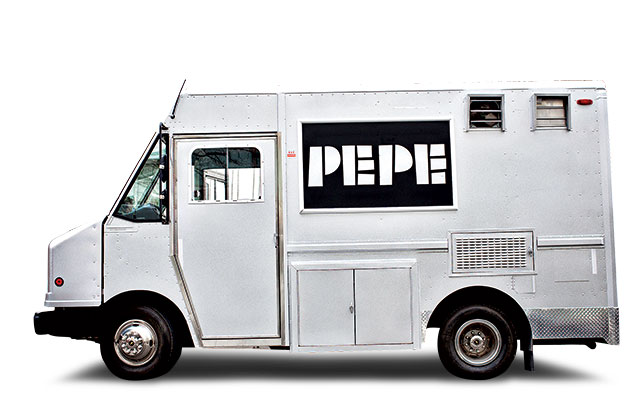 Pepe
Here it is, folks: our favorite truck in all of Washington, courtesy of head-spinningly creative Spanish chef José Andrés. Sandwiches make up the bulk of the menu, and we find the most pleasure in the simplest combinations, such as Serrano ham, Manchego, and olive oil on a thin ficelle or a club sandwich with shallot mayo. Andrés works special magic with chicken croquetas, which stayed miraculously crispy for more than an hour, and with gazpacho, so thick and rich it's a wonder it's free of cream. Arlington, DC, Montgomery County.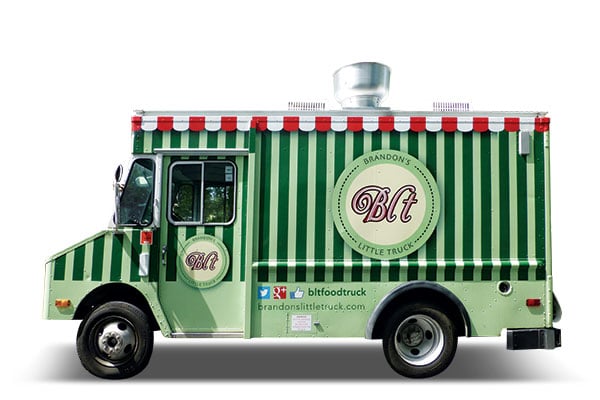 Brandon's Little Truck
At first glance, we were skeptical: Asian pork-belly fries next to a Greek lamb burger and a Maine-style shrimp roll? But former CIA dining-room sous chef Brandon Ingenito runs a tightly controlled mobile kitchen, and it's more focused than it sounds. (The menu rarely changes.) That hefty lamb burger, piled with fennel salad and feta, is worthy of an ambitious bistro, and a pork-belly BLT comes loaded with some of the freshest tomatoes we've had this summer. Arlington, Fairfax.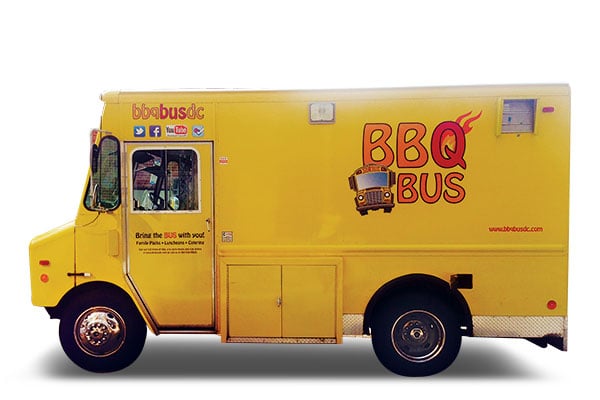 BBQ Bus
As with kebabs and pho, the barbecue-truck market is a crowded one. What makes this popular outfit worth singling out? The owners' shortcut-free ethos—you can taste the 10 to 12 hours of smoking each heap of pork and brisket is given, and sides and biscuits are made from scratch daily. There's an impressive array of sauces to choose from—the peppery vinegar goes well with pulled pork, while thick Memphis-style sauce pairs nicely with the brisket. DC, Maryland, Virginia.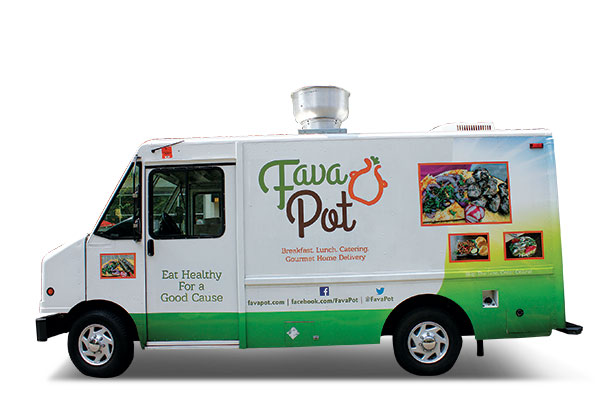 Fava Pot
There are lots of virtuous reasons for choosing this Middle Eastern truck: The cooking is health-minded, the ingredients are carefully sourced, and some proceeds from the sales go toward helping Egyptian orphans. Fortunately, it's the bright flavors that make it stand out the most. Crisp balls of green falafel sing with parsley, coriander, and mint. A grilled Cornish game hen, marinated in yogurt, lemon, and sumac, shows off tender meat and a savory char. And lavash chips with spicy feta dip would be at home on the table of an upscale mezzeteria. Arlington, Fairfax.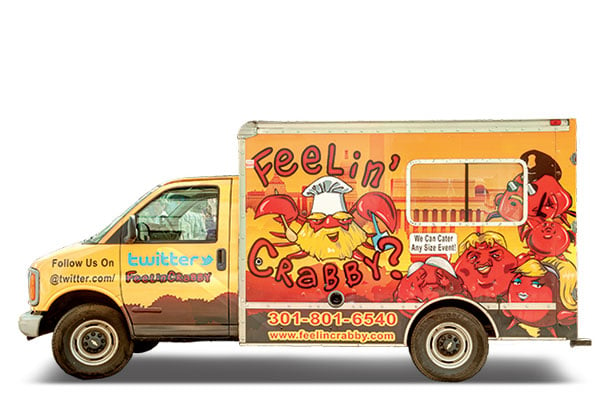 Feelin' Crabby
There are but three choices for sandwiches here: lobster, jumbo lump crab, and "crabster," a mix of the two. We'd be happy with any of them—the fresh, sweet shellfish is lightly dressed with creamy, Old Bay-spiked sauce and served with lettuce and tomato. Luckily, the owners make it easy for the indecisive. You can get your sandwiches in slider form and have all three. DC.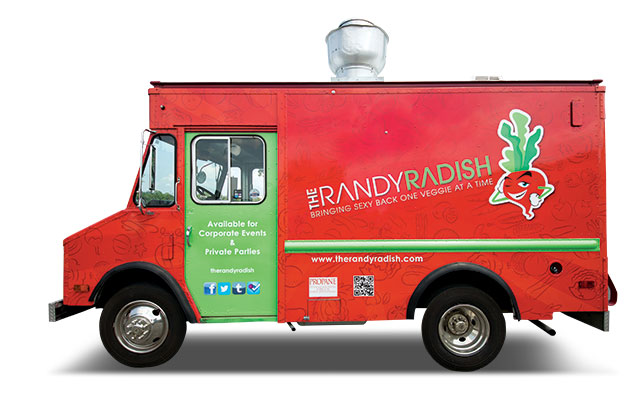 The Randy Radish
Former stay-at-home moms Nancy Jezior and Sharon Lindblad have a nearly alchemical way with tofu, turning it and other vegan ingredients into comfort foods like cinnamon buns and nachos. We're particularly fond of their twist on a Reuben, with tofu marinated in corned-beef-inspired spices and layered with sauerkraut on marble rye. Even better is the tangy jackfruit barbecue. The creations are so brightly flavored they appeal to all folks, not just vegans and health nuts. Fairfax, Loudoun County.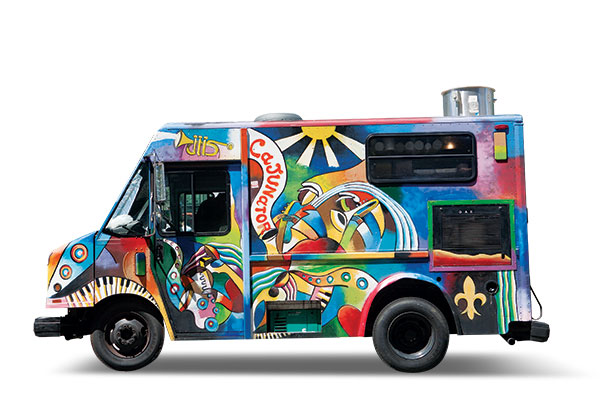 Cajunators
We hit this truck, with its Acid Test-like paint job, for one thing—po' boys, and lots of them. These folks know how to work a fryer, and their handiwork is displayed in properly airy loaves. When it's in season, the fried soft-shell crab is the star, but the crunchy oysters and shrimp are delicious, too. DC.
Cole's Palette
Skip breakfast, have raw kale and an almond for dinner—whatever you need to do to justify digging into a lunch of oversize waffles and fried chicken. Cole Whaley, who also owns Beltsville's Café Rue, is the sure-handed chef behind the caloric decadence, and he turns out a terrific, crunchy Sriracha-glazed bird alongside a plain version. For dessert, there are delicate macarons, but we like to really go for it and get the red-velvet waffle drizzled with cream-cheese icing. Montgomery County, DC.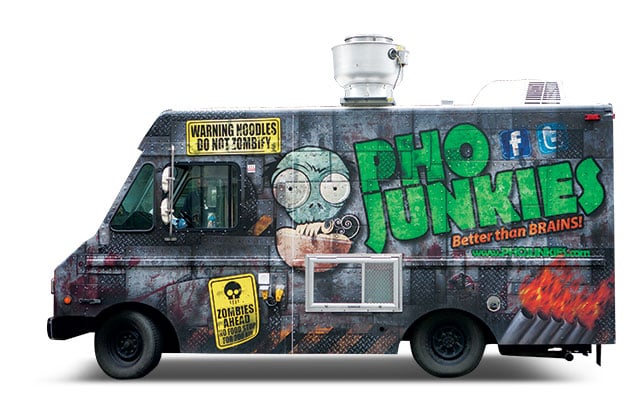 Pho Junkies
This pho slinger gets our vote because it offers what many pho trucks forgo—fatty off-cuts of meat, which imbue the broth with an unmistakable richness. We load ours up with flank steak, fatty brisket, and tendon (even if you don't eat the meats, the soup will be better for them), then add fresh basil, sprouts, lime, jalapeño, and hoisin once we get back to our desks. The chicken pho is lighter and more soothing, and a side of spring rolls retains a nice crackle. DC.
Meggrolls
It sounds dubious, like a 7-Eleven fast-food experiment gone awry: a Big Mac reenvisioned as . . . an egg roll? Thanks to Meghan Baroody's ingenuity, we find ourselves craving it—along with lots of her other "meggrolls"—on many an afternoon. The fat rolls stay impressively crisp, and we've yet to find a filling we don't like, from celery-topped chicken with Buffalo sauce and blue cheese to chorizo with poblano peppers, corn, cheddar, and honey. Arlington.
Red Hook Lobster Pound
When this seafood shack on wheels hit the road in 2010, the lines were epic—with the suited masses waiting upward of an hour for lobster rolls. Four years later, your lunch transaction will be quicker and, thankfully, the rolls are still top-quality. We go for the warm Connecticut-style sandwich, its sweet meat tossed with butter. It's best eaten on the spot (it can get soggy); the Maine Roll, filled with lobster salad, is a close second and will make it back to the office in fine shape. Arlington, Fairfax, DC, Montgomery County.
Goodies Frozen Custard & Treats
Wisconsin-style frozen custard is as smooth as soft-serve but much more decadent. Short of high-tailing it to Milwaukee, your best bet is this truck, which looks as if it just rolled off the Leave It to Beaver set. The plain vanilla is superlative and tastes like a mix of fresh cream and about a dozen egg yolks. It's also pretty great in a turtle sundae or root-beer float. DC.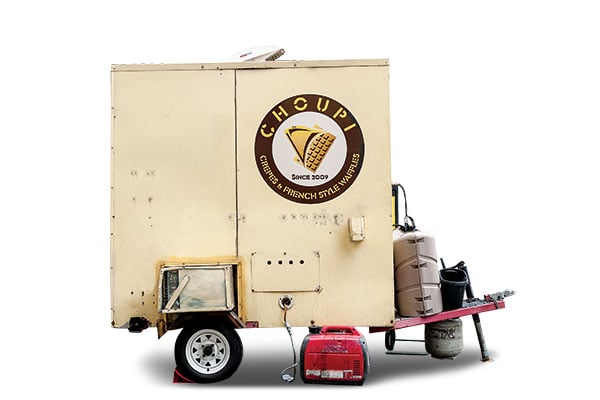 Choupi Crepes
When done right, crepes are ethereal, not sturdy and rubbery. Unfortunately, many truck-made versions we tasted fall into the latter camp. The ones from this Rosslyn cart, though, are wonderfully thin, with crisped edges and a tender chew, and they do just as well with simple lemon and sugar as with a savory mix of ham, cheese, and mushrooms. A caveat: There's just one guy making them, so expect a European-style wait. Arlington.
Lilypad on the Run
This two year-old truck recently did an about-face, switching from a Mediterranean menu to an Ethiopian repertoire—and the winning results have made it a fixture in our lunch rotation. Yebeg wat, a rich stew of lamb, is built on intricate spicing and high-quality meat. The vegetarian platters are a colorful array of yellow peas, lentils, and collards, served with plentiful injera, the spongy bread that takes the place of knife and fork. No matter what you get, you'll likely have leftovers—portions are massive. DC.
Corned Beef King
Owner Jon Rossler has the bombastic, step-right-up personality of a ringmaster, so be prepared for a sales pitch. And the hefty sandwiches served out of his truck (permanently parked at 7155 Wisconsin Avenue in Bethesda) live up to his enthusiasm. The corned beef is best with Russian dressing and creamy slaw or on the not-too-greasy Reuben. Mac and cheese isn't traditional deli fare, but no matter—Rossler's is as satisfying as it comes. Montgomery County.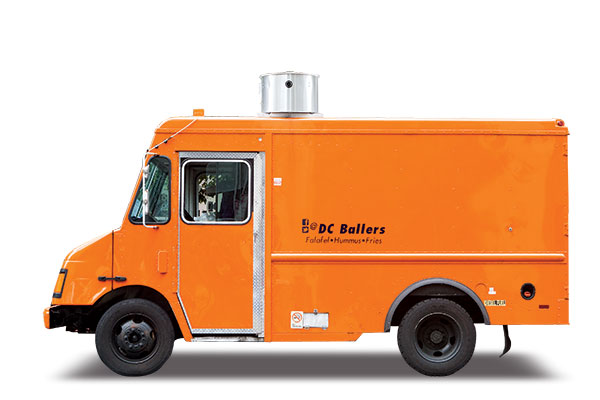 DC Ballers
The Greek fries, showered with feta and oregano, are worth a stop in themselves. Then again, so is the falafel, terrifically crunchy and packed with herbs. Many trucks are value-driven, but few offer the bang for your buck that a $9.50 falafel platter gets you here: Besides copious amounts of the fried balls, you get fragrant tabbouleh, lemony tomato-and-cucumber salad, garlic-heavy hummus, and pita dusted with za'atar. DC.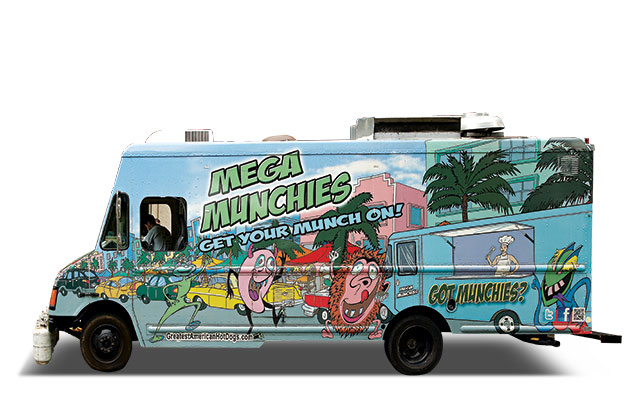 Greatest American Hot Dogs
David Trachtenberg has come up with a mobile celebration of Americana, with a dizzying array of dogs to pay tribute to regional styles. You can go simple, such as a Manhattan, loaded with kraut, mustard and onion sauce, or over the top, like the Florida, wrapped in crisped bacon and topped with a fried egg and cheese sauce. The crunchy tater tots make a fun side. Wash it all down with a Dr. Brown's cream soda, that great deli staple. Montgomery County.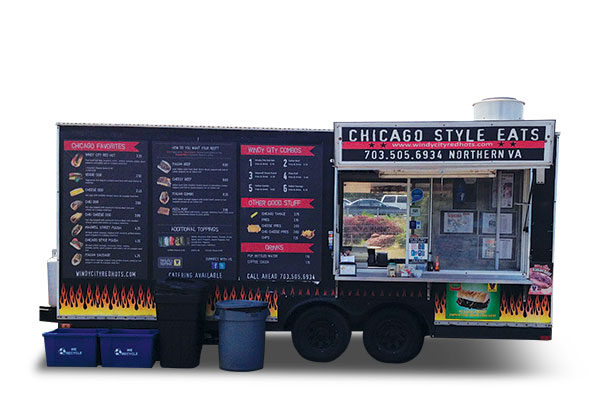 Windy City Red Hots
You'll probably eat these hot dogs at picnic tables in the Ashburn garden-store parking lot where this trailer stays put (20052 Lexington Dr.), but you might as well be hanging in Grant Park. That's how authentic these Chicago-style dogs and Polish sausages taste. Owner Angel Miranda keeps them true to their roots, with meat from Vienna Beef, steamed poppy-seed buns, and shamrock-green relish. Not in the mood for a pile of toppings? Go for a simple chili dog instead. Loudoun County.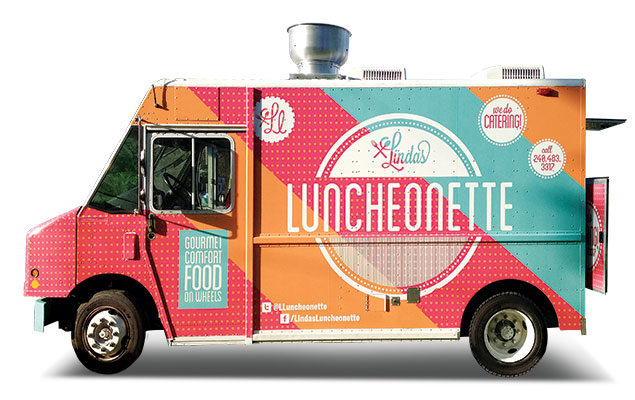 Linda's Luncheonette
It might be housed on wheels, but Linda Jo Kushner's candy-colored luncheonette is a blast back to a seemingly simpler era. She serves up heaping portions of classic comfort food, lightly updating her preparations wherever possible. The thick-sliced, ketchup-drizzled meatloaf is like visiting a diner of yore, only it's made with turkey and not beef, while the five-cheese mac and cheese, topped with a layer of breadcrumbs, tastes a lot lighter than it sounds. Montgomery County.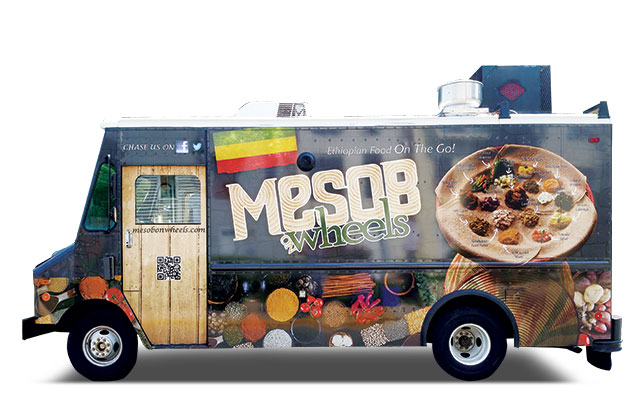 Mesob on Wheels
An Ethiopian meal is typically a long, lingering affair. So a food truck dishing up wats for one is going against centuries of practice—but hey, sometimes you're just jonesing for the heady rush that comes with a berbere-based stew and time is short. Nebeyou Lemma, a graduate of Lincoln Culinary Institute in Columbia, and fiancée Pina Ghetahun run the operation and share the cooking. The siga wat, an aromatic, richly spiced beef stew, is transportive. The kik alicha, a stew of yellow split peas, is sweet and soothing. Montgomery County.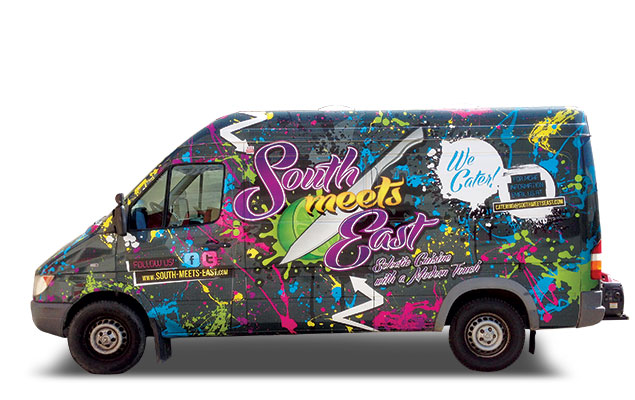 South Meets East
Chef/co-owner and Cava Mezze alum Justin Bates has about as short a menu as we've seen, but what he does he does very well. He serves just three tacos (also available as burritos), including the excellent Texan, stuffed with roasted chicken, black-bean-and-corn salsa, and lime sour cream, and the bánh mì, with sweetly marinated pork, daikon slaw, and cilantro. A summer special—a taco riff on a BLT with avocado—was just as delicious. To drink, there's a nice, not-too-sugary cherry limeade. DC.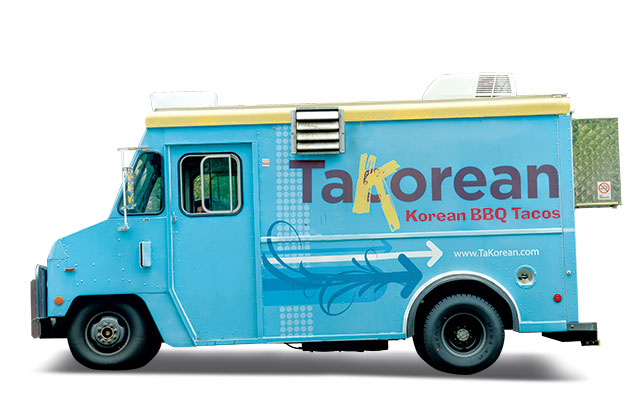 TaKorean
These days, it seems like kimchee is as common a taco filling as carne asada—especially in the food-truck kingdom. This outfit, more than any of its similarly minded competitors, makes the trend feel as if it's still got some life left in it. The tacos are the most flavor-packed $3.50 you'll spend, with such ingredients as sweet bulgogi-style rib eye or, even better, hoisin tofu. Top it all off with funky kimchee slaw and the works—Sriracha, lime sour cream, cilantro, and crunchy sesame seeds. If the truck isn't nearby, you can visit a stall in Union Market. DC.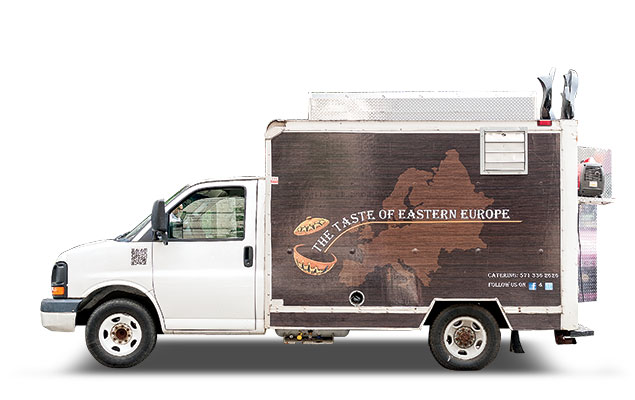 The Taste of Eastern Europe
The cuisine of the Balkans is pretty underrepresented in these parts. This truck seeks to remedy that situation with its offerings: a juicy pork burger, beautifully spiced chicken, and a Bulgarian shopska salad, made with feta, cucumbers, and local tomatoes. Even the tzatziki—an item you'll see on many a truck's menu—is a standout. DC.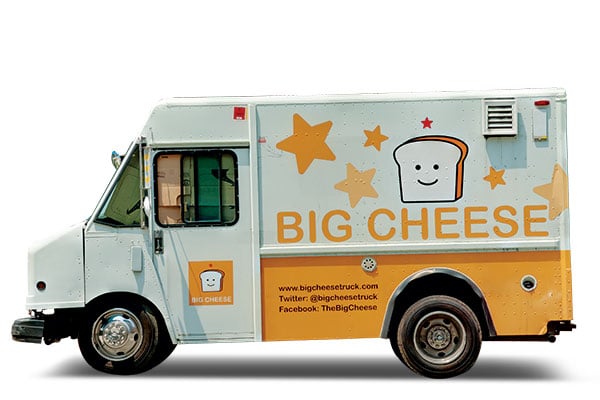 The Big Cheese
There's nothing even resembling a Kraft Single at this sophisticated grilled-cheese truck, which has raided the boutique cheese counter for its main ingredients. That's ultra-rich Camembert oozing out of the Mt. Fuji, which is also dressed with apples and honey. Goat Gouda gets dolled up with sweet caramelized onions for the Midnight Moon. Our favorite, though, is the Thrilled Cheese, a zesty, melty mix of chipotle cheddar, jalapeños, and guac sandwiched between sourdough. Arlington, Fairfax, DC.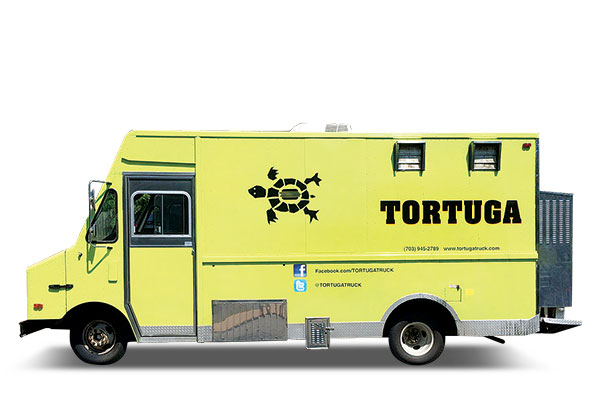 Tortuga
A few years ago, Andrew Smiedala cleaned out his 401(k), took some loans, and went from a career in marketing to life inside a food truck. Lucky us. His Mexican-style sandwiches, called tortas, are some of the best on the road. Smiedala starts with excellent bread—a flat, crusty ciabatta—then carefully layers ingredients like Serrano ham, Manchego, and arugula or breaded chicken tenderloin with avocado and pickled veggies. Fairfax.