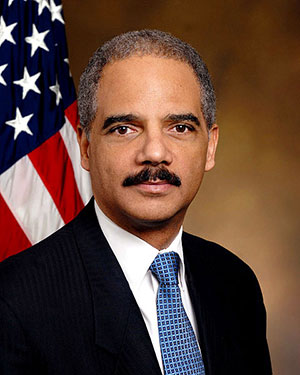 After six tumultuous years as US Attorney General, it looks as though Eric Holder will announce plans to leave the post today. That raises two big questions: Which law firm will he land at? And how much will it pay him?
Covington & Burling is the safe bet for where Holder will end up. Holder spent eight years as a partner there before President Barack Obama tapped him to head the Justice Department. The firm's partners tend to be a loyal bunch, plus Covington has done well in luring back other folks who left for Obama's DOJ. Lanny Breuer, assistant attorney general for the Criminal Division, returned last year to become vice chair of Covington. Daniel Suleiman, deputy chief of staff to Breuer while he was at Justice, also rejoined in 2013.
There's also the not-so-subtle hint that came in the form of the $1.5 million condo that Holder bought at CityCenterDC in April. At the time, it was noted that the pad was only a few blocks from the Justice Department. But soon, it'll be even closer to Covington & Burling, which plans to move into 400,000 square feet of CityCenter's trophy office space.
And what about that paycheck? Other officials as high-ranking as Holder have commanded $3, $4, and even $5 million upon their return to private practice. One of Washington's top legal recruiters notes that although Holder's tenure as AG wasn't without controversy, that probably won't impact his payday—which he predicts will be an annual take-home of between $4 and $5 million.
UPDATE, 1:45 PM: Covington & Burling declined to comment.
Find Marisa M. Kashino on Twitter at @MarisaKashino.