We've seen lots of photos of Bill and Hillary Clinton holding the new "royal baby," their granddaughter Charlotte Clinton Mezvinsky, but her other grandparents have yet to get their photo op.
New father Marc Mezvinsky's parents were once very public figures, too. Marjorie Margolies was a popular reporter for Channel 4 in Washington in the '70s and '80s. She made headlines herself as the first single woman to adopt two baby girls from Korea and Vietnam. She later married former Iowa congressman Ed Mezvinsky, and they had two sons together, Andrew and Marc. The Mezvinsky household eventually included 11 children—four from his first marriage, her two adopted daughters, their two sons, and three boys from Southeast Asia for whom they became legal guardians.
The clan moved back to Margolies's home state of Pennsylvania, where she ran for and won a seat in Congress in 1992. A Democrat, Margolies won her election in a largely Republican district by 1,300 votes.
I shadowed her from the time she was elected through her first few months in Congress. Together we wrote "Freshman Rush" for the April 1993 issue of Washingtonian. "Triple M," as she was known by her staff, hit the ground running and never stopped. Between jockeying for committee assignments and setting up her staff and office, Margolies-Mezvinsky worked on the schedule for her complicated household back in the Philadelphia suburbs. She munched granola and took frequent phone calls from Andrew and Marc.
She noted that "after a few days, some people were so wiped out that they started skipping events they'd have killed to be invited to just a week earlier."
Not Marjorie. I had a hard time keeping up with her, and it was it was a great relief for me to see her take off her high heels and run down the marble hall in the Capitol in her stockinged feet to catch the elevator to cast her first vote as a member of Congress.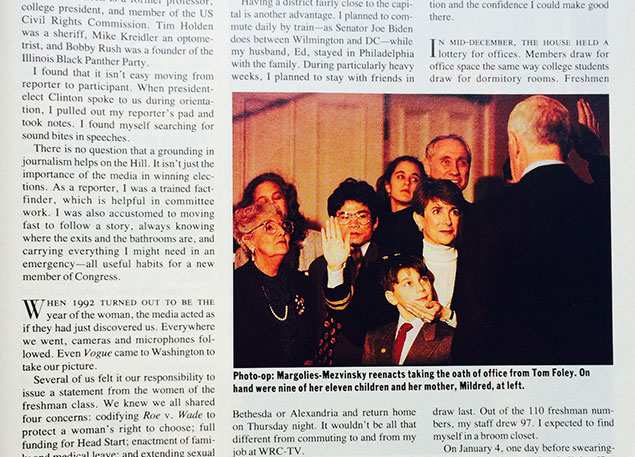 As new member of Congress, Margolies met new president Bill Clinton during freshman orientation. "He offered congratulations from Hillary, who had generously campaigned for me in the fall," she recalled. Then he asked, "Do you really have 11 children?"
Margolies knew she was on shaky ground in her district, but it was her vote for Clinton's 1993 budget that sealed her political fate. Triple M opposed the budget until a call from Clinton convinced her to cast the deciding vote in its favor. As she voted, Republicans in the House shouted "Goodbye, Marjorie."
She lost her reelection race in 1994 and returned to Pennsylvania to run unsuccessfully for Lieutenant Governor in 1998.
Meanwhile, Ed Mezvinsky was engaging in a number of failed business deals, which would eventually lead to a conviction for bank, mail, and wire fraud. According to a federal prosecutor, Mezvinsky was conned by "just about every different kind of African-based scam we've ever seen." In order to raise the funds needed to front the money for the fraudulent investment schemes he was being offered, Mezvinsky tapped his network of contacts and dropping the name of the Clinton family to convince people to give him money. Mezvinsky was indicted, pleaded guilty to many of the felony charges, and served time in federal prison.
Margolies dropped out of a Democratic primary for the Senate in 2000 because of her husband's legal troubles and her own filing for bankruptcy. The Mezvinskys divorced in 2007, and Marjorie resumed her maiden name. She ran for political office again in 2014, but lost a primary for her old Congressional seat despite campaign help from the Clintons. Margolies's campaign was hampered by claims in the Huffington Post that while she served as chief executive and chairman of the Women's Campaign International, an overly large portion of the nonprofit's assets were allocated to Margolies' salary and benefits.
This isn't the first time that Margolies and Mezvinsky have been left out of the picture—when Chelsea Clinton married Marc in 2010, the groom's parents were not in any of the selected wedding pictures.