Last month I moaned a bit about the challenge of winnowing down book selections for this monthly post. It is a challenge, no bones about it, but restriction brings its own kind of freedom. I know that I have to wind up with a list of 10 titles total, five fiction and five nonfiction, so at a certain point in the process I become chillingly ruthless, eliminating anything that doesn't grab me. It's at this point where hot topic becomes meaningless in the face of great writing, conceits irrelevant and originality paramount.
Of course, I still need to balance the best of the best with the best that's best for Washingtonian readers–and that's why I'm so excited about this month's Top 10 list. Each book here represents something strong and special, but many of them also have direct ties to our region. As a former Arlingtonian and military spouse, I'm going to give a special shout-out to local author Robert M. Poole's Section 60, Arlington National Cemetery: Where War Comes Home. There aren't many places in the world where such a solemn, tangible reminder of freedom's cost is integrated into everyday life.
I hope that the selections I've made will influence your reading life in October. However, if I've missed one of your favorites, or you disagree with any of my choices, please let me know in the Comments or via email: bpatrick@washingtonian.com.
FICTION: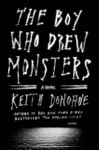 The Boy Who Drew Monsters: A Novel by Keith Donohue I would personally be very happy if Keith Donohue published more frequently–but if he did, he might not create richly textured psychological tales like this one, in which a boy named Jack Peter influences adults and children in his Maine seacoast town through his trauma-driven sketching. There's a terrifying nor'easter and an important last line–this is the book you need for a dark-and-stormy night.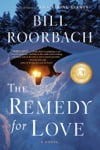 The Remedy for Love: A Novel by Bill Roorbach It's another novel about a storm in Maine! Don't let that throw you. Roorbach, whose Life Among Giants was the kind of big-hearted, rambling novel you lap up in one long session, has bested himself. The Remedy for Love is simply one of 2014's finest books for grownups, even if small-town lawyer Eric gets to play a fairly old-fashioned type of hero in his rescue of the downtrodden "Danielle, for now" during a blizzard.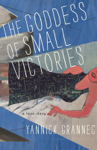 The Goddess of Small Victories: A Novel by Yannick Grannec Does anyone else remember Tom Lehrer's "Alma," a tenderly satiric ode to the one-time wife of Mahler, Gropius, and Werfel? ("Alma, tell us/All modern women are jealous…") Meet Adele Goedel, widow of Kurt, that weird mathematical genius. Adele has many tales to tell, and is ready to relate them to Anna, a 1980s Princeton graduate student who has stumbled upon this fascinating woman in Grannec's lovely debut novel.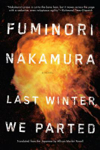 Last Winter, We Parted: A Novel by Fuminori Nakamura Goodness, some October fiction releases are dark. Dark, dark, dark, like the soul of a purported killer in this bendy, twisty, elegant thriller that involves models, the killer's warped sister, and even a horrendously creepy doll maker. Friends who love Japanese literature often ask me for recommendations of what to read next, and this year, I'll be telling them all about Nakamura–and hoping that his next title is out sooner rather than later.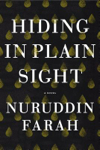 Hiding in Plain Sight: A Novel by Nuruddin Farah Each month I vow to add a work in translation to this list, then get sidelined by terrific writing on our own shores. However, for October I am happy to say that Somali-born novelist Farah's 12th book deserves your attention–and not simply because it's a work in translation, but because it's a clear-eyed look at Africa now (the action takes place in Nairobi), with realistic, believable characters. Farah is to Africa as Tim Winton is to Australia–the voice of a continent.
NONFICTION: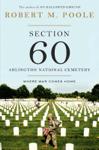 Section 60, Arlington Cemetery: Where War Comes Home by Robert M. Poole In his last book, On Hallowed Ground, also about Arlington National Cemetery, former National Geographic executive editor Poole delineated this important space's history. In Section 60, he explains, with grave tenderness, how its function continues. As the title suggests, many of the stories highlighted have to do with combatants and veterans, but Poole also demonstrates how those interred touch civilian lives, in peaceful ways.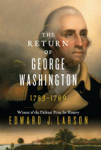 The Return of George Washington: 1783-1789 by Edward Larson Would it surprise you to be reminded that there were six years between the end of The Revolutionary War and George Washington's inauguration as president? Probably; most of us elide Washington's military triumph and his political pioneering. Larson, who last wrote about another hero, Ernest Shackleton, gracefully reconstructs General Washington's return to Mount Vernon and time as a gentleman farmer before he took office.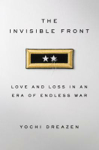 The Invisible Front: Love and Loss in an Era of Endless War by Yochi Dreazen Mark and Carol Graham lost one son to suicide after he broke down from the strictures of his ROTC program, and another son to an IED attack while on active duty in Iraq; they believe both deaths were the result of the pressures of serving in the modern military. The difference between the Grahams and other Americans in their shoes is that Mark is a retired major general who, with Carol, has succeeded in bringing these pressures to public attention.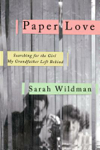 Paper Love: Searching for the Girl My Grandfather Left Behind by Sarah Wildman Few One day soon there will be no one left alive who experienced World War II in any way. It's especially essential that the experiences and memories of The Holocaust not be lost when there are no survivors to tell their stories, which is why journalist Wildman's chronicle of her search for a long-lost love was so widely shared when she wrote about it for Slate in 2009. Now her account of an older generation's travails is in book form.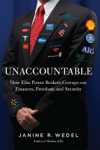 Unaccountable: How Elite Power Brokers Corrupts Our Finances, Freedom, and Security by Janine R. Wedel Influence peddling sounds so quaint, really, when consider how entmeshed, entangled, and entrenched lawmakers, lobbyists, contractors, and others have become in today's world of big government and high finance. Wedel, an academic and pundit who is the first anthropologist to win the Grawemeyer Award for Ideas Improving World Order (normally given only to political scientists), turns an intense and rational eye on corruption practices at every level of our society. It's a tough book to read–because of content, not writing. Highly recommend.