CONCERTS
Rival Sons
Fillmore Silver Spring
October 4
Big old-fashioned rock 'n' roll is the name of the game for this group. They perform songs off Great Western Valkyrie, their latest album. $20.
Allen Stone
9:30 Club
October 7
Fans of St. Paul & the Broken Bones who didn't get tickets to their 9:30 Club show later this month would do well to check out Stone, another neo-soul act with a slightly more hippie-ish vibe. $25.
Betty Who
Fillmore Silver Spring
October 7
The Australian pop sensation brings her compulsively danceable tunes to the stage. $16.
Electric Six
Black Cat
October 7
Pitchfork summed up this flamboyant Detroit band's most famous singles, "Danger! High Voltage" and "Gay Bar" as "transcendently dumb." The flamboyant rockers are about to release their tenth album. $15.
Macy Gray
Birchmere
October 7
The R&B singer's instantly recognizable rasp has given her staying power—the Grammy winner releases her eighth album this month. $49.50.
Generationals
U Street Music Hall
October 11
The New Orleans duo makes bouncy indie pop reminiscent of 1950s groups. Sultry-voiced Arum Rae opens with modern soul. $15.
Markéta Irglová
The Hamilton
October 13
The Oscar-winning Czech singer/songwriter, known for her collaboration—and former romance—with Glen Hansard (her Once costar), just released Muna, her second solo album. $18 to $25.
Frankie Valli & the Four Seasons
Strathmore
October 15-16
Hear the falsetto that made its owner and his "Jersey boys" the subjects of a Tony-winning musical and a Clint Eastwood-directed biopic. $48 to $165.
Alice Russell and Yuna
Lisner Auditorium
October 17
Russell, a blonde, British soul singer shares the bill with Malaysian pop star Yuna and "tropical pop" artist Hollie Cook, the daughter of Sex Pistols drummer Paul Cook. $25 to $30.
Julian Casablancas & the Voidz
9:30 Club
October 17
Though the Strokes frontman gets more than his share of hype, his first solo effort, Phrazes for the Young, earned generally positive reviews. Casablancas released his first album with his new side project, the Voidz—which includes two members of the band that backs his solo shows—in September. $35.
Bombay Bicycle Club
9:30 Club
October 19
The English rockers continue to push the boundaries of their sound with So Long, See You Tomorrow, their most recent album. $30 (currently sold out).
Paula Cole
Wolf Trap
October 19
"I Don't Want to Wait" endures as one of the most recognizable anthems of the '90s; fans of Cole's melancholic pop can look forward to newer material as well as her classics. $25 to $27.
K. Flay
Rock & Roll Hotel
October 23
This female rapper has a dual degree from Stanford to draw on for her witty wordplay skewering American excess. $12.
Cold War Kids
9:30 Club
October 24
The Long Beach rockers moved from indie to more radio-friendly fare such as "Miracle Mile" on last year's Dear Miss Lonelyhearts. Hear what's in store for their fifth album, out this month. $28.
Gladys Knight
Warner Theatre
October 25
The Motown star comes to town for a concert including hits that have earned her seven Grammys. $65.50 to $99.50.
Béla Fleck and Abigail Washburn
Lisner Auditorium
October 31
The bluegrass-royalty husband and wife are on tour playing from their new self-titled album. $40 to $60.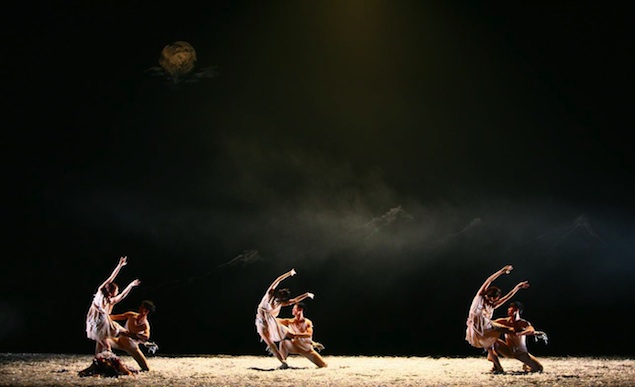 DANCE
Martha Clarke's Chéri
Kennedy Center
October 1-4
This tale of romance between a younger man and an older woman—created by MacArthur "genius grant" recipient Martha Clarke and based on a story by Collette—stars dancers Alessandra Ferri and Herman Cornejo and actress Amy Irving. $42.
George Mason University's Center for the Arts
October 3
The contemporary San Francisco company performs "Rasa," set to music by percussionist Zakir Hussain, as well as other dances. $26 to $44.
Identity/Identité
Dance Place
October 4
Moroccan choreographer Hind Benali partners with hip-hop dancer Soufiane Karim and composer Mohcine Imraharn for live music and dance offering a window onto life as an Arab woman in North Africa. $25 to $30.
Velocity Dance Festival
Sidney Harman Hall
October 9-11
Since debuting in 2009, the festival has narrowed its focus from international to mostly local artists—but it's still an affordable opportunity to see a range of styles and performers. $18.
Dance Theatre of Harlem
Sidney Harman Hall
October 17-19
Led by Virginia Johnson, who grew up in DC, the troupe returns for another run after last year's sold-out engagement; co-presented by Washington Performing Arts and CityDance. $37 to $77.
An Evening of Indian Dance
Wolf Trap
October 18
The Indian Dance Educators Association puts on this showcase of traditional dance and music, featuring local performers as well as choreographers from India. $20 to $25.
Beijing Dance Theater: "Wild Grass"
Kennedy Center
October 22-25
Techno music and dancers as robots aren't exactly ballet standards, but artistic director Wang Yuanyuan incorporates both. The three works on the bill are inspired by poems of the Chinese modernist writer Lu Xun. $42.
Petite Mort: Masterworks by Kylián/van Manen/Wheeldon
Sidney Harman Hall
October 22-26
The Washington Ballet performs three pieces by Jirí Kylián, Hans van Manen, and Christopher Wheeldon, set to live music. $37 to $132.
Carmen De Lavallade: "As I Remember It"
Kennedy Center
October 29-30
The dancer and actress presents a retrospective of her seven-decade career via dance, film clips, projections of personal writings, and other artifacts. $49.
Cirque Peking
George Mason University's Center for the Arts
October 31-November 1
The National Acrobats of the People's Republic of China perform logic-defying feats of tumbling, juggling, and more. $29 to $48.
CLASSICAL SHOWS
Poulenc's Organ Concerto
Kennedy Center
October 1-4
British conductor Matthew Halls returns to lead the NSO in Poulenc's popular work. $10 to $85.
Belgrade Philharmonic Orchestra
Strathmore
October 8
This orchestra, in existence since the '20s, tours the US for the first time, playing pieces by Serbia's Stevan Hristić along with other European composers. $25 to $55.
Ray Chen and Julio Elizalde
Kennedy Center
October 9
Washington Performing Arts presents a concert of Mozart, Beethoven, and more by 25-year-old violin virtuoso Chen (below) and American pianist Elizalde. $25.
Kennedy Center
October 12
Combining traditional Chinese instruments and modern orchestration, this group—whose name means "the beauty of divine beings dancing"—explores its home country's rich history. $49 to $89.
National Philharmonic: Dvorák's New World Symphony
Strathmore
October 18-19
The philharmonic kicks off its season with a symphony written by the Czech composer during his stay in America. The evening also includes a performance by South Korean violinist Chee-Yun. $28 to $84.
Choir of Westminster
Washington National Cathedral
October 22
Hear the British choir and get a look at the pomp and grandeur that help make Westminster Abbey such a storied place. $25 to $85.
Music From the Films of Tim Burton
Kennedy Center
October 23-25
The Danny Elfman music that gives Burton-directed works (Beetlejuice, Edward Scissorhands, Frankenweenie) much of their dark punch comes to life here, accompanied by visuals from the movies, sketches, and storyboards. $20 to $88.
Baltimore Symphony Orchestra: "Ein Heldenleben" (A Hero's Life)
Strathmore
October 26
The BSO takes on Richard Strauss's autobiographical tone poem. The bill also includes Christopher Rouse's "Rapture" and Alexander Scriabin's "Poem of Ecstasy." $32 to $95.