So, there's been some reaction to Monday's assessment of people who left Saturday night's Division Series game between the Nationals and the San Francisco Giants before the last out of the improbable 18th inning. And a lot of it seems to be angry that I dismissed thousands of people as inferior fans without considering their reasons for leaving Nationals Park before the end of that gut-punching marathon game.
Perhaps I should have enumerated up front the potential reasons people would cite for leaving the game early. But now that there are so many comments on yesterday's article, there is a heap of excuses—mostly masked as scathing criticism—for why some people felt it necessary to exit before the final out. Some of them might even be valid. So let's adjudicate them:
"People were cold."
FOUL! Saturday evening's forecast clearly advised temperatures in the low 60s at the start of the game, gradually dipping down into the 50s over the course of the evening, with a moderate breeze. You were warned, and you should have checked a weather report and grabbed a jacket—or at least a sweatshirt—before heading out.
"People had kids waiting at home."
FAIR! Saturday's game started at 5:37 PM, so if you came to the game without your kids, you were probably expecting you'd be back home between 9 and 9:30. Cell phone coverage can be spotty in packed stadiums, so even calling home and telling your kids you might be a little late is a dodgy bet. And it's not fair leaving the babysitter on the hook for extra innings.
"People had jobs [on Sunday morning]."
FAIR! Some people work Sunday mornings, and they need their rest Saturday night. It's always a bummer to leave any game before the end, but career responsibilities, sadly, trump baseball allegiances.
People had jobs at nationally broadcast public-affairs talk shows.
FOUL! You're not getting off that easy, Chuck Todd! You do that "Play Ball!" announcement at the start, you'd better stay for the whole thing.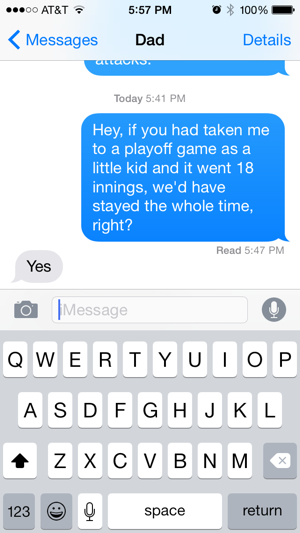 "People had kids with them."
FOUL! As mentioned several times in the original article, many of the people who did stick around for the entire game were parents who brought their grade-school-aged kids to witness historic, postseason baseball. It's one of those moments that bonds parents to children and that passes on the sport's reputation as the national past-time. Quitting early during the salad days would set a terrible example for fandom later in life.
"People were just plain exhausted and didn't want to drive home in an even more tired state at some unknowable hour later."
OFFICIAL REVIEW! This is trickier. The Nationals say about 60 percent of their home crowds come in from Northern Virginia, another 25 percent come from Maryland, while the rest lives in DC. While drowsy driving can be as dangerous as drunk driving, a lot of fans from all three jurisdictions relied on Metro to get to and from the game. I biked, and while the ride back was unpleasant and depressing, it was unavoidable. Also, if you've got a problem with biking to a baseball game, there's probably a Washington Post Metro columnist who can help you out with that one.
You had to catch Metro.
FOUL! I don't think I saw this explicitly in any of the feedback, but even if you just thought it, you're out. It was Saturday, when Metro stays open until 3 AM, plenty late enough to accommodate another six or seven innings.
You had to feed the dog.
CALL TO THE BULLPEN! Few things are more unpleasant than coming home to a dog whose owner has been away longer than expected. This was only the second game of the series. If you left early to feed Fido and make sure he didn't leave a bunch of surprises on your carpet, that was fair on Saturday. If this had been an elimination game, though…
It's a baseball game, not a jail sentence: http://t.co/nq1wAd2pR8

— Bob Timmermann (@bobtimmermann) October 7, 2014
FOUL! This is an objectively true statement. Nobody can legally require you to stay inside a baseball stadium, but there were nine innings of free baseball. Extra innings are when baseball is at its most thrilling. The visitors are always a threat; the home team always comes up with the promise of immediate salvation. Also, playoff tickets are expensive. Why wouldn't you want to stretch your dollars as much as possible?
Getting yourself sick doesn't prove that you're a better person. It proves that you are devoted to a corporation to your own detriment.

— Jesse Spector (@jessespector) October 7, 2014
FAIR! Major League Baseball clubs are for-profit enterprises that encourage us to submit our fealty and money. But isn't that the essence of all sports fandom? We wish for civic pride, and to obtain it we contract the job to billionaires who then sell us back tickets to our publicly financed stadiums at great markups. If this town wants to back up its claim of being full of committed sports fans, its residents need to show actual commitment, and not just to that psychodrama of an NFL franchise in Landover. There's a legitimately good baseball team here! Why not make a run at being as manic as Phillies fans, but 100 times as classy?
"People left the house planning to watch one baseball game not two."
YOU'RE OUT! Again, I say: Free baseball!
Find Benjamin Freed on Twitter at @brfreed.
d