The National Weather Service issued a brief tornado warning for much of the Washington area. While the alert was lifted without any funnel clouds being spotted, it did send locals into brief fits of caution. (Or Twitter alarmism, if that's more your bag.)
Washington gets its share of tornado advisories, but actual sightings are exceedingly rare. The last big tornado to hit Washington came September 24, 2001, when a funnel cloud passed over Northeast DC and touched down in College Park, killing two and injuring another 57. (A smaller tornado earlier that day hit the National Mall but caused minimal tree damage.)
The most destructive tornado on local weather records happened back in November 1927, when a twister hit Alexandria before dragging across the Potomac and wreaking havoc on Southeast DC, especially around Navy Yard, before turning toward Northeast DC and Prince George's County. Wind speeds were measured at up to 125 miles per hour.
When the storm finally abated, one person was dead from a lightning strike, while another 49 people were injured. All told, the tornado destroyed or damaged about 150 homes in the District, wrecked a hangar and seven airplanes at Anacostia Naval Air Station, and caused an estimated $1 million in damages, or about $13.7 million in 2014 dollars. Here are a few more scenes from the wreckage.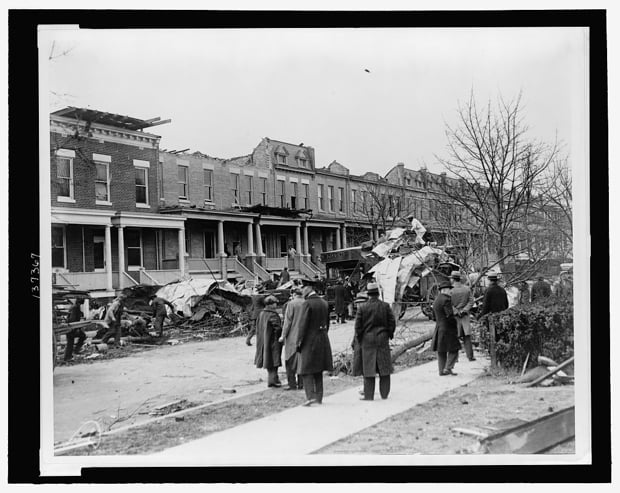 Find Benjamin Freed on Twitter at @brfreed.