On chilly mornings, a hot breakfast feels like a delicious luxury—but crawling out of your warm bed early enough to whip something up can be a challenge. When you don't have time to linger over your first meal of the day, this baked oatmeal is an easy, make-ahead solution. It's packed with whole grains, reheats well, and makes multiple servings. Even better? It's infinitely customizable. You can add any kind of fruit and spices you want, replace the sugar with honey or maple syrup, and even substitute chia seeds for the egg if you're trying to go vegan.
Play around with whatever flavor combinations you enjoy; you may never go back to those instant-oatmeal packets again.
Baked Oatmeal With Peaches and Almonds
Ingredients
2 cups rolled oats
¼ cup white or light brown sugar
½ teaspoon salt
1 teaspoon baking powder
1 teaspoon ground cinnamon
½ teaspoon ground ginger
½ cup sliced almonds, toasted
2 cups milk (I used vanilla soy milk)
1 large egg
1 teaspoon vanilla extract
1½ cups frozen or fresh peach slices
Directions
1) Preheat the oven to 350 degrees. Coat bottom and sides of an 8-inch square baking dish with cooking spray and set aside.
2) In a medium bowl, mix together the oats, brown sugar, salt, baking powder, cinnamon, and ginger.
3) In another medium bowl, whisk together the soy milk, egg, and vanilla.
4) Arrange peach slices on the bottom of the prepared baking dish, reserving a few for top of oatmeal (optional). Pour oat mixture evenly over peaches. Pour milk mixture over the oats. Gently tilt the baking dish to make sure the milk covers the oats evenly. Sprinkle almonds evenly over surface of oatmeal. If using, add a few peach slices to the top of the oatmeal.
5) Bake for 40 minutes, or until the top is golden and set. Serve warm or cool.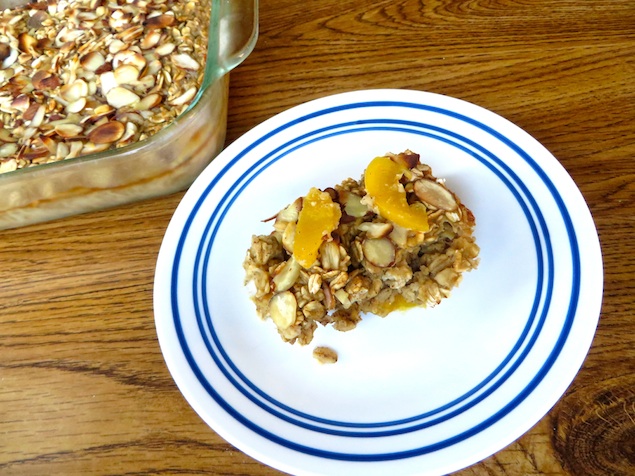 Adapted from this recipe. Have a healthy recipe to share? E-mail tpai@washingtonian.com for a chance to be featured on Well+Being.