Gazelle Twin
Listening to British composer Elizabeth Bernholz's pitch-black electronica music is the audio version of staring into a warped funhouse mirror—in a good way. If you didn't get your fill of the macabre during Halloween, the body-horror tracks off her latest album, Unflesh, are an effective follow-up. Black Cat; November 16; $12.
Wyatt Cenac
The three-time Emmy-winning writer and former Daily Show correspondent just released his second standup special, Wyatt Cenac: Brooklyn—which he also directed—on Netflix. Before you see him perform his new material live, read our Q&A to find out more about the multitalented funnyman. Black Cat; November 23; $20.
Companhia Urbana de Dança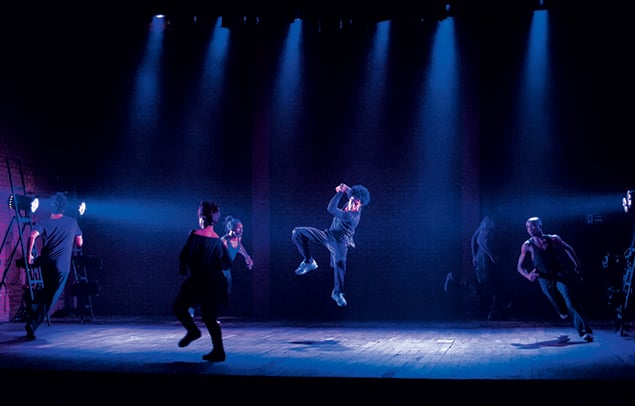 Think tutus and tap shoes aren't quite your bag? This all-male troupe's grit-meets-polish blend of hip-hop, modern, and capoeira, rooted in the favelas (slums) of Brazil, will give you a new understanding of dancing's athleticism. Dance Place; November 9; $25 to $30.
Bryan Batt
Best known for playing closeted ad exec Salvatore Romano on Mad Men, Batt is also a Broadway veteran. Once you see his zany, autobiographical "Batt on a Hot Tin Roof," that mere supporting-actor role will cease to feel like the most interesting thing about him. Strathmore; November 20; $35.
American Opera Initiative: Three 20-Minute Operas
Washington National Opera's trio of short-form world premieres is part of a mission both culturally and economically important: introducing the genre to younger audiences not used to spending their dollars at the opera. The stories focus on an Iranian-American couple in Silicon Valley, a woman torn between her new husband and her vengeful family, and an aspiring politician trying to erase his late father's checkered past. Kennedy Center; November 21; $15 sold out.
This article appears in the November 2014 issue of Washingtonian. For more arts and entertainment coverage, follow After Hours on Twitter at @afterhoursblog.