It's easier for opportunity to knock if you build your own door. The four leaders being inducted into the Washington Business Hall of Fame this year did exactly that.
When Debbie Kissire learned that not all of the Big 8 accounting firms recruited at her Texas college, she traveled to a larger campus to find them and got five job offers. Dennis Ratner started Hair Cuttery with $5,000 and an idea for a unisex shop that would welcome all ages; today the company has 1,000 salons. The 2014 laureates not only created opportunities for themselves—their energy, initiative, and imagination opened doors for thousands of others.
Twenty-six years ago, Washingtonian, the Greater Washington Board of Trade, and Junior Achievement of Greater Washington created the Business Hall of Fame. The dinner and awards ceremony benefit Junior Achievement, whose programs teach entrepreneurship and economic literacy to local children. This year, the organization sent more than 4,000 volunteers to work with 52,000 kids at 206 schools and afterschool sites in Washington.
For more information about the awards dinner, contact Nora Wheeler at 202-777-4485.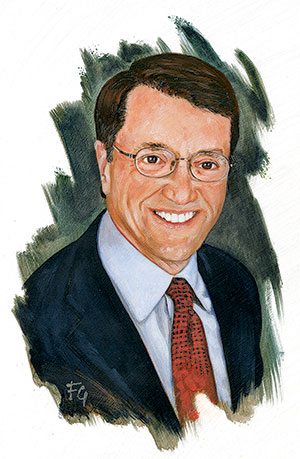 Peter Barris
Winning Big by Thinking Small
A notice on the bulletin board at Dartmouth's business school changed Peter Barris's life. It advertised an opportunity—available to just one MBA candidate—to work for a division of General Electric. The man running it? GE's future CEO, Jack Welch.
Barris got the job, learned a lot from Welch, and moved up within GE, where he figured something out that would shape his career: "In a smaller business, you can make a bigger impact." Barris is now managing general partner of the venture-capital firm New Enterprise Associates. Under his leadership, NEA's assets have grown from $1 billion to more than $13 billion and the firm has expanded into India and China.
Barris led NEA's investments in tech companies such as CareerBuilder, Groupon, and TiVo. "We provide expertise to help entrepreneurs grow their companies into successful enterprises," he explains. Groupon, for example, started as the Point with a vague notion of collective activism. Barris pushed it to use that model differently, including trying an experiment in which workers in an office building could get a discount at a burger place if enough of them signed up for it.
He serves on the board of Groupon and is a director of APX Labs, Goji Food Solutions, MediaOcean, NextNav, SnagFilms, Sprout Social, Tamr, and ZeroFox. He's also a founding partner of Venture Philanthropy Partners, which uses the venture-capital model to invest in local nonprofits. Barris has personally led investments in more than two dozen tech start-ups that have successfully completed public offerings or mergers. Getting in early is, after all, one of his trademarks.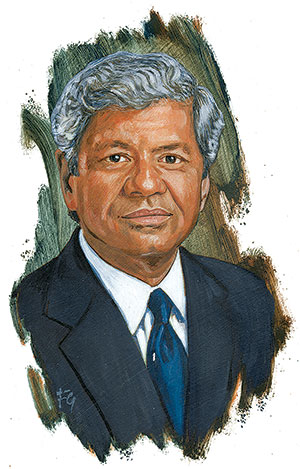 Sudhakar Kesavan
Engineering Success
Sudhakar Kesavan came to the United States from India in 1982 with an engineering degree and a desire to see the world. After earning a master's in technology and public policy at MIT, he got a recruiting call from a Washington technology and public-policy consulting firm called ICF. He joined the company in 1983 as an associate and in the beginning worked on projects that ranged from studying the regulation of jams, jellies, and fruit butters at the Department of Agriculture to the economics of the United States-Israel Free Trade Agreement.
Kesavan ultimately agreed to head the company's consulting division. He later led his partners in a leveraged buyout from the parent company, and then in an initial public offering.
Since going public in 2006, ICF International has grown on average by more than 16 percent a year, posting gross revenue of $949 million in 2013. Its 4,500-plus employees consult on matters related to energy, the environment, and health. "We're a boutique firm," says Kesavan, who has been CEO since 1999. "We have to be the best at everything we do."
Kesavan chairs the Northern Virginia Technology Council and leads ICF's many charity efforts. But he's proudest of his support for a nonprofit in rural India that helps girls get an education. "Now," he says, "a girl can tell her illiterate father if he is getting the full wage he has earned."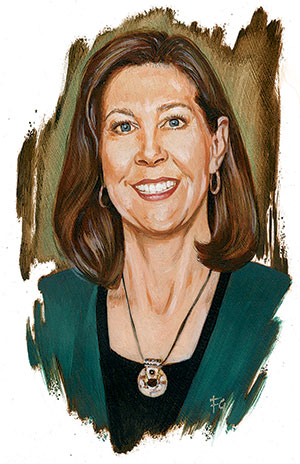 Debbie Kissire
The Right Math
Debbie Kissire was studying to be a schoolteacher before she landed a summer job at her hometown bank in Marble Falls, Texas. She discovered she loved business, and the brothers who ran the bank told her she had an affinity for it. She returned to Texas State University and promptly changed her major. "At so many forks in the road, people mentored me when I didn't even realize I was being mentored," says Kissire, now vice chair of Ernst & Young (or EY, as it was rebranded last year).
When she was a college senior, a friend suggested she interview with the Big 8 accounting firms, but not all of them recruited at Kissire's school. Undaunted, she interviewed on both her friend's and her campuses, ending up with five offers. She started in the Dallas branch of Arthur Young. In 1989, Ernst & Whinney merged with the firm. Kissire climbed the ranks at the newly named Ernst & Young, moving to Washington in 2001 as Mid-Atlantic regional managing partner. She later launched the government and public-sector advisory practice.
In 2000, Kissire—who plans to retire in June—received her company's Rosemarie Meschi Award for her leadership in developing and advancing women. She's on the boards of Goodwill Industries of Greater Washington and Junior Achievement and is VP of programs at the Economic Club of Washington.
You'd think with all her success, confidence would come easy. Not so. "I had a lot of insecurities about having only an undergraduate degree," Kissire says. "I felt I had to work a little harder." It paid off.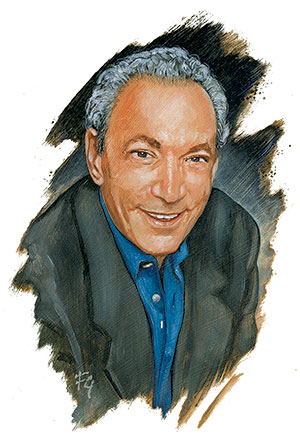 Dennis Ratner
A Stylish Concept
In Washington, where it can seem as if everyone went to an Ivy (or two or three), Dennis Ratner is living proof that vocational school can be a path to success.
An admittedly poor student, he went to cosmetology school and followed his father, Louis—whose Louis Creative Hairdressers salon was famous in the 1930s for the $5 "Louis" permanent—into the beauty business. In 1973, Ratner and his then wife, Ann, decided to open their own salon with a new concept: They'd serve men, women, and children on a walk-in basis and feature fashionable cuts at low prices. "We studied the McDonald's model," Ratner says. "If we brought in the kids, we'd get the parents."
The couple started Hair Cuttery with $5,000 and one salon in Springfield. Ann, a stylist trained in England, where hairdressers were experimenting with newer looks, was trainer-in-chief. The business grew one salon at a time. Today it has nearly 1,000 locations in 16 states and 12,000 employees. In addition to Hair Cuttery, it includes Bubbles, Salon Cielo, and Color Works Salon as well as a salon-booth rental company, Salon Plaza. Ratner has a stake in Paul Mitchell the School in Tysons, too.
As part of its Share-a-Haircut program, Hair Cuttery has donated hundreds of thousands of free cuts to children in need. Ratner is also involved in the Leukemia & Lymphoma Society, the Make-a-Wish Foundation, and Susan G. Komen Race for the Cure.
Who cuts Ratner's hair? His daughter Lauren, one of several family members in the business. But he's quick to add: "I'd go to any Hair Cuttery."
This article appears in the November 2014 issue of Washingtonian.