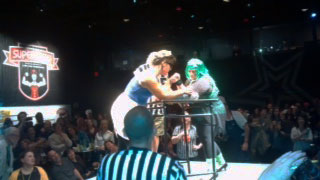 Last week, 28-year-old Potomac resident Maida Ives progressed to the semifinals in the Collective of Lady Arm Wrestlers' (CLAW) second annual national championship, held at the Atlas Performing Arts Center on H Street, Northeast. Ives, who works for a local farm cooperative, wrestled as her alter-ego, the poised yet fiercely aggressive Jackie O'Nasty, wearing a cream suit, pillbox hat, and a neon-pink face mask. Founded six years ago in Charlottesville, Virginia, CLAW has leagues in more than 25 cities, drawing competitors like Ives who love the sport for its commitment to women's empowerment. We spoke to her after her quarterfinal win.
What made you decide to get involved with CLAW?
It seemed really fun and all the elements of the event spoke to me—the playful arm wrestling, the theater element, and, most important, its ability to empower women. All of the wrestlers come from such a range of professions and backgrounds, so it's a really fun way to meet lots of different people. It's also nice to get dressed up as a character and plan an entrance and have this whole theatrical element to my life. I'm not involved in theater in any other way.
How does CLAW empower women?
The empowerment comes less from being in costume than from truly celebrating physical strength and a competitive spirit, which are often presented as male characteristics, and just having that not be strange for women to fully embrace and embody. I think that's how I've been my whole life, so it's nice to be able to celebrate that part of myself. I think it helps defy gender norms.
Explain how this athletic event is more like theater.
You have a character, and a lot of people choose historical figures or celebrities that they can make a pun on their name. You can pick any character out of the sky. And then you figure out what they would look like, what they would say to a rival, what kind of theme song they'd want to come out to, and what their entourage would look like. It's just fun to imagine a new character.
Why Jackie O'Nasty?
I'm from Massachusetts, so I thought it would be nice to represent the Boston area and its link to the Kennedys. I love her style—and by changing her name to Jackie O'Nasty, all bets are off. She was such a dignified woman, and I would like to preserve that, and then have some accents of wildness with it. Some wrestlers will never wrestle under the same name, but I've just kept the same one.
Tell me about your entourage.
One I like to employ is having them dress up as Secret Service. But I've also had them dressed up with me as Jackie O. In this last competition, I had them dress up as the [Russian punk band] Pussy Riot.
How is CLAW different from the other sports you've done?
There are rules, but because it's a theater event and we're trying to raise money, each chapter has its own ways to bend the rules to raise more money. I think everyone feels really proud regardless of whether you go home with the prize. There's a whole other focus besides being the winner.