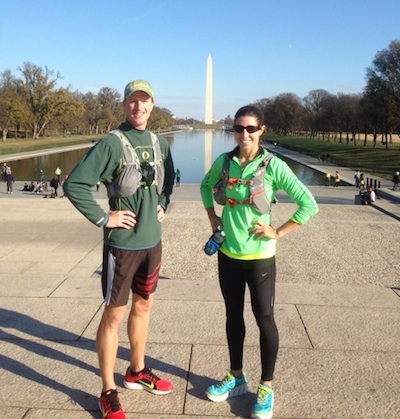 Four months ago, Adam Meyer and Ashley Donovan left Portland, Oregon, to go for a run. On Sunday, after averaging nearly a marathon a day, they arrived home in Washington with tired legs and a long list of public-works projects they observed in the dozens of communities they stopped in during their Gumpian journey.
Meyer and Donovan's transcontinental jog was designed to raise attention for Run 2 Connect, a nonprofit organization they started to highlight local government projects they see as promoting community engagement. After waking up in, say, Elkhart, Indiana, they'd scarf down as many calories as possible, meet with local officials and community leaders, and then dash off. After that day's miles, they'd eat more and record the day on their blog.
"I had seen a lot of successes across the country, and I really wanted to focus in on what these were and see if people could learn from them by sharing the stories," says Meyer, 27, who spent six years working in policy legislation in Oregon and DC. While both are interested in examining local politics, Donovan, a 30-year-old Loudoun County native, is especially interested in public education.
Meyer and Donovan were particularly impressed by Grand Island, Nebraska, which founded a program for high-school juniors and seniors to learn technical skills to help them enter the workforce after graduation. In Marshalltown, Iowa they learned about an anti-bullying campaign. In Akron, Ohio, they spoke with a police captain and learned how the city is trying to attract tech companies.
Their meetings ranged from audiences with governors and mayors to casual conversations with police chiefs and school principals.
It all depended on each community's focus. In Oregon, for example, the team learned about the Bottle Bill, which was the nation's first beverage container recycling when it was passed in 1971. Across the state line in Idaho, they learned about an effort to develop a new emergency response network in which only the nearest unit is called rather than an entire fleet.
"Several times we walked in and talked to the mayor because they were the only one there," Meyer says.
The next step of their journey will be deciding what to do with all of this information. "We're not sure if this will turn into a book or a working paper, maybe a presentation or a conference at some point," says Donovan.
Find Hallie Golden on Twitter at @HallieGolden4.