Made for $5 million by first-time director Barry Levinson, the 1982 comedy Diner introduced a loquacious, improvisational style that laid the groundwork for such successors as Seinfeld and Judd Apatow's oeuvre. Now Levinson, with singer/songwriter Sheryl Crow and director/choreographer Kathleen Marshall, is reinventing the cult hit as a musical, which has its world premiere at Signature Theatre December 9 through January 25.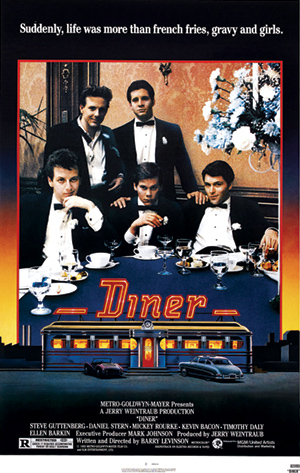 The story, about a group of twentysomething male friends in 1959 Baltimore who reunite for a wedding, has autobiographical elements—Levinson grew up in Baltimore—which helped keep the characters fresh in the writer/director's mind. While the musical is largely faithful to the original, fans will notice differences, including more developed female characters. Levinson's goal was to expand the film's universe: "I'm not that interested in simply doing Diner, because I already did it. The challenge was to see if we could create something above and beyond what we did."
He began discussing the musical with Crow and Marshall more than three years ago, and plans for a 2012 San Francisco premiere and a Broadway run last year were canceled. Still, Levinson has embraced the ups and downs of his first theatrical production, including ceding a movie director's tight grip on every element. "With a film, you control it, period," he says. "Onstage, you have other entities you work with, so it's a different process." On the plus side, "in a movie, once you finish a scene, you move on, but here I can keep revisiting certain things."
Despite his Washington ties (he graduated from American University and worked at Channel 9 and Channel 5), he says premiering Diner at Signature is merely a coincidence. As for his hopes for the inaugural run: "The ideal reaction would be 'Quick, get this to Broadway as fast as you can.' We'll play in Washington, do the tweaking and all the things that happen when a musical is getting up on its feet, and see where we go from there."
Tickets ($40 to $105) are available online.
This article appears in the December 2014 issue of Washingtonian.