With just four days left in charge, DC Mayor Vince Gray used most of Monday afternoon to wield his favorite oversize novelty scissors to cut ceremonial ribbons at 17 restaurants, shops, and public works of art around the Shaw neighborhood. Some of the locations were actually new, or new-ish, businesses, some were recently renovated with grants from the city's Great Streets program, two of them were murals for passers-by to enjoy, and in at least two instances, Gray showed up just to celebrate a new storefront sign.
"It is insane to cut 17 ribbons in an afternoon," Gray said at Compass Coffee, a three-month-old roastery and café that hosted the first cut. Madness? Perhaps. But nothing says "waning civic leadership" quite like three hours of slicing through big, red ribbons. Even if some other mayor gets to cut the ribbon on the streetcar, it's still an accomplishment, right? Here are all 17 ribbon cuttings, ranked in order of mayor-ness.
1. Log Cabin Liquors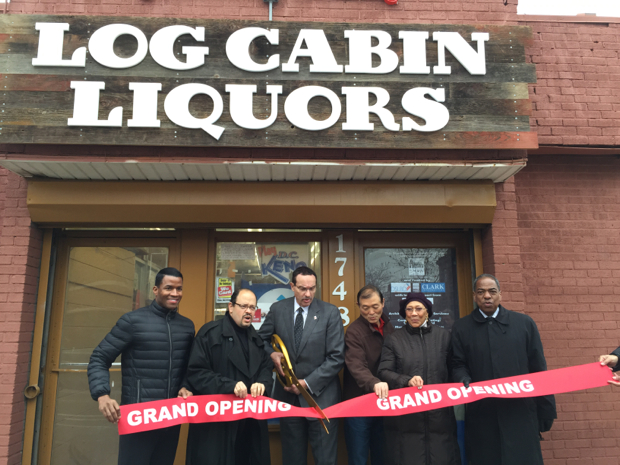 This is mayoral mundanity at its peak. In Gray's nearly four-year run, no neighborhood has undergone more economic and visual change than Shaw. And after cheerleading that development, for better or for ill, here he is celebrating new signage for a drab liquor store that's survived amid the gleaming additions.
2. Dolci Gelati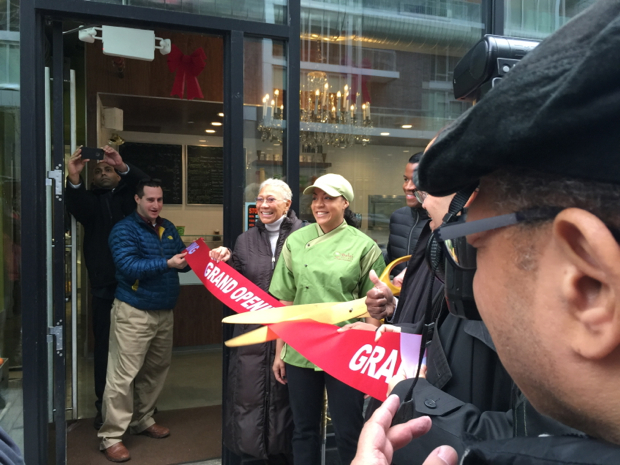 This stop, at one of the City Market at O development's first retailers, wins many points for brevity, and the free gelato pops.
3. Off Road Indoor Cycling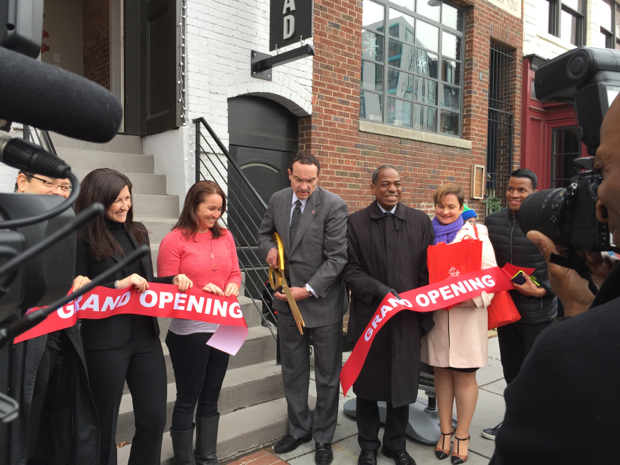 As far as ribbon-cutting ceremonies go, the second-to-last stop at this stationary bike gym was pretty routine. But then Gray took a tour of the place, and we got to see this: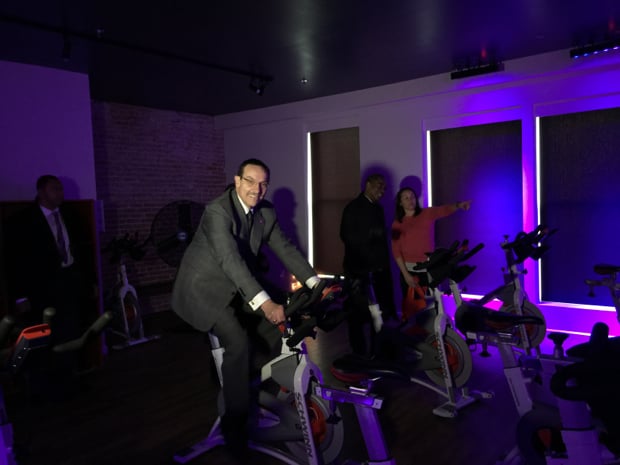 4. Lost & Found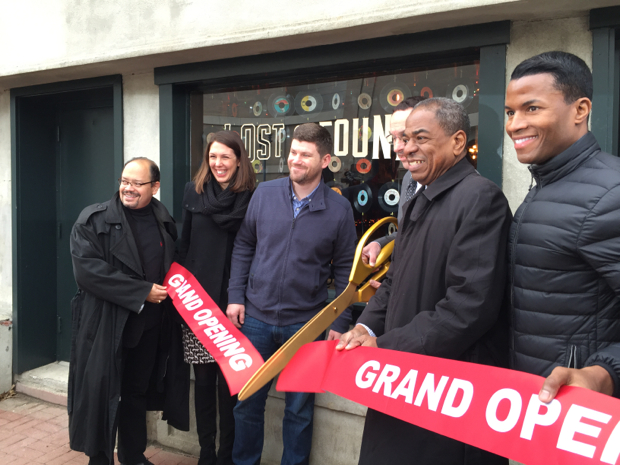 With its decor consisting of strung-up 45s and classic-rock album sleeves, vintage license plates, old gas-station signage, and three of the original seats from RFK stadium, this faux dive is two neon St. Pauli Girl signs short of being TGI Friday's. But they gave us free beer, which is always good.
5. Marvin Gaye Mural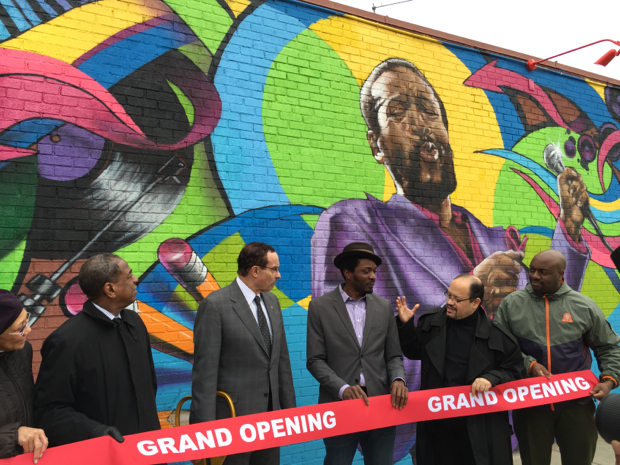 This colorful portrayal of DC's soul great replaces one across the street that was covered up by residential construction in August. The artist behind it, Aniekan Udofia, showed up for this ribbon cutting, but not before a Gray aide mistakenly called him "Anakin," as in the foul-tempered Jedi Knight who grew up to become Darth Vader.
6. Simon Vintage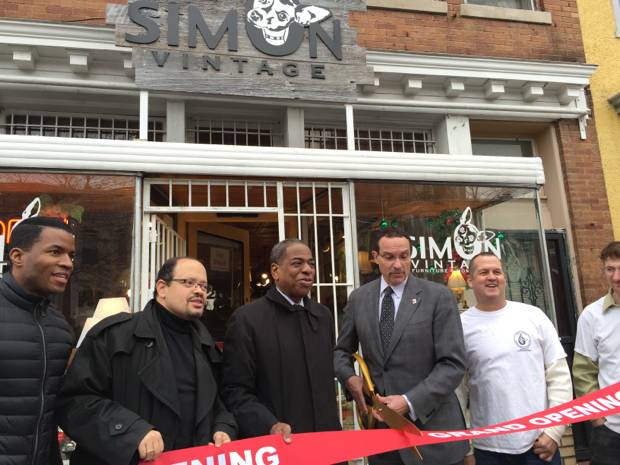 This shop of antiquated knickknacks opened two years ago, but it made the list for recently redoing its signs and lighting. And while it was later in the tour, Gray seemed a bit rejuvenated by the store's collection of old typewriters.
7. Compass Coffee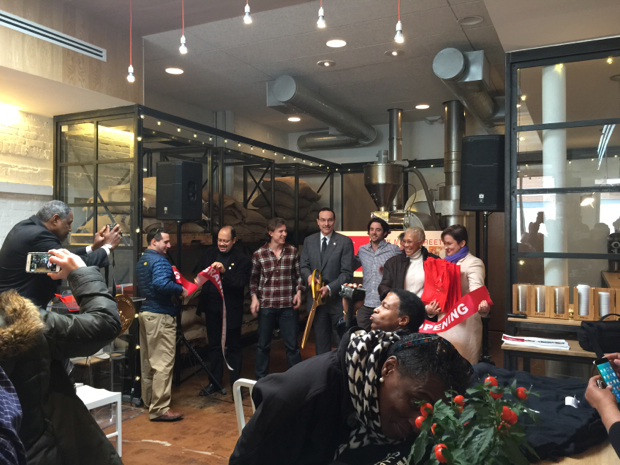 With speeches from Gray and Alex Padro, the executive director of the Shaw Main Streets business development group, the first stop was the longest by several minutes. But the coffee was good, and the kickoff featured an appearance by Council member-elect Elissa Silverman. Silverman bailed after Compass, but I'll bet by the time she runs for re-election, she'll know to show up for the photo-ops at every single one of Mayor Muriel Bowser's neighborhood events.
8. Hollywood Styles & Cuts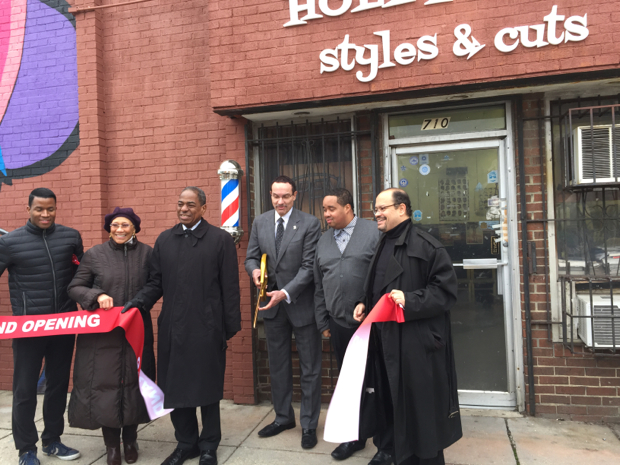 Another member of the "new signage" club, this neighborhood barbershop sits right under the Marvin Gaye mural.
9. Chaplin Bar & Restaurant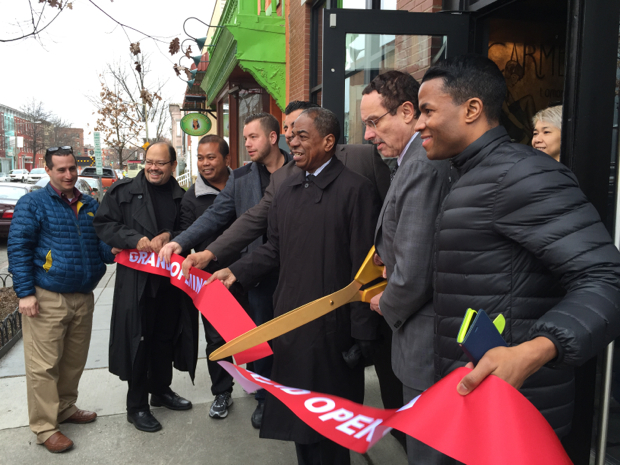 With its steampunk hardware, silent-film-era namesake, unsigned beer taps, annoyingly named cocktails, and unimaginative pan-Asian menu, this six-month-old restaurant hits every bad trope that's mucked up Washington's bar scene the past few years. But it was nice to get out of the cold for a bit, even if the complimentary dumplings were painfully salty.
10. Swatchroom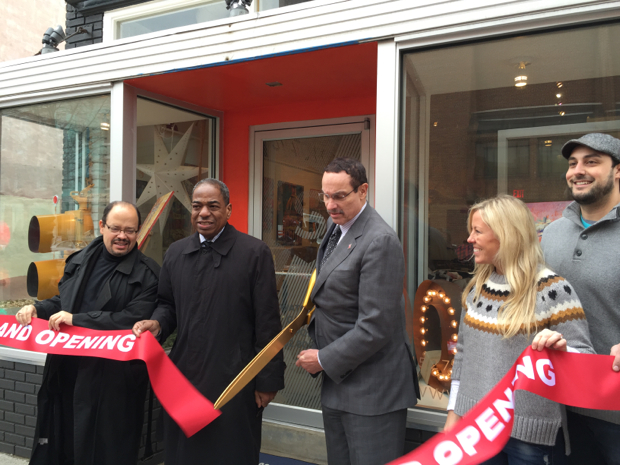 This local design firm is behind the looks of several visually appealing restaurants, like Seasonal Pantry, Hank's Oyster Bar, and SEI. It's also responsible for Chaplin, which erodes the effect of Gray's enthusiasm for DC's creative economy
11. Penthouse 9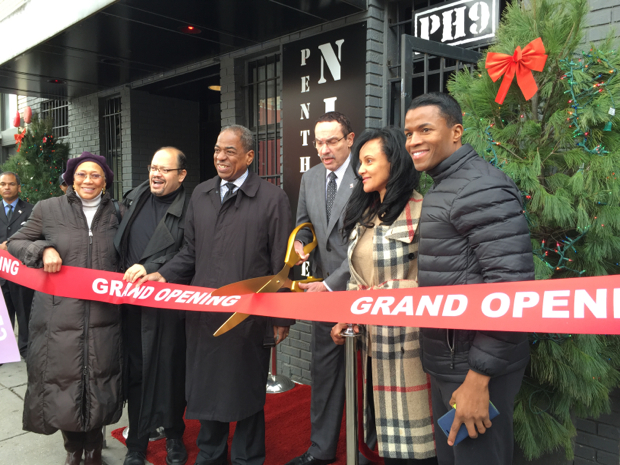 Never really got a clear sense if this is a nightclub, a whiskey bar, or something else. At least it was a quick stop.
12. Halcyon Salon
The tour's third ribbon cutting was also its shortest, but also the one where the monumental volume of this expedition set in.
13. Appioo African Restaurant
Of all the "new signage" stops, this place has the best sign. But apparently Gray was here in May when the restaurant itself opened. Points deducted for double-dipping with the ceremonial scissors.
14. Pekoe Acupuncture & Wellness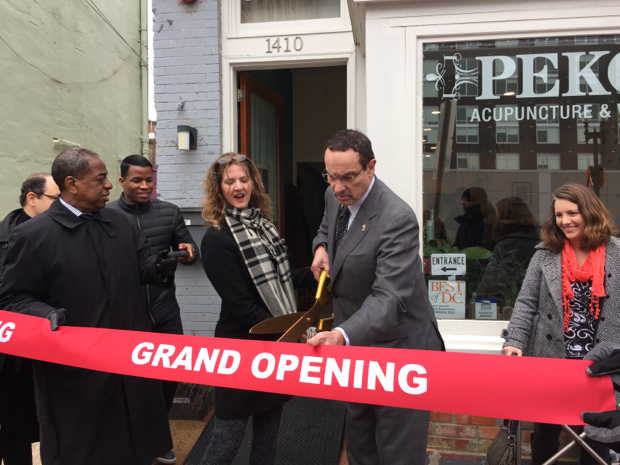 I'm disappointed the ribbon cutting at the acupuncture place wasn't performed with oversize novelty needles.
15. Beau Thai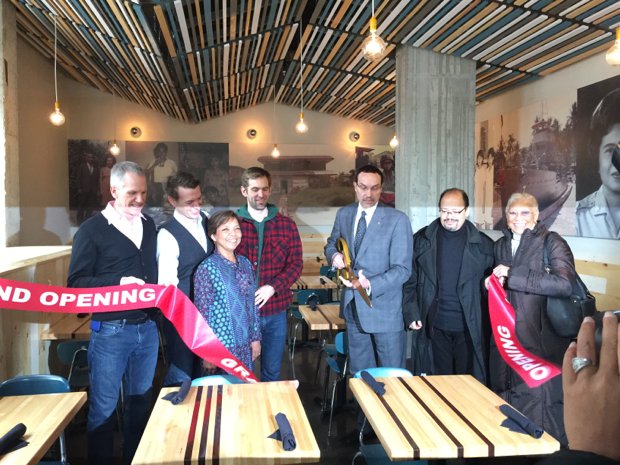 Not much to say about a new location for this local Thai restaurant. There's one in Mt. Pleasant, too. The green curry is solid.
16. The Hatton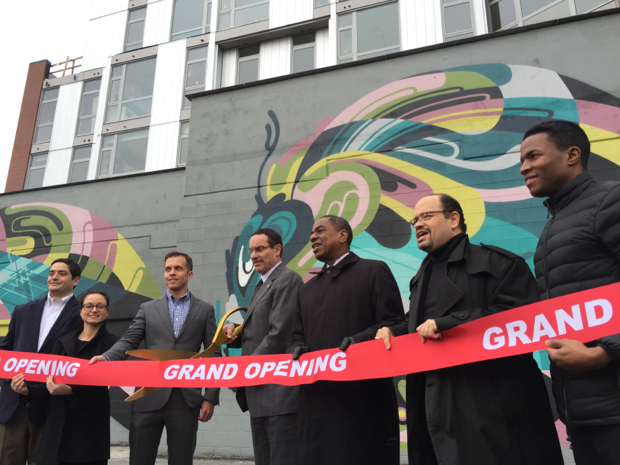 No, not JBG's well-appointed apartments at the corner of Florida Avenue and Eight Street, Northwest. Those won't be delivered until spring 2015. This ribbon cutting was for the mural on the building's east-facing wall. Public art is good. Artwork on the side of an upscale apartment building? No wonder Gray caught a heckler who accused him of not building enough low-income housing during his four years in office.
17. Lumsden Insurance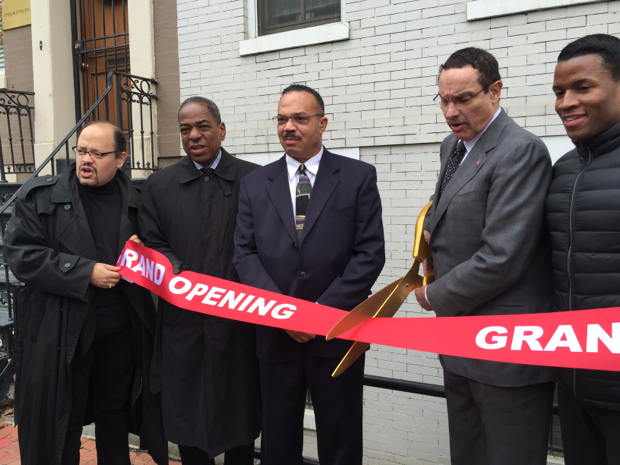 Ostensibly, this was also to celebrate new signage and lighting. I did not see a sign. I did not see lighting. All I saw was this plainly painted, but unmarked building. As wonderfully mundane as the liquor-store signage was, this was infuriatingly dull.
Find Benjamin Freed on Twitter at @brfreed.