Mango Tree, a Bangkok-based Thai restaurant with 11 locations worldwide from London to Dubai, opens its first US branch in CityCenterDC on Thursday. International restaurateur Richard Sandoval, who's behind Masa 14, El Centro D.F., Toro Toro, and other local ventures, partners in the sleek, two-story eatery. Here's what to expect from the newest member of the CityCenter's growing dining scene.
An elevator transports guests to the dining room.
The flagship Mango Tree in Bangkok opened in a century-old home. While the paint is still drying at CityCenter, the design team mimicked house-like aspects of the original space. Dark wood, plants, candles, and bowls of fruit are set throughout, and guests enter the restaurant via a foyer-esque lounge on the first floor. While you can linger over cocktails and appetizers in the room, set with emerald tiles and leather stools, dining happens above. Don't be fooled by the intimate size of the 45-seat bar–an elevator transports guests to the expansive second-floor dining room, set for 140 and made to feel even more spacious thanks to floor-to-ceiling windows.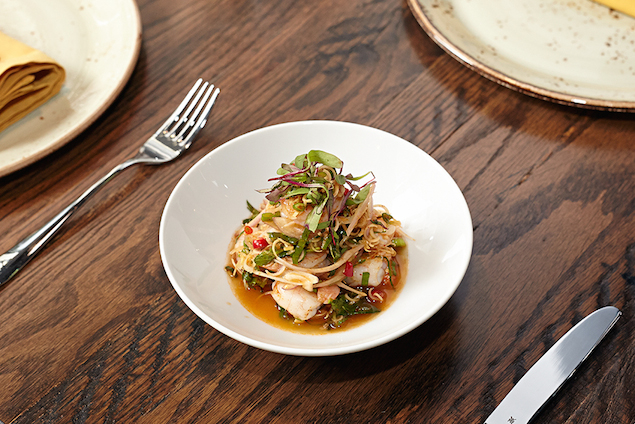 On the menu: lobster pad thai, seared duck breast with red curry.
Chef de cuisine Paul Kennedy, who's traveled extensively in Thailand and worked with the Mango Tree brand for the past five years, heads up the Washington branch. The menu aspires to replicate regional Thai flavors—not the meek, overly sweet versions one often finds—and mix them with high-end, local-when-possible ingredients. Chicken is swapped out for Maine lobster in Kennedy's version of pad Thai; seared Pennsylvania duck breast replaces stewed meat in the apricot-studded red curry; and whole cornish game hens are used in gai yang, an herb-marinated poultry dish.
That's not to say the kitchen goes luxe all the time. Diners can opt for homier dishes such as crispy catfish with green mango salad, grilled pork neck, and shrimp-paste fried rice. Also ask for items "Thai hot" to get serious spice.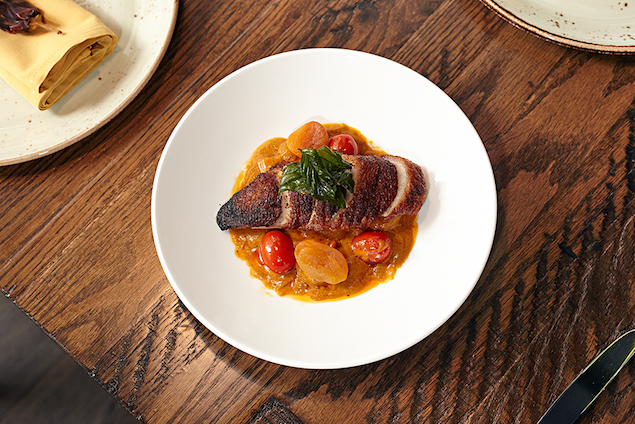 Vegetarians have options beyond tofu.
A number of dishes are designed with vegetarians in mind, instead of simply swapping in tofu for meat. Options include a mushroom salad with shallots, peanuts, and spicy lime dressing, grilled portobellos topped with red curry, and soft tofu with green curry and peas.
The bar sources Thai whiskey and Virginia wine.
The beverage menu spans the globe, and can be sipped in either the downstairs lounge or a small bar area off the second-floor dining room. Cocktails incorporate Thai flavors and ingredients, such as the "king wiski" with house ginger beer, cilantro, chili, and lime. The bar is in the process of sourcing hard-to-find and incredibly potent Mekong whiskey, which you can drink alongside more easily procured Thai beers. Closer to home are a selection of Virginia wines.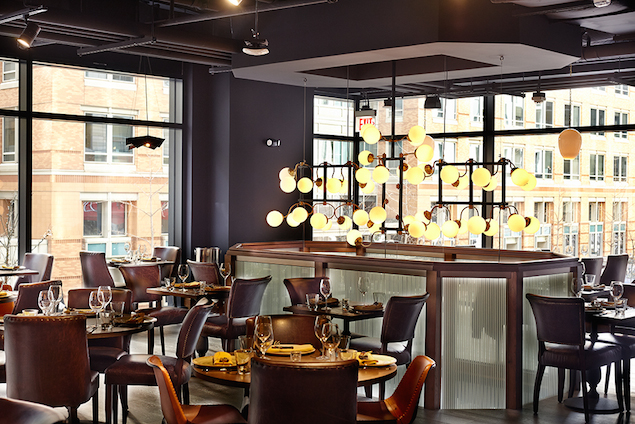 There's more to come.
The restaurant opens on Thursday for dinner, with lunch coming soon after, and then brunch. Though a brunch menu is yet to be decided on, Sandoval is known for his all-you-can-eat-and-drink weekend-day parties at his other eateries. The team also hopes to launch wine dinners, which could gear local or take on the international flavor of the restaurant.
Mango Tree. 929 H St., NW; 202-408-8100. Open currently for dinner: Monday through Thursday and Sunday 5 to 11, Saturday and Sunday 5 to midnight. Lunch (starting soon) 11 to 3.