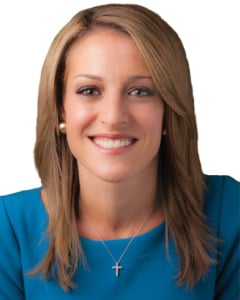 Members of a pro-gun-control group want Washington Fox affiliate WTTG to dismiss reporter Emily Miller for her speech last week at a pro-gun rally in Richmond. A petition, being circulated by the Coalition to Stop Gun Violence, takes umbrage with Miller's longtime advocacy for looser gun regulations, much of which she's documented during her career in journalism.
"In its Code of Ethics, the Society of Professional Journalists states that journalists should 'act independently' by avoiding 'conflicts of interest, real or perceived' and 'political…activities that may compromise integrity or impartiality,'" the petition reads. "By this standard, Emily Miller has no business being the Chief Investigative Reporter for WTTG."
The petition goes on to say that Miller's reportage, which often includes stories about changes to DC's gun laws, verges into outright advocacy, citing her book, Emily Gets Her Gun: …But Obama Wants to Take Yours, a 2013 chronicle of her becoming a registered handgun owner while living in the District.
"This is the behavior of an activist and pundit, not a journalist," the petition reads. "Given her record, DC residents can't trust that Miller will provide objective coverage on matters of concern to their city. If WTTG is at all concerned with journalistic integrity, it is time for them part ways with her."
Miller trekked down to Richmond on January 19 to address the Virginia Citizens Defense League during the gun-rights group's lobbying day at the Virginia State Capitol. In her remarks, she—perhaps jokingly—disqualified the District from being part of the nation of which it is the capital on account of its relatively stringent firearms laws.
"I came from DC this morning, which is not part of America, because they don't recognize the Second Amendment," Miller said.
Miller, who did not respond to e-mailed questions about the petition, did not receive any compensation for her Richmond speech.
Meanwhile, DC's gun-control regime is loosening up a bit. WAMU reports that since October, when a federal judge threw out a city ban on concealed handguns, the Metropolitan Police Department has granted eight concealed-carry licenses, which are awarded on a case-by-case basis.
Find Benjamin Freed on Twitter at @brfreed.