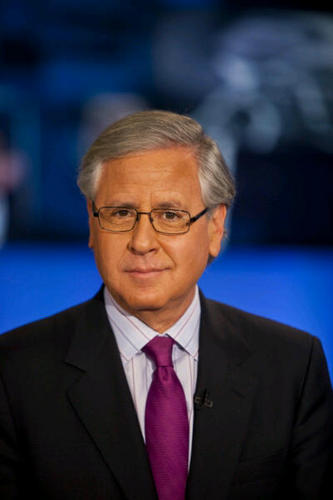 In the last year, the Huffington Post has launched editions in Greece, Brazil, and India, joining nine other editions the publication has created outside the U.S. since 2011. It has announced an Australian edition and a pan-Arabic one. It will be Howard Fineman's job to knit them together.
Fineman, who joined the publication from Newsweek in 2010, was named HuffPost's global editorial director last month. He sees his job as tapping "the potential that we have to report to the world about the world." He likes to cycle through the international HuffPost editions daily, translating them with the Chrome browser's tool and seeing how each newsroom played its big stories. Each of the editions is "rightly focused" on its own audience, but "surely there's a way we can figure out what's the most relevant stuff and cycle it around the world."
HuffPost will have some resources to throw at this project because it has decided to drop its membership in the Associated Press. Absent that expense, Fineman says, the Huffington Post will be able to "infuse more muscle into the structure we have now." Asked whether the Huffington Post would attempt to syndicate its own content to other outlets, spokesperson Sujata Mitra says founder and Editor-in-Chief Arianna Huffington hasn't ruled it out.
But at the moment the imperative is to get international content moving across internal borders. Fineman mentions the example of the company's Greek edition, launched last November before "the shit hit the fan" in terms of the country's January elections and the country's recent debt deal, which helped preserve its spot in the European Union. Stories that used local experts to explain those changes could be a natural fit at other sites.
Right now there's an informal process to flag stories between editions, involving a biweekly Google Hangout among global editors. The Fineman administration will lock things down more.
Huffington Post's international editions are usually partnerships with local news organizations—it works with El Pais in Spain, the Abril Group in Brazil, and Asahi Shimbun in Japan, for example. And though different countries have different editorial standards (French and US outlets reported Dominique Strauss-Kahn's 2011 arrest in New York quite differently), Fineman says they're not un-iron-out-able. Each site's journalists work for HuffPost and under a HuffPost top editor, sharing their host organization's newsroom and resources. "The first thing is be careful who you partner with," Fineman says.
A couple of HuffPost's international editions are edited outside their territories: Its French-language North African edition is edited from Paris, and a planned Arabic site will come out of London. Much of the translation and distribution work Fineman envisions will take place in New York, but he'll mostly still work from Huffington Post's Washington office, which also gives him access to the city's diplomatic corps and their take on politics at home. "We are figuring out how to have global editorial hotspots all around the world," he says.
It's almost quaint how surprising Fineman's move to HuffPost seemed in 2010. He now thinks a robust world-news operation is the next step in the evolution of news. "I think the old barrier between local and global is gone," he says. Social media is "just a means of transmission. The next step is what the news is about, and that is the whole planet."
Correction: Due to a dumb error on my part, this post originally had Asahi Shimbun's name wrong.