Waiting for the second, third, or even fourth Metrobus on 14th or 16th streets, Northwest, because they're overstuffed is a frequent, groan-inducing sight familiar to many Washington commuters. So are dangerously crowded Metrorail platforms when the Red Line is broken down.
Bridj, based in Boston, believes it has a formula to releive some of that congestion by running data-driven shuttle bus routes, which it plans to introduce in DC later this year, the firm announced Wednesday morning. Bridj launched last April in the Boston area after scouring data sources ranging from Census Bureau reports to social-media grumblings about roads and public transit. From there, it plots out commuter paths in need of additional capacity and deploys its shuttles during rush hours. It currently runs four routes around Boston. Fares—paid via smartphone app, naturally—run higher than public transit, but less than a taxi. (Trips start at $3 in Boston.)
DC has been a likely second market for Bridj, and not just because of its similar size to Boston. In September, Bridj hired former District Department of Transportation chief Gabe Klein as its chief operating officer. In a blog post, the company says it was attracted to DC because, as in Boston, more than one-third of households do not own cars, less than 40 percent of jobs in the metropolitan area are reachable via public transit in less than 90 minutes, and because biking, walking, and public-transit use all become less popular when the weather is lousy. (It's cold and icy here, but rumor has it that DC can probably defer to Boston on the rough winter business this year.)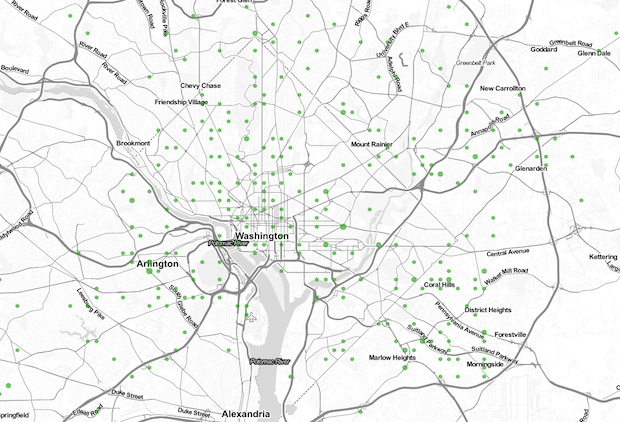 Bridj does not have a date for when it will actually start running its 14-passenger vans around town, nor does it have specific routes mapped out yet. The company's data scientists, in addition to their usual sources, are also taking suggestions from prospective Washington-area customers through an interactive map that allows users to enter their typical commute. The company's founder, Matthew George, tells the Washington Post that he's interested in Capitol Hill, K Street, and Dupont Circle, but the data could wind up suggesting elsewhere. The map's data so far are mostly scattered throughout the District, with dots dashing from upper Northwest and east of the Anacostia River toward downtown DC, but there are several suburban routes popping up as well. Klein likely knows the turf a bit better than his colleagues, too.