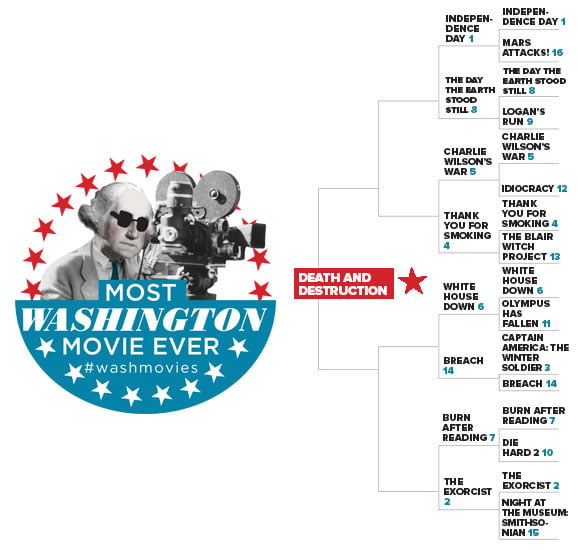 In hindsight, we probably should not made Independence Daya No. 1 seed in this bracket. It's a "Washington movie" for about one-third of its first act, and even then, the scenes are only about a President and his staff kvetching over the sudden arrival of aliens in massive flying saucers. But that shot of the blue-green energy beam detonating the White House like too many sticks of dynamite remains unquestionably awesome. If Independence Day has any legacy, it's for reviving the summer blockbuster and inventing the cottage industry of "event" trailers. (The White House's destruction was first previewed in an epic Super Bowl advertisement; since 1996, all the big action movies buy time during the big game.)
Of the two aliens-destroy-everything movies released in 1996, Mars Attacks!, Tim Burton's silly, celebrity-packed adaptation of an equally silly series of Topps trading cards, is "more Washington." Its romantic leads are NFL legend Jim Brown as a boxer-turned-Vegas-greeter trying to get back to DC to reunite with his wife, a Metrobus driver played by Pam Grier. This should have been the top seed, not the 16th. But it might not have changed much. If you come across Mars Attacks! on cable, you likely keep flipping channels; if you spot Independence Day, you might cancel your plans for the next few hours.
The first round of the quadrant featuring movies that focus on death and destruction in Washington yielded a few surprises, none greater than the stunning upset of Burn After Reading, a lesser Coen brothers outing, over Die Hard 2, the greatest movie ever made about Dulles International Airport. (Yes, it was filmed in Denver, but who cares? Every airport looks the same in the movies.) This is inexplicable. Less stunning, but still a bit of a shock, was the upset of No. 14 Breach over No. 3 Captain America: The Winter Soldier. But perhaps that should have been expected: A Marvel adventure, even one that culminates in the destruction of a Height Act-insulting building, is not nearly as "Washington" as a tale of bureaucratic intrigue.
Elsewhere in the quadrant, The Day the Earth Stood Still beat Logan's Run, Thank You for Smoking burned down The Blair Witch Project, Charlie Wilson's War toppled Idiocracy, and The Exorcist handily dispatched Night at the Museum: Battle of the Smithsonian. The closest first-round match was between 2013's diptych of terrorists taking over the White House. But White House Down had the edge on Olympus Has Fallen, giving director Roland Emmerich a perfect opening round.
Now it's time to see which of these will make deep runs. In the second round of the death-and-destruction quadrant, it's Independence Day versus The Day the Earth Stood Still, Charlie Wilson's War versus Thank You for Smoking, White House Down versus Breach, and Burn After Reading versus The Exorcist. It's not about what movie scattered the greatest number of corpses, it's about what movie blazed a trail of destruction that seems most appropriate for this town. Voting closes Wednesday, March 11, at 11:59 PM.