Norman (above) is a six-month-old, seven-pound, super friendly cat who came to the Washington Humane Society with a terrible leg injury. He had to get the leg amputated, but it didn't dampen his spirits—in fact, being a tripod just makes him even more unique. Norman is extremely affectionate and outgoing. He can make friends with cats and dogs and would do well in just about any home. Norman is being fostered by WHS's friends at Pet Valu in Silver Spring so he gets to hang out all day and meet all kinds of people and animals. Learn more about him through WHS and meet him for yourself at Pet Valu.
Meet Amelio. This labrador-mix is as friendly as they come—which is surprising given his rough start in life. Amelio and his brother spent most of their first year chained to trees in rural Mississippi. Driven by boredom or a desire to be free, they wore their lower canine teeth down to nubs chewing on their chains. Fortunately, their lives took a turn for the better when they were rescued and transported to the Washington Animal Rescue League, where their damaged teeth were removed and they started learning what human kindness is all about. Amelio's brother has since been adopted, and now it's Amelio's turn. If you're looking for a large, energetic, happy-go-lucky—and maybe a bit goofy—guy who adores people (but not all dogs), Amelio could be the dog for you. Stop by WARL and find out.
Meet Rocket, a handsome two-year-old cat who found himself at the Washington Animal Rescue League when his owner moved. In the few short weeks he's been at the shelter, this social boy has made quite an impression on staff and volunteers. He's friendly and outgoing, and will seek out human interaction. He doesn't mind being picked up and held and loves to be stroked, purring loudly and rubbing his face against yours to show his appreciation. If you're looking for an affectionate feline, Rocket just might be for you. Meet him at WARL.
Pepper is a sweet pointer/border collie mix who is about a year old and weighs between 35 and 40 pounds. Pepper is the definition of a lap dog – he loves nothing more than to climb up in your lap and cuddle. While he just barely fits, he's so cute that you won't mind if he squeezes himself in. Pepper gets along wonderfully with other dogs and would be the perfect addition to any family. Pepper is looking for a forever or a foster home until he finds his forever family. For more information on Pepper, please visit the Rural Dog Rescue website.
Apple is a happy hound who is likely between five and seven years old. Apple gets along well with other dogs and is a pretty laid back gal. She'd be the perfect fit for a family looking for a more mature dog. Apple can't wait to be a loyal companion—she is looking for a forever or a foster home until she finds her forever family. For more information on Apple, please visit the Rural Dog Rescue website.
Pesto is a three-year-old Catahoula/American bulldog mix. He is a very loving, happy boy who enjoys the dog park and other dogs. He is housebroken and crate trained and prefers a home with another dog. He deserves a home with people who will commit to daily exercise and tons of love. He is good with kids, but because of his energy, he'd do best in a home with older children. You can learn more about Pesto through K-9 Lifesavers.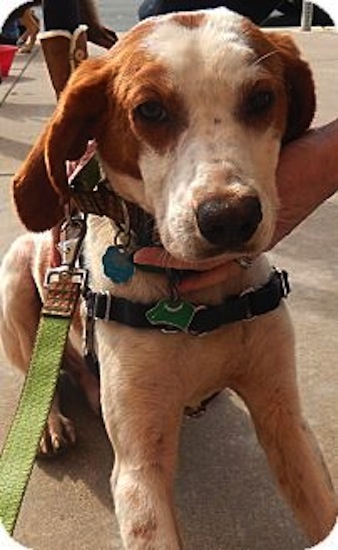 Pluto is an 18-month-old Foxhound/Brittany Spaniel mix. He is currently 36 pounds, but should weigh about 40 to 45 pounds once he gains the appropriate amount of weight. He is very shy with people, not knowing what to expect, and K-9 Lifesavers is working to make sure he puts on weight and can trust people again. He appears to be house-trained, likes hanging out in his crate, and loves belly rubs and scratches. He is very playful when he's outside running around. Pluto is okay on the leash but could use a little more work in this area. He needs a home with another dog and with people who can build his confidence. He absolutely loves other dogs and is a very submissive with them. There is not a mean bone in his body. Learn more about him through K-9 Lifesavers.