Most of the marijuana seeds passed out at the marijuana free-for-all in Adams Morgan on Thursday night won't yield any smokeable buds, in Maryland pot activist Gary Nusinov's estimation. Lucky for the less horticulturally inclined guests, Nusinov crossed state lines with what he claimed was a more reliable conveyance: olive-green capsules of coconut oil infused with cannabis, each with the potency of one marijuana-laced cookie.
"They're not made very strong because there's a lot of novices," Nusinov said as he dropped one of the pills in my hand. "Most people walking away with seeds today will not be successful."
Spurred on by last year's adoption of Initiative 71, which legalized for adults the possession and home cultivation of small amounts of marijuana, about 2,000 people—all claiming to be District residents—formed a line outside the bar Libertine that snaked half a block down 18th Street, Northwest, and through an alley connecting to the next block over. Adam Eidinger, the political organizer who led the campaign to get 71 on last year's ballot and then embraced by city officials when congressional Republicans threatened to gut it, held court on Libertine's patio as his jester-hat-clad compatriots from the DC Cannabis Campaign managed the scene.
The seed donors were stationed at tables in the back of the bar, dispensing bags of pellets to the circulating crowd. Most were giving away their wares freely. Some, like Rico Valderrama, was more cautious with his limited batches of feminized seeds, which more readily produce the buds marijuana harvesters are looking for. Valderrama, who's lived in DC for about 10 years, showed off a pouch of a plant called Solar Storm, which he described as a blend of Sativa and Indica strains descended from OG strains grown in New England. Cultivated properly, Valderrama said, the plants should yield buds with THC content of 19 to 20 percent. A product like that, Valderrama guessed, would go for $200 to $400 per ounce on the street; in DC, a practiced gardener can now have it for free.
"We've come a long way," said Valderrama. "The mere fact that we can talk about it in the open."
Valderrama did not share any of his crops with a reporter whose lifelong gardening experience does not surpass mowing suburban lawns. But Shaun Forrester, who works in real estate, was more willing to part with his product, slipping me a baggie of seeds of unknown origin and the instructions to plant it "indoors with a nice, powerful light." Nusinov's pill sounds like an easier high.
For a giveaway of an intoxicating substance that the federal government still classifies as a highly dangerous narcotic—an event that just a year-and-a-half ago would have been suspected of being a police setup—the scene was entirely civil. A few Metropolitan Police Department officers were visible, but they appeared to be keeping a friendly distance from the bar. The wide berth from the cops was a startling turn from the conditions that motivated Eidinger and his fellow activists to push for decriminalization and later legalization: a 2012 report from the American Civil Liberties Union found that black residents were being arrested eight times as often as white residents for pot-related offenses, despite no racial disparity in rates of use.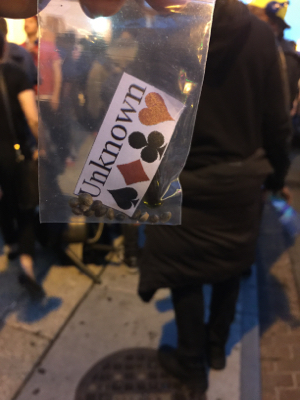 "My phone hasn't rang since February 18," said Paul Zukerberg, a criminal defense lawyer who specializes in drug cases, but might now, "apparently and happily," have to find a new practice area.
Initiative 71 permits District residents to keep up to two ounces of pot and grow as many as six plants in their homes, but that's where any similarities to marijuana legalization regimes in Colorado or Washington State end. There is no regulated retail market, nor does the city stand much chance of establishing one given Congress's current disapproval. Hence, the sudden explosion in first-time greenthumbs.
"I'm doing this to save money," Capitol Hill resident Marquett Mitton said in line as the rain picked up.
"It's also an issue of not sneaking around the cops," said Mitton's friend, Brian Creed, who recently moved to DC from North Carolina.
Still, not everyone at Libertine was as open about their totally legal pot. A 62-year-old carpenter who lives on Capitol Hill who only gave his first name—Pat—proudly displayed his newly acquired seeds on the bar for everyone to marvel at, but did not want to give away too much detail.
"I'm born and raised in DC, been a smoker for 47 years," Pat said. "I still have relatives who might be embarrassed."