Cadbury, a two-year-old, 52-pound American Staffordshire Terrier-mix, loves playing with tennis balls. She likes to pick them up, then throw and chase them. She's not all about play-time, though. Cadbury has a very strong sense of family and friendship. Although she can be a little shy at first, she loves to cuddle and show affection. Cadbury is very smart, too, and already knows the commands for "sit," "down," "wait," and "watch me." You can meet her at the Washington Humane Society's New York Avenue Shelter where she's lived since February 9.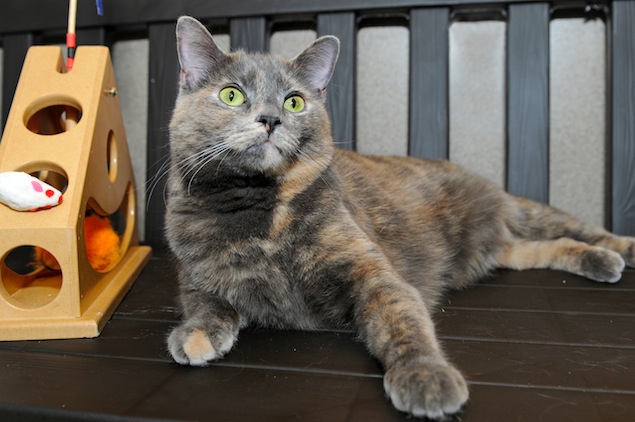 Cherry Blossom, a three-year-old, tortoise-shell-colored female, has is charming as well as pretty. She's also quite the conversationalist, speaking in short chirp-like meows. She loves playing with toys, including feather wands and stuffed mice, and would make an excellent feline companion. Stop by the Washington Animal Rescue League and inquire about Cherry Blossom.
Tali, a gorgeous, long-hair Siamese-mix, is as sweet as she is beautiful, and is the quintessential lap cat, who just wants to be with you. Having been declawed at some point, Tali cannot go to a home with dogs, but she might be able to live with another calm, mature cat. At eight years old, she qualifies as a "Boomers' Buddy," which means her adoption fee will be waived for adopters 50 years or older. So stop by the Washington Animal Rescue League and get to know her.
Caleb
is a 50-pound Australian shepherd mix, approximately one-to-two years old. He lives in a foster home with other dogs, including K-9 Lifesavers dogs Tigger and Vinny. He is very sweet and gets along well with other dogs and older kids. He loves to be with his person. He is medium energy and not a barker. He is super smart and loves mental and physical activities. He would excel in a training class and loves to go for walks. Though he's very loving, he is shy in new environments and like most dogs will need to adjust to his new home and routine. Meet him through
K-9 Lifesavers
.
Rhett
is a two-year-old Australian shepherd/hound-mix that weighs 65 pounds.
Though he is initially shy, he enjoys any attention you throw his way. He's low-to-medium energy, loves some good, hard playtime, and then will kick back and relax. Rhett would do best in a home with another dog and a yard.
Please don't let his size fool you, h
e seems to love everyone he meets. Meet him through K-9 Lifesavers.