I should never have eaten a cheeseburger for dinner the night before—that was the last thing I wanted to think about while trying out FlyBarre and Flywheel, on the same day. The new Dupont fitness boutique doubles as a spin and a barre studio, and both workouts are intense enough in their own way that you'll hope the only thing in your stomach is water, and lots of it.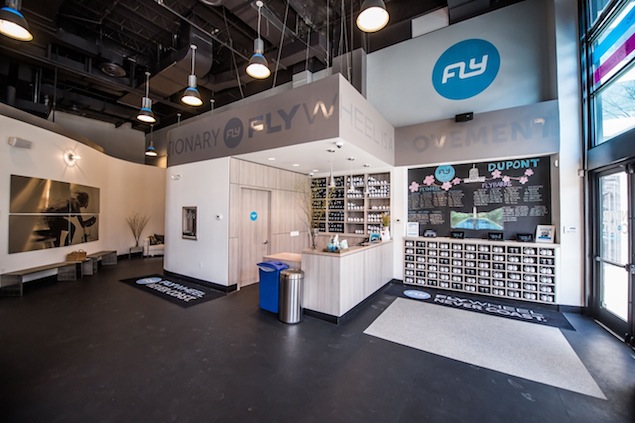 Upon entering the studio, I was directed to check-in. But having downloaded the Flywheel app, I'd already done so while I was a block away, ensuring that I didn't lose my spot in the class. Instead, I wandered around the corner to the mini lockers, which were just big enough for me to shove in a small bag, coat, and street shoes.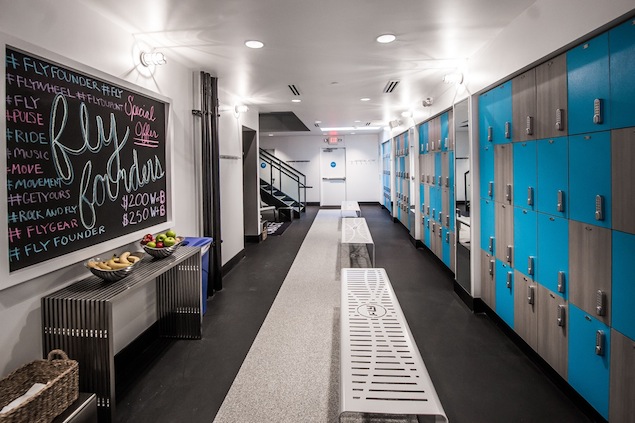 Heading upstairs to the FlyBarre studio, I stopped outside to pick up a sets of two and three-pound weights, assuming there was no way that I'd need to dip into the box of one-pound sets. Inside the room, which was lined with floor-to-ceiling mirrors, I grabbed a spot on a yoga mat. The class opened with arm exercises—holding the weights in outstretched arms that bobbed up and down—and for the next few minutes, my arms screamed, "Forget your pride! You should've picked the one-pound weights!"
Though a ballet bar runs the perimeter of the room, you can erase from your mind any ideas of languid, dance-inspired plies. FlyBarre's exercises are far more athletic, timed to pounding music, which almost makes you forget the pain you're in. Though the movements seem small—lying on your side and lifting one leg a few inches in the air, then back down again—the repetition and resistance quickly bring your muscles to fatigue.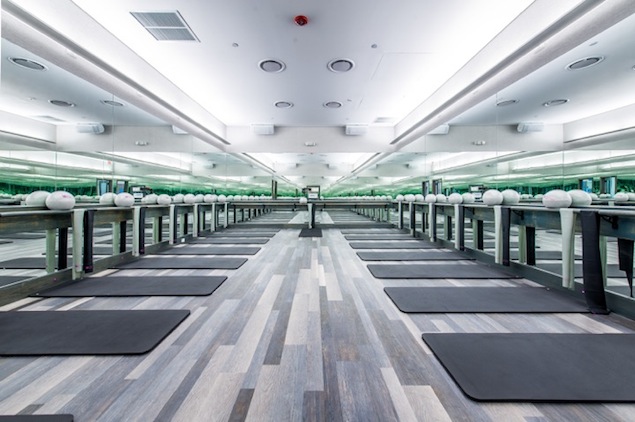 In another move, we held either end of a taunt rubber band that was rapped around the bar, pulsing our arms back in an attempt to create the mythical "jiggle-free" tricep. Plan on doing a lot of pulsing—of dumbbells held overhead, of your glutes in squat position, of your abs curling upward towards the bar on the wall—the kind of pulsing that makes you repeatedly realize how many muscles you've been ignoring in your workouts.
Though FlyBarre is certainly more high energy than your average barre class, the 45-minute workout left me feeling worn, but not completely drenched in sweat. Back downstairs, the locker room is stocked with dry shampoo, so a quick spritz may have been all I needed before heading out. Alternatively, the four luxurious tiled showers—filled with lemon sage-scented shampoo, conditioner, and body wash—were also available to freshen me for the day. I was grateful to see there were plenty of towels, several hairdryers, lotion, Q-tips, hair bands and bobby pins, and enough space for multiple women to do their hair and makeup at a time.
But whatever sweat I retained in FlyBarre, it all came pouring out in Flywheel. The bikes are set up stadium-style, so there's no hiding in the back row—every rider is visible in the mirror that covers the front wall. Above the instructor hang two flatscreens—the leader boards that show the top ten women and top ten men at any time during the class. Participation in the leader board is optional, but I recommend you give it a shot. The stats on the board are derived from the Torqboards on the bikes, which list the bike's current torq (resistance), rotations per minute, and "power" being expended by the rider.
If you have a competitive bone in you, those boards are either going to be your best friend or your worst enemy. Rather than embracing SoulCycle's pack mentality, Flywheel instructors motivate the riders by saying dramatically, "And now, we race." Ignoring any kind of group synchronization, everyone is prodded to peddle as fast and as hard as they can, while the instructor shouts to shoot for 80, then 90, then 100 RPM. I watched in horror as my bike's screen stayed firmly locked in around 80, thinking that surely, no one could possibly be going that fast—until I glanced over at my neighbor's Torqboard and saw that she was cranking at 90.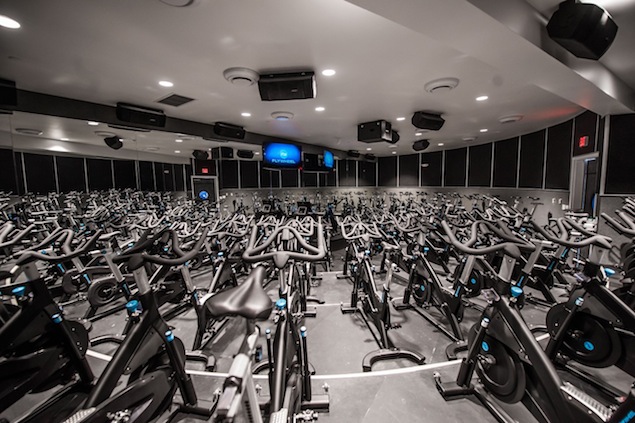 If you like winning, Flywheel will likely give you one of the best workouts of your life, and all the pain and sweating is worth it to see your name flash across the leader board. After the class, you can look up your standings online, including your top speed, torq, miles ridden, and even calories burned (I torched 600 in the 45-minute class). While the leader board will keep you motivated to beat others in class, your online stats will keep you coming back to try to beat yourself.
Flywheel, 1927 Florida Ave., NW; 202-830-0755; individual FlyBarre and Flywheel classes are $28.