This is an excerpt from our package of articles about what Washington will look like over the next few decades. For the full package, see our April 2015 issue—on newsstands now, or purchase the digital edition optimized for your tablet here—and come back to the website for more stories over the next few weeks.
Lindsay Arnold is 30 years old and done with life in the suburbs. "In Fairfax, there was this all-consuming hustle and bustle," Arnold says. "The daily grind started getting to us." Last year, she and her husband packed up their townhouse just outside Burke and bought a new home with customized features that's even farther from their Washington jobs: in Stafford County, Virginia.
Stafford, the county seat, is 42 miles from the District. It's a quiet town of tree-lined streets and white picket fences. George Washington lived in the area as a boy more than 250 years ago. Today the county's slogan is "Where history meets the promise of tomorrow." Since moving there last August, Arnold and her husband have fallen in love with their new community—its charming past, its quiet feel, the outdoorsy activities that are suddenly right in their back yard.
The couple is an example of an archetype that doesn't get much attention these days: New Exurbanites, people for whom the past decade's defining changes in traditional Washington suburbs—the galloping development of condos in downtown Rockville, say—represent peril, not promise. Like generations of Americans before them, they're lighting out for the country in search of the perceived tranquility that not so long ago drew people to Ashburn or Germantown.
And by 2040, they're expected to have a lot of company.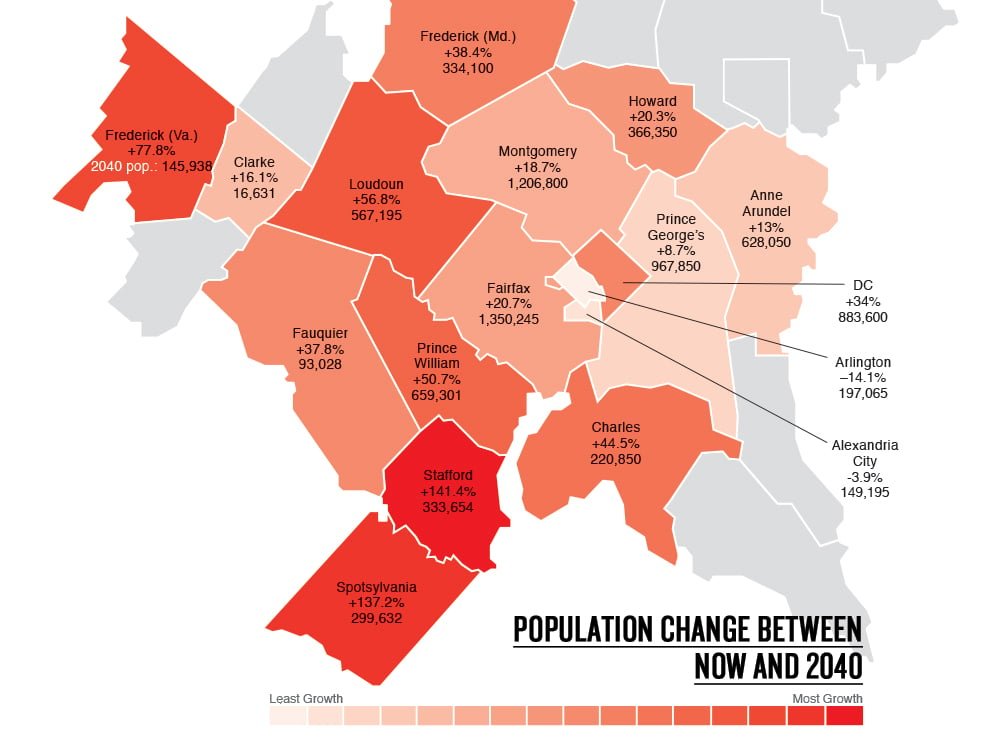 To New Exurbanites, the traditional suburbs—like the central city before them—feel full. Arlington County is now home to 229,302 people, Fairfax County to 1,118,884. It's "saturated," says Sue Smith, a real-estate agent in Northern Virginia for 27 years. So they trek to once-distant areas: Stafford and Spotsylvania counties and Winchester in Virginia and Frederick County in Maryland. Over the coming years, an increasing number of people settling these exurbs will be millennials, like Lindsay Arnold, and the generation that follows.
That's not what you'd expect if you've been reading headlines. The prevailing wisdom about millennials is that they're wedded to urban-style living—even in the suburbs—with craft breweries and yoga studios on every other corner and a Trader Joe's within walking distance. But in Washington, many of the youngest homebuyers are hewing to the same patterns their parents did, according to Lisa Sturtevant, executive director of Washington's Center for Housing Policy, the research arm of the nonprofit National Housing Conference. "The suburbs are ripe for a rebirth," Sturtevant says. "Despite everything you hear about cities, people want a single-family home."
Of all the exurbs primed for explosive growth over the next several decades, none has anything on Stafford County. According to the University of Virginia's Weldon Cooper Center for Public Service—which has prepared population forecasts for the whole state out to 2040—Stafford will see a 141-percent jump in population by then compared with 2014, or an average of 5 percent a year. (Arlington, the inner-ring suburb most packed with millennials today, is predicted to decrease by 14 percent over the same period.) Stafford County's planning department anticipates a less aggressive rise than UVA does: roughly 2 percent a year. But that calculation still puts an enormous number of people into a county that currently has just 138,230 residents.
What's spurring the growth? The Marine base at Quantico is nearby, and new amenities—such as the forthcoming 58-acre Embrey Mill Park's lighted fields, swimming pools, and indoor recreation center—are drawing buyers. Swaths of empty land combined with friendly zoning laws mean all kinds of options for prospective homeowners. "You can get 100 acres and build a house on it if you'd like," says Stafford County administrator Anthony Romanello, "or you can live on a neighborhood street in true suburbia."
There's something else: The high-occupancy toll (HOT) lanes on I-95 that begin near Springfield end in Stafford. That makes it manageable for drivers shuttling to DC every day. "They say commuting from these distances is the same as Forrest Gump—you never know what you're going to get," says Long & Foster agent Brooke Miller. "It could take one hour or three, but the stability of a HOT lane is what people want."
Lindsay Arnold's husband uses the HOT lanes when he carpools to his federal job in DC. It takes him around 50 minutes. There's also a nearby VRE station that delivers him to Union Station in about an hour and 20 minutes. Lindsay commutes to McLean for her job as an office manager at a private consulting firm, using Google Maps to judge the traffic and the best time to leave. It's more of a process than when they lived in Fairfax, but overall it's actually a wash. "I was averaging the same kind of time I am now," she says.
Accessibility to the District is also a big reason Maryland's Frederick County, 43 miles northwest of DC, is expected to grow 38 percent by 2040, according to the state Department of Planning. Much of the current action is in Monrovia, a crossroads town sitting between I-70, which leads to Baltimore, and I-270, which spits workers onto the Beltway. Michael Kurtianyk, president of the Frederick County Association of Realtors, predicts a lot more growth for a small city southwest of Monrovia—Brunswick, where there's a MARC station for DC commuters.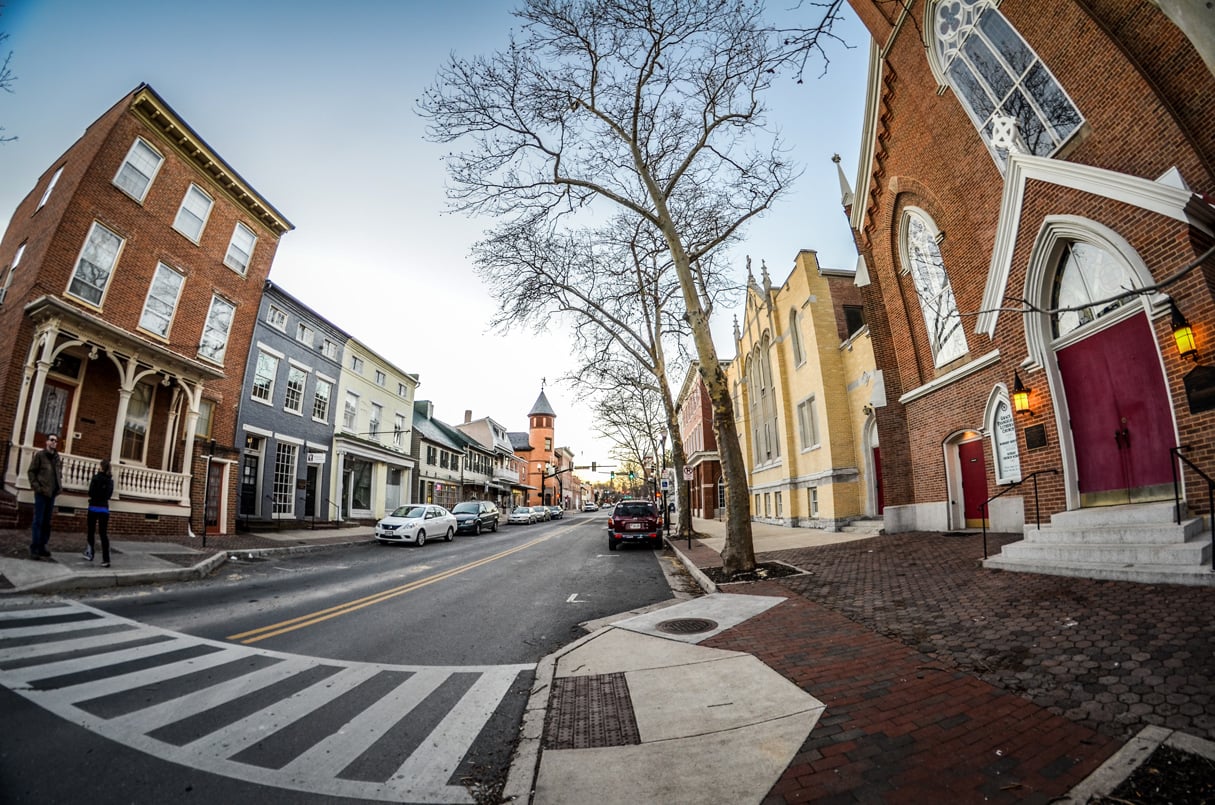 In the other Frederick County—Virginia—UVA's forecasts have the population jumping 78 percent, from 82,059 today to 145,938 in 2040. "Winchester is going to become the new Leesburg," says real-estate agent Sue Smith. Winchester Medical Center finished a $161-million expansion not long ago, attracting doctors and health-care workers to the area. Nearby, in the vicinity of Stephens City, K. Hovnanian Homes has just finished a new phase of its 396-home exurban development, Canter Estates. The 69 new properties start at $294,990, and marketing manager Chelsea Payson says most come with a home office or library, convenient for the frequent teleworker who can't make the 79-mile commute to DC each day.
Those features wouldn't have been a given in the exurbs settled 30 years ago. Likewise the shared neighborhood pools and rec centers of today. Whereas the previous generation expected a golf course at their exurb's center, tomorrow's buyers seem to be more whole-health-focused. Just look at Willowsford, a 4,000-acre development about ten miles from Dulles Airport that's expected to bring more new residents into Loudoun County than many of the new Silver Line developments cropping up along the new Metro route.
Willowsford has 20-plus miles of trails, community centers, pools, parks—and a 300-acre farm that serves as a central gathering point. The development hosts cooking classes, chef demos, and pop-up restaurants using the fresh produce grown on-site, with appearances by the likes of chefs Mike Isabella and Bryan Voltaggio. In other words, it's not selling itself as a small town. Rather, like an updated version of yesteryear's suburbs, it's playing up the amenities of a metropolitan area—minus the crowds.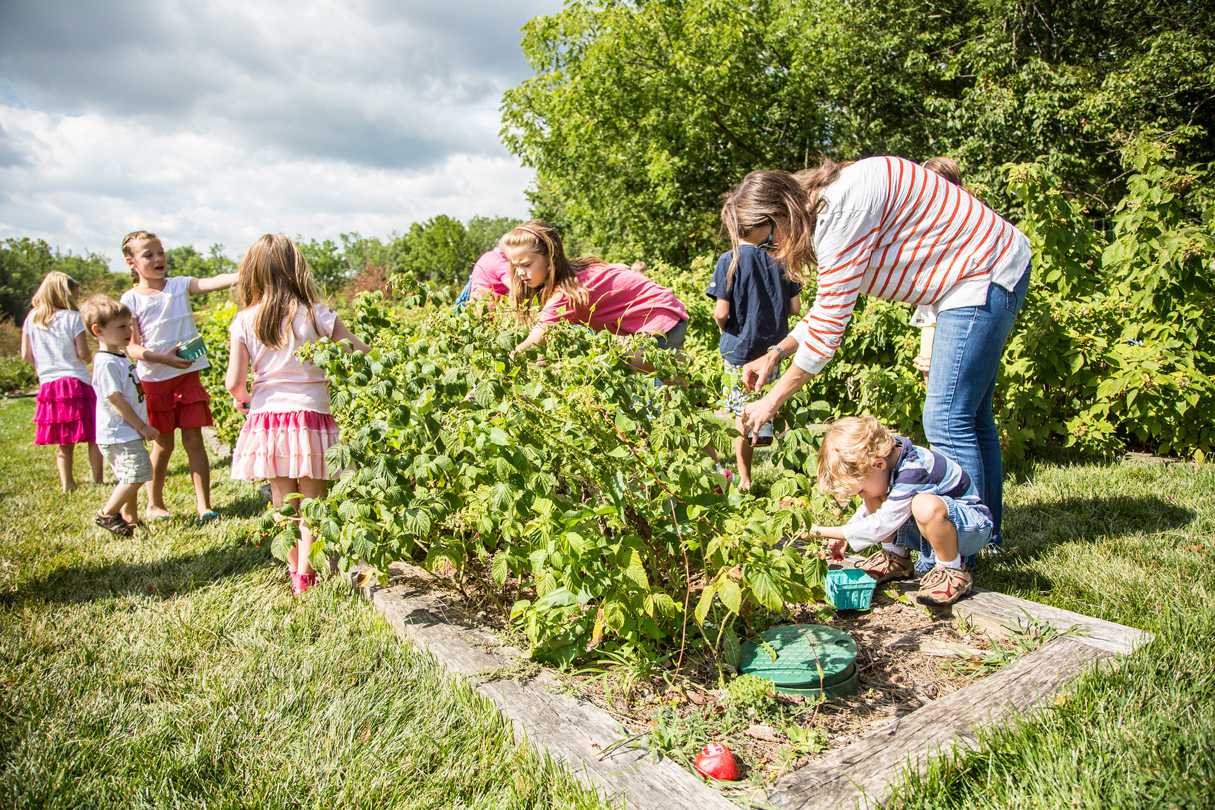 "It's not something I would have expected living in a giant community in Loudoun County," says Daryoush Mansouri, who moved to Willowsford from Capitol Hill with his wife and kids in 2013. Yet being able to pick up tomatoes and potatoes from the CSA run out of the farm is exactly what attracted them.
Twenty or 30 years from now, if Stafford County and Stephens City and Brunswick feel as crowded and frenetic as parts of Ashburn and Fairfax County do today, it's not hard to imagine that exurbanites there will extend the Washington region even farther.
"I think it's natural—it's eventually going to happen," says Maggie Johnston, who moved from Ashburn to Middleburg in 2013. "All cities at one point were farms."
Staff writer Michael J. Gaynor can be reached at mgaynor@washingtonian.com.
This article appears in our April 2015 issue of Washingtonian.