In the basement studio of her Riverdale home, artist and philanthropist Abezash Tamerat tacks swaths of canvas to the wall, then paints swirling, haunting figures that seem half sea creature, half human.
She's often joined by her energetic five-year-old daughter Leyu (responsible for the joyous bursts of red on one work in progress) or Leyu's three-year-old sister Samra (responsible for some of the paint blotches on the studio's carpet). "As much as this is my space, I know art is something I should share," says Tamerat. "When my daughters see me making something, they want to do it too!"
For Ethiopian-born, American-raised Tamerat, 33, art has always been an obsession and her primary form of expression. "Even as a young kid outside of Addis Ababa, I was always creating," she says. And beginning eight years ago, as the founder of the nonprofit group Artists for Charity, Tamerat sold her works and those of other painters, printmakers, and sculptors at auctions benefiting HIV-positive orphans and other children in her birth land. This year's annual auction in Washington takes place in early December.
A look around Tamerat's mod Cape Cod-style house — which she shares with husband Million Fikre, a World Bank adviser — reveals more signs of creativity. There's a hip, open kitchen furnished with repurposed cabinets and high-end appliances from Community Forklift, plus a dining table the couple assembled from plumbing parts and a rectangle of butcher block.
Tamerat's art is everywhere, from the dramatic, oversized black-and-white monoprints in the great room to the oil paintings in the girls' playroom. "It's funny, they aren't the sort of paintings many people want over their fireplace mantels," says Tamerat, "but I think the kids are proud. Samra will say, 'My mommy did this! She's an artist.'"
Tamerat's childhood was far more unsettled than those of her daughters. In the town where she was born a few hours north of Ethiopia's capital, she and her older sister were raised by their grandmother after being abandoned by their birth mother. ("We'd sleep in one bed with my grandmother, tucked under her arms," she remembers.) When Tamerat was eight, her birth father and her stepmother brought her and her sister to this country, first to live in Lancaster, Pennsylvania, and later in Atlanta.
"All I'd known was rural Ethiopia, so it was such a change," she says. "It was a hard transition, and a new language." A few years later, an abusive situation at home landed 15-year-old Tamerat in the foster-care system; her sister, still at home, disappeared a few months later. Despite searching, Tamerat has not since heard from her.
Living in group foster homes around Atlanta brought Tamerat stability and peace. "I realized I had a choice, that I could get my life on a better path," she says. Her art skills blossomed, eventually leading her to attend the Savannah College of Art and Design where, she says, "I really thrived. It was a place I could be consumed by what I loved — printmaking, photography, and painting."
But Tamerat was turned off by the commercial aspects of the art world. "I hated the idea that my work was a commodity and the idea that you had to market yourself," she says. While still at college, she realized that her paintings and photographs could do something positive: Raise money for causes she believes in. In 2002, a Savannah, Georgia rape crisis center was about to lose funding. "I thought, 'I have all this art, maybe I can organize a charity show and do something to help,'" she says. Artists for Charity, an organization that holds auctions and sales to benefit causes, was born. Tamerat held the first show of her own works at a coffee shop, donating proceeds to the crisis center.
A trip back to Ethiopia in 2004—Tamerat's first since leaving as a child—crystalized her charity's mission.
"I was finally curious about my past," she says. "I wanted to go back to Ethiopia, photograph things, and recall my happy memories with my grandmother, who had died a few years after I left." Visiting the village where she grew up, Tamerat encountered a young cousin who was homeless and HIV positive.
"I was just shocked," she recalls. "His eye was swelled shut, he was malnourished." She tried to have him placed in a home in Ethiopia, only to find they were all full or unable to accommodate him because of his illness. "How did this sick kid want to continue to live? I just wanted to treat him like a person, to put myself in his shoes," says Tamerat, who persisted and eventually found him a place to live.
Witnessing his struggles and those of other orphans, Tamerat realized, "I'm not rich, but I could help these kids. Artists for Charity could have a real focus." Since then she has used her paintbrush and convictions to found and fund a group home in Addis Ababa for HIV-positive children. Benefit auctions in New York City and Washington, which bankroll the small facility, provide lodging, medical care, and a cozy environment for up to 16 children to grow up. "And we continue to support them into adulthood," says Tamerat. "They don't have anyone; we're their family." Not only have the kids survived HIV, they've thrived and gone on to get jobs and graduate from college.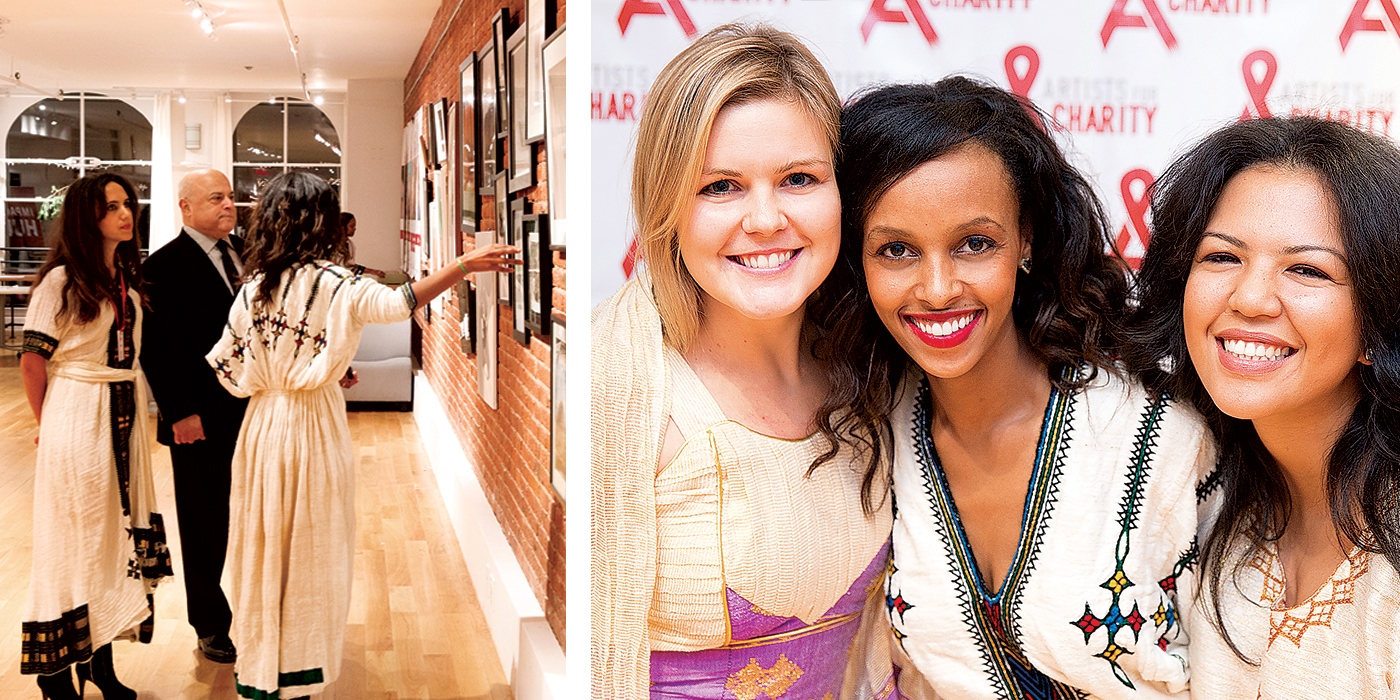 In the early years of her project, Tamerat traveled back and forth between America and Ethiopia, setting up the home and organizing auctions. Then, in 2007, she met Fikre, with whom she'd start her own family.
The son of Ethiopian immigrants, Fikre grew up in Woodbridge. Assigned to do an article on Tamerat for an online Ethiopian magazine, he initially connected with her by telephone. They hit it off and had many more chats, but never met in person — he had a job traveling with the Obama campaign, and she was still in Atlanta. "We were just friends at first," she remembers. "But we finally met up in person, and I knew it was serious." The couple married in 2009 and moved to the DC area, where their girls were born.
Balancing both her "kids" in Ethiopia and two rambunctious little people at home isn't always a cinch. "Sometimes, running a charity and being a mom is hard to balance, because I'm a perfectionist," says Tamerat. "But I've learned to hire people I can trust back in Ethiopia."
When she's not painting with one of her girls, Tamerat often leads them in a game she calls "Block Party." "We get out a bunch of blocks, stack them as high as we can, and then Leyu knocks them over," she laughs. Fikre and his daughters make pancake breakfasts together nearly every weekend, and Tamerat cooks a mean version of doro wat, a spicy Ethiopian chicken stew.
And if chasing around after Samra and Leyu takes away from Tamerat's time in the studio, that's okay. "Watching them grow and develop is its own kind of art," she says. "You can't measure that on a canvas."
Q&A
Favorite place to shop:
Hardware stores, because the possibilities to create are endless.
Favorite Date-Night Restaurant:
The bar at the Jefferson hotel—their mojitos are second to none.
Personal Motto:
"Art heals."
Dream Vacation:
Mars—if it's, you know, hospitable.
Worth Fighting For:
My dreams, and those I love.
Favorite Artist:
President George W. Bush. He could have chosen to do anything else with the rest of his life post-presidency, but he decided to become an artist. There is something very cool about that.
If I Wasn't an Artist, I'd Be…
A novelist or an astronaut, on my way to Mars.
Favorite Local Activity:
Museum-hopping with my kids.
Celebrity Crush:
Chef Anthony Bourdain.
Favorite Ethiopian Restaurant:
Enat in Alexandria.