Maci Peterson had a problem with her phone. Its hyperactive autocorrect function was leading her to send out uncharacteristically forward text messages, she says.
"I was going on a first date with this guy and we were going to get together in Maryland, but I wanted to move our date to DC," Peterson says. "What I typed was 'Are you in DC or are you in MD?' Autocorrect changed it to 'Are you in DC or are you in me?'"
Another time, she attempted to apologize to an ex-boyfriend for missing his phone calls. "But autocorrect changed it to "Hey, for some reason I keep missing that part of the male anatomy that rhymes with 'calls'."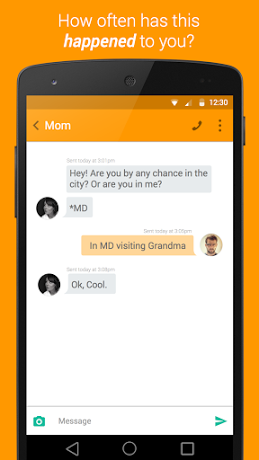 Determined to avoid any more ribald miscues, Peterson, 28, partnered up with some software programmers and started developing a smartphone app enabling users to hit the brakes on potentially regrettable text messages. The result is On Second Thought, which replaces a phone's default texting function with one that gives a user up to a minute to recall a message before it reaches its destination.
After getting investors following pitches at South by Southwest and in Dublin, Peterson, whose background is marketing and brand management, launched the app last December, and already claims about 30,600 users. The appeal is easy to grasp: Who hasn't sent a boneheaded text message to an ex-significant other, boss, parent, or anyone with whom they'd rather not share an unfiltered moment?
On Second Thought, which is currently available only for Android devices (an iOS version is on the way), presents an alert reading "Recall message?" after a user enters their message, giving a brief window to check for errors or potential regrets. If the message is no good, it can be stopped from transmission. Peterson has hers set to five seconds. The app includes a handful of deletions for free; unlimited mulligans cost $1.99 per month.
The time-delay function is only half the app, though. Given the correlational—possibly causational—relationship between inebriation and bad text messages, On Second Thought also includes a "curfew mode" which blocks all messages from going out until the following morning, when each line can go through a bleary-eyed edit. There's a simpler way to not send text messages you'll probably regret though—turning off your phone.
But Peterson contends that's unlikely to happen on a night out. Outside of movies and live theater, few social engagements demand the excision of buzzing and chirping mobile devices.
"We don't just use our phone for communications," she says. "We're also using our phones to engage on social media, and how many times do we see people taking pictures of their dinner and their drinks? How many times when your friend gets up to go to the bathroom does you pick up your phone to scroll through social media and see what other people are up to?"
So Peterson figures if everyone's going to be physically fixed to their phones all the time, they might as well take her app as insurance. Still, to her, autocorrect is more of a villain than partying.
"I've also heard one of my colleagues told me she was sending a message to her sister and she wanted to say 'teardrop,'" but autocorrect changed it to something mortifyingly raunchy. "And she was able to take it back."