The Nationals' new season is only three games old, and even though the opening series against the New York Mets was a disappointment, one thing the team did not lack for was fans. Even on a wet, chilly Wednesday, Nationals Park still managed to be 63 percent full.
That's good for the team, and not just in terms of morale. Nationals home games are the seventh-most expensive team in Major League Baseball for a family of four to attend, according to the Team Marketing Report, an annual guide to the costs of fandom across professional sports. An average night at the ballpark—measured as four tickets, two beers, four soft drinks, four hot dogs, parking, and two adjustable caps—costs $232.08. The MLB average, by comparison is $211.68.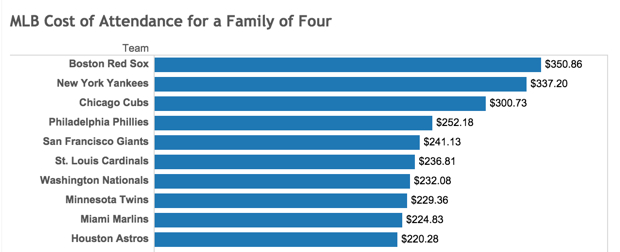 District, Measured, a blog by the office of DC Chief Financial Officer Jeff DeWitt, analyzed the costs of each component. While the Nationals are in the middle of the pack for beer and hot dogs and the cheap end for parking, their average ticket cost of $36.02 is the fifth-highest in all of baseball, trailing only the Red Sox, Yankees, Cubs, and Phillies. The league average is $28.94.
But Nationals fans might be used to the current sting at the gate—ticket prices in Washington only increased 2.2 percent over 2014, compared to a 3.3 percent league-wide increase. (The Kansas City Royals, no doubt bouyed by a run to last year's World Series, mugged their fans the most with a 20.3 percent hike.) But even at No. 5 on the ticket-price chart, the Nationals are closer to the bottom-scraping Cincinnati Reds than they are to the Red Sox.
Other components of the clinically defined family outing are a bit more elastic, though, especially beer. While Team Marketing Report quotes the Nationals' beer price as $6.50, putting them in a three-way tie for ninth-highest, that figure refers to a small domestic draft. Most Nationals Park beer offerings, from full-pint pours to premium offerings like the local brews at the District Draft stations, go for more than $9. The report also only factors in the cheapest souvenir cap available, usually a flimsy adjustable thing. A fitted New Era cap like those worn by the players on the field will set you back $34.99 before tax.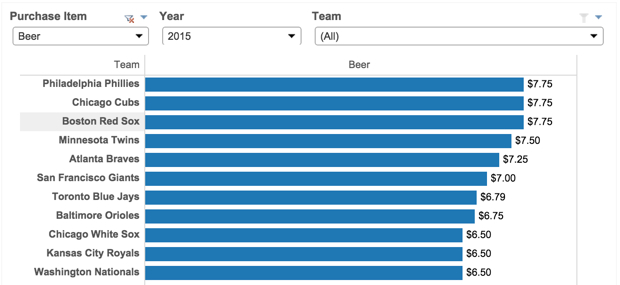 Still, it might not be that bad that the Nationals are in the top tier of fan expenses. Opening-week jitters aside, the Nationals are safe bets to go far this season. The top two teams—the Red Sox and the Yankees, both of whom soak their fans for more than $300 a family outing—are in a race to the bottom of the American League East. Just wait until the Nationals actually get to the World Series for them to pull a move like the Kansas City Royals.