The Washington Metropolitan Area Transit Authority will finally let the public ride its rail cars of the future Tuesday, and they are much nicer than the typical Metro car. The "7000-series" cars, finally ready for service after more than a year of testing, are far more technologically advanced than Metro's earlier models, and more appealing to ride in than the sickly carpet and cracked vinyl that passengers got used to over the transit system's first 39 years.
Among the new features are LED displays that show passengers how far they are from their destination, and video screens that display information about the upcoming station, including transfer information and—for the first time on any Metro car—whether there are nearby bike racks or car-sharing services. The 7000-series fleet is also lined with slip-resistant rubber floors, which should make them easier to keep clean once the cars endure heavy late-night use. The ride itself, as evidenced by a test run from Reagan National Airport to Arlington National Cemetery and back, is pleasantly smooth.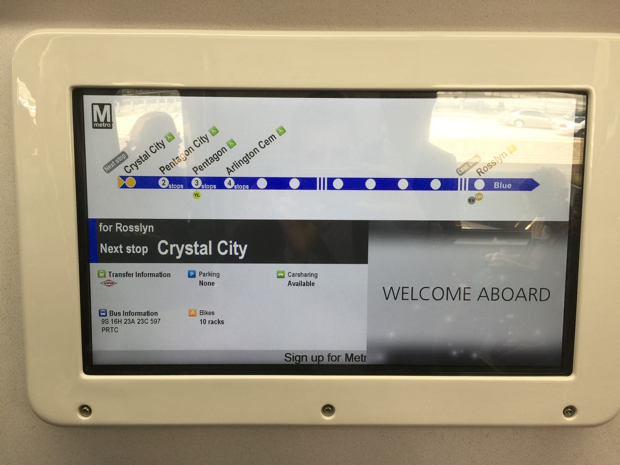 The 7000-series cars are intended to replace the 1000-series cars, which have been in service since Metro's founding and comprised the Red Line train involved in the 2009 crash that killed nine. But it'll still be a while until everyone can ride the new models: Only eight of the cars enter service tomorrow, on the Blue Line, and it won't be until 2018 until all 528 7000-series cars Metro has ordered hit the tracks.
Still, the limited rollout didn't prevent Metro from packing the platform with transit boses, elected officials, media, and represenatives from Kawasaki, the Japanese firm that builds the new cars at a factory in Nebraska. Virginia Governor Terry McAuliffe did much of the grandstanding, citing the new rail cars as components of continued economic growth in Northern Virginia.
"Virginia is all about growing our Metro, because when we grow our Metro, we grow our region," McAuliffe said. "If you're not from Virginia and you're just visiting, spend some money."
Representatives Gerry Connolly, Don Beyer, and Barbara Comstock, who represent Northern Virginia, were just as sanguine about Metro's new investment. Not in the speaking program, though, were officials from the District or Maryland, both of which have leaders—in Muriel Bowser and Larry Hogan—who are taking far more abstemious approaches toward Metro, which is spending $1.46 billion on the 528-car order. But their absences didn't stop Metro Chairman Mort Downey from making a plea for more mass-transit spending anyway.
"Today, we have a limited-time option to buy more of these cars at a bargain price," Downey said. Bowser is spending today trying to sell the DC Council on her proposed 2016 budget, which does not include any funding for the additional 200-car order Metro wants to place.