Pillsbury (above) is a three-year-old German shepherd mix. She is smart and energetic, already knows some basic commands, and is playful and friendly with other dogs. Pillsbury is somewhat anxious in unfamiliar surroundings and is looking for a human companion who will help build her self-confidence. Given her intelligent nature, she would likely excel in obedience classes. Meet Pillsbury at the Washington Animal Rescue League.
Maulty is a three-year-old, 11-pound tabby. He likes to plays hard-to-get in the beginning, is very sweet once he gets to know you. His favorite things are cat nip and naps. He is looking for a home where he can kick back, relax, and get to know his new family. Meet him at the Washington Humane Society's Georgia Avenue adoption center.
Blue
is a terrier-mix. He's eight months old and weighs about 40 pounds. He currently lives in a foster home with other dogs and farm animals. Though he was found on the brink of starvation, he is very affectionate and his tail is constantly wagging. He is crate trained, housebroken, and eager to please everyone he meets. He has a voracious appetite and his hair is steadily growing back. He would do best in a family with another dog. Meet him through
K-9 Lifesavers
.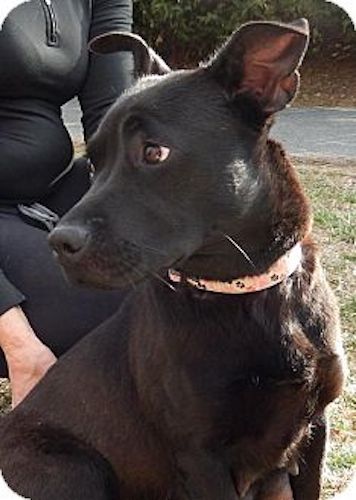 Pippa is a lab/Corgi-mix who is two years old and weighs about 40 pounds. Someone saw her dumped from a RV at a campsite in Georgia and it took two more weeks to catch her. She gave birth shortly thereafter to eight puppies in a foster home and was quickly brought to the DC area to another foster. She is wonderful with other dogs and playful. She is highly affectionate and loves going for long walks. She might be a little shy when meeting new people but warms up very quickly especially if food/treats are involved. She is a low-to-medium energy dog and very good natured. Meet her through
K-9 Lifesavers
.
Apple is a very sweet hound-mix who is likely about six years old. She is a happy girl who loves to meet new people and dogs. She loves to be pet, and when she gets excited, her tail wags in a circle like a helicopter. Apple is laid back, walks well on a leash, and has excellent house manners. She comes when called, sits when asked, and knows the command, "go to bed". To f
ind out more about Apple, please visit the
Rural Dog Rescue website
.