The District government is suing the owner of a Dupont Circle townhouse over its frequent use as a lodge and events space booked on Airbnb. The case, filed last week and made public Friday by DC Attorney General Karl Racine, charges Doug Jefferies, known to many as the founder of Results Gym and Stroga yoga studio, with operating a residential housing business, public hall, boarding house, and bed and breakfast without the proper city-mandated licenses.
Much of the suit concerns a year's worth of noise complaints against Jefferies's residence. The 5,700-square-foot house, located at 2220 Q Street, Northwest, is frequently rented out by large groups that use it to host parties that often go into late hours. Among its amenities are a spacious game room, multiple roof decks, and a rooftop pool. While the suit specifically mentions 14 responses by the Metropolitan Police Department for noise complaints, it also reads that police were dispatched to the house more than 100 times over a nearly one-year period beginning in April 2014. The suit also mentions noise complaints that were filed with the mayor's office and DC Council member Jack Evans, who represents Dupont Circle.
An affidavit signed by a neighbor states that a party on April 12 with between 40 and 50 guests went until 3 AM the following morning despite repeated police visits:
MPD returned at 12:30 AM, and asked the host to turn down the music or face the prospect of having the party shutdown. The young man pleaded with them, stating that he "was military" and shouldn't have the party shutdown because of this issue. Police issue a warning and the party continued with loud music. The young man tells one of his friends that using the military excuse "was a good line" for having sure the party continues on. People in high-octane motorcycles began to leave the party, making a loud commotion.
While the suit against Jefferies leads with the noise violations, it could set a much greater precedent. The case appears to be the District's first against a property owner for doing business on vacation-rental sites like Airbnb, thrusting DC back into the murky legal atmosphere created by the so-called "sharing economy" as it was in 2011 when city officials originally took an oppositional stance toward car-hailing companies like Uber.
Jefferies rents out the six-bedroom house for $1,200 per night, often to groups of eight to ten visiting DC for business or leisure, but he also openly advertises its entertainment appeal. While his house's Airbnb page features several conditions for party use—$20 per guest, or $50 in case of "spontaneous entertainment" like live music—Jefferies says he's been hoodwinked by some of his renters.
"As you can see my house kind of screams party," he tells Washingtonian in a phone interview. "Even though I had all these restrictions and warnings, people end up breaking the rules. There was a church group coming in that wound up being a massive DJ party for 220 people."
Between group lodging and events, Jefferies estimates his house is rented as many as 15 nights a month. He says he uses the proceeds to fund Mission: Results, an international relief organization he founded after the 2004 Indian Ocean tsunami that now focuses on helping Haiti recover from the devastating 2010 earthquake. Jefferies started listing the house on Airbnb and other sites like HomeAway and FlipKey in late 2011 after realizing his frequent charitable trips left his house empty for weeks at a time.
"I had an intern from Norway who said, 'you could be renting your house out on Airbnb and make a lot of money to fund your trips to Haiti,'" he says. Jefferies estimates that of the $60,000 his organization spent leading trips to Haiti last year, $48,000 came from his Airbnb revenue.
Jefferies moved into the house in 1994 and used its garage to launch the personal-training business that eventually grew into Results Gym. After multiple renovations and expansions, the house eventually became a frequent entertaining venue. Capitol File rented it in 2011 for a party featuring the comedian Chelsea Handler after the White House Correspondents Association Dinner. Jefferies markets it on Airbnb as the "Celebrity House Hunter Mansion," following its appearance on the television series Celebrity House Hunting. Jefferies also claims that several professional football players rent it when their teams play in Washington, though he would not name any athletes.
Jefferies's house was the target of a February 26 investigation by the Department of Consumer and Regulatory Affairs, which issues business licenses. The investigation resulted in Jefferies being charged with not having the proper licenses for operating residential housing, a single-family rental, an entertainment venue, and a public hall, with a $2,000 fine for each infraction.
Jefferies says he applied for business licenses following the citations from DCRA and revised the rules for using his house, but he is honoring the reservations that were already booked. That includes a party thrown last night by the alternative credit-card company Magnises, which featured about 400 guests and a performance by the rapper Ja Rule. The event, which prompted two visits by police, began about 8:30 PM and ended shortly before midnight. Magnises says it was unaware of the District's case against Jefferies.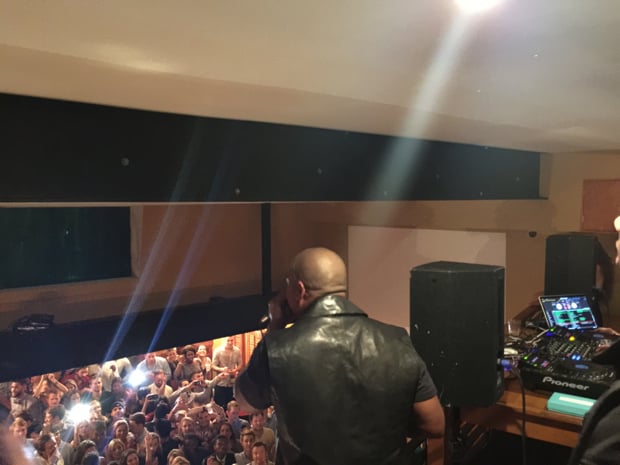 While Racine's case goes after Jefferies individually, it could have District-wide ramifications for Airbnb's cottage industry of letting ordinary homeowners play hotelier. Other jursidictions around the United States have taken similar approaches in the past year. A report last October from New York Attorney General Eric Schneiderman stated that 72 percent of the 35,354 Airbnb-listed properties in New York City violated state laws concerning building safety, lodging, and taxes. The District's lawsuit flicks at the same issues.
"The public at large has a great interest in ensuring that properties within the District of Columbia are safe and free of potential hazards," the complaint reads. "The public also expects that property owners will meet all health code standards and ensure that their properties are utilized for legal purposes, and when this does not occur, that they will be required to do so."
Airbnb has more than 1,000 listings in DC, and the company offers its property owners guidance about local laws, including the possibility that they may have to apply for basic business licences.
"We ask every host to follow their local laws and regulations," says Christopher Nulty, a spokesman for the San Francisco-based company.
Read the city's lawsuit: