For the second year in a row the District received the highest distinction for installing the most green roofs in North America, according to a survey by the nonprofit Green Roofs for Healthy Cities.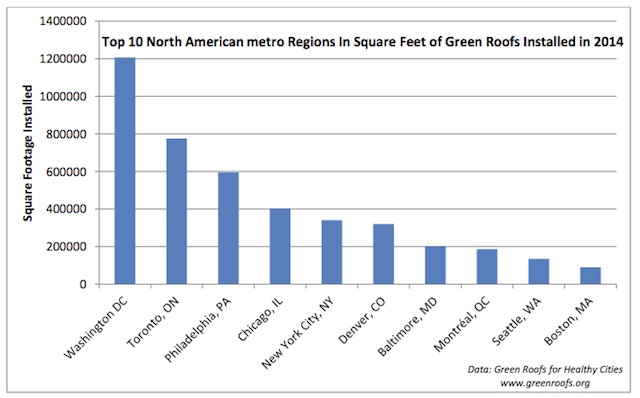 The District blew away the competition with 1.2 million square feet installed in 2014. The second place city, Toronto, installed around 775,000 square feet.
Vegetated roofs are among the green infrastructure innovations DC takes the most pride in, along with the city's stormwater trading program. Both of these programs provide monetary incentives for green building.
"The District is recognized as one of the most sustainable cities in the world, and our business and development community's continued commitment to reducing the city's carbon footprint plays an integral role in how the District is working to address climate change," said Tommy Wells, Director of the District Department of the Environment, in a release about the green roof accolade.
Green roof installation fell by 12 percent this year, and the District installed about a million square feet less than last year. Still, the city was able to keep its first-place standing—a spot it has held for the past three years, after overtaking Chicago.
Green roofs allow buildings to stay cooler, trap rainwater, and collect polluting particulate matter otherwise found in the air.