The Nationals' fourth-inning Racing Presidents sideshows will get even more crowded starting Friday when the club adds a mascot version of Calvin Coolidge to the line-up. As unwieldy as a six-president race seems—the 30th President's likeness will join those of George Washington, Thomas Jefferson, Abraham Lincoln, Theodore Roosevelt, and William Howard Taft—the addition of Coolidge is part of a marketing agreement between the Nationals and the White House Historical Association, which is selling a Christmas ornament (yes, even though it's July) commemmorating Coolidge's presidency.
And one of the hallmarks of Coolidge's two terms was his attendance at baseball games, including the 1924 World Series, the last time a team from Washington won. He even threw out the ceremonial first pitch in Game 1. All told, Coolidge attended ten Senators games during his six years in office, giving baseball in Washington a close visual association with the White House.
"We really entered into something of the modern era in the '20s, and Coolidge should be much better known," Matt Denhart, the president of the Calvin Coolidge Presidential Foundation, told the Washington Post, which first reported Coolidge's addition to the fourth-inning race. "We kind of see this as a hook to get people's interest, and to try to teach them more about Coolidge than just that he was the president."
But if the Nationals, the White House Historical Association, and the Coolidge Foundation really want people to learn more about Coolidge and baseball, they should start by telling the truth: he just wasn't that into the national pasttime. Published accounts of Coolidge's attendance at baseball games paint him as a disinterested man who only went to Griffith Stadium for the sake of political optics.
On April 16, 1939, marking the 100th anniversary of baseball's recorded history, the Post's Shirley Povich ran through the game's presidential fandom. While Taft, Roosevelt, Woodrow Wilson, Warren G. Harding, and Franklin D. Roosevelt were all professed fans, Coolidge was not. Povich, during his four-decade run as the Post's sports editor, occasionally brought up Coolidge's non-fandom in his daily "This Morning" columns. A few examples:
July 1, 1944: "The most nonsports-minded of recent Presidents was, of course, Calvin Coolidge, who went to the opening games at Griffith Stadium simply because it was the thing for the President to do, and was not above walking out after four innings."
April 16, 1951:

"Coolidge missed only one of his scheduled appearances at the opener, but he never seemed happy about the whole thing. His high crime, in the eyes of the fans, was walking out of a 1925 World Series game in the fifth inning when it started to sprinkle lightly."

April 7, 1954: "The least White House fan was Mr. Coolidge. He had to be prodded to stand up in the home team's seventh, and once walked out on a World Series game."
Povich's contemporary, syndicated columnist Westbrook Pegler, was even rougher, describing Coolidge's pitching form as having "a windup and delivery like that of a lady throwing away a soiled glove."
So why are the Nationals making modern-day fans endure the appearance of a President who, by all accounts, preferred the lifestyle of a New England shut-in to live baseball? Maybe young spectators will walk away from Nationals Park with a new curiosity about Coolidge's time in office. But, on baseball grounds, the team is doing its audience a real disservice considering Calvin Coolidge deserves to be a mascot of a Major League Baseball team about as much as Andrew Jackson deserves to be on fiat currency.
There was, however, a member of Coolidge's White House who deserves to be celebrated at baseball games: his wife, Grace. While Calvin Coolidge threw out ceremonial pitches begrudgingly and left games early, Grace Coolidge couldn't get enough of the sport.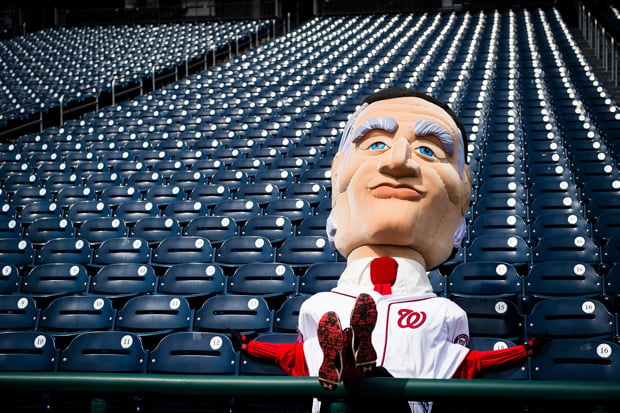 "However, in the Coolidge administration the White House was always represented at the season's opener despite the President's habit of taking a powder. Because Mrs. Coolidge was an inveterate fan, munching peanuts and keeping her seat and her box score until the last out of the last inning," Povich wrote in April 1939.
Grace Coolidge not only kept her own box scores, she didn't flinch when it started raining. Of that 1925 World Series game the President ditched, Povich noted that "the family escutcheon was rescued by Mrs. Coolidge, who stayed the whole way and who is to this day, probably the most avid of all distaff side ball fans."
In fact, Grace Coolidge might have been an even bigger fan than any of the baseball-loving presidents who succeeded her husband, going to games for decades after leaving the White House.
"Mrs. Coolidge saw more ball games than all of the Presidents combined, and rarely missed a World Series, a fact which the American League noted when it implemented her lifetime pass with the choice seats to the series wherever it was played," Povich wrote.
Calvin Coolidge only went to baseball games because it was expected. Grace Coolidge went because she loved it. She seems like the kind of fan who wouldn't bail on an 18-inning game. "I venture to say that not one of you cares a hoot about baseball but to me it is my very life," Grace Coolidge told a friend in the 1950s, according to the National First Ladies Library.
So the Nationals should ditch the Calvin Coolidge mascot. Put Grace Coolidge in there instead of rewarding her husband for six years of indifference.